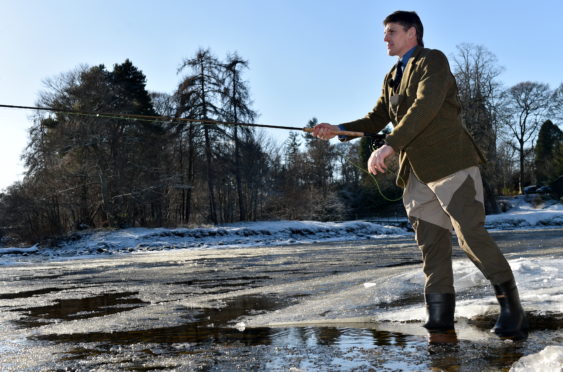 River workers have demanded immediate government action to protect Scotland's salmon stocks, fearing their jobs will be at risk without it.
The Scottish Gamekeepers Assocation (SGA) Fishing group says there is "genuine on-ground concern" that roles including ghillies, boatmen and bailiffs could soon be axed.
For every 100 smolts heading to sea from Scottish rivers, just five adult salmon return.
These falling numbers have led to diminishing returns from fisheries, in turn causing a decline in assets and investment.
Scotland has around 1,000 active fisheries supporting 2,800 workers, but with many of these in rural locations the SGA says any job losses would have a disproportionate impact on their local areas.
The group is calling on the Scottish Government to convene a short-term priority group to look at how the sector can be safeguarded going forward.
Spokesman Duncan Ferguson said: "There is no longer time for piecemeal actions or awareness raising.
"Many of the problems facing salmon are at sea but we need to look to home first.
"Years were spent on the abandoned reform of wild fisheries. During that time, investment halted and there is real fear now that what is left to strip is our employment and way of life."
He added: "We have an amazing product but we need to save it now.
"A timeline of actions needs to be drawn up and followed through, with support.
"The government needs to involve all the stakeholders but, crucially, they need to listen to the men and women who have worked these rivers for years."
The list of priorities river workers have set out to be addressed includes the impact of predators, with seals, dolphins and birds regularly feasting on fish.
Barriers to salmon passage, industrial water extraction and disease have also been identified as problem areas.
Bob White, who works as a ghillie and is a member of SGA Fishing, said: "The inability to get on top of sea lice infestations and the impacts this has on wild fish cannot now be scientifically ignored.
"Our members are also seeing impacts from mass escapes from farms which affects the genetic purity of wild fish, lessening their ability to survive."