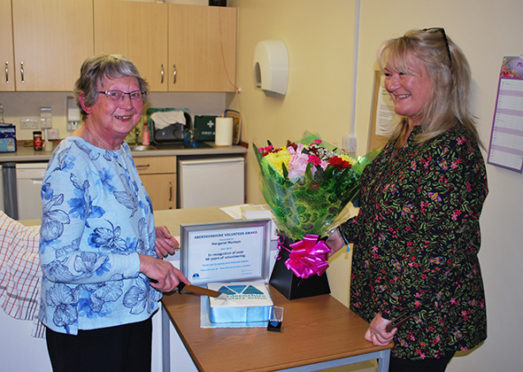 North and north-east volunteers have been praised for carrying out hundreds of millions of pounds worth of work every year.
Volunteer Scotland estimates there were more than 178,000 volunteers in the area, working with groups, clubs or other organisations.
The latest figures value their contribution in the north and north-east at £440 million through 31.5m hours of unpaid work.
That goes towards the 157m hours volunteers put in Scotland-wide – thought to be worth around £2.26 billion to the country.
That input has been celebrated as part the 35th annual Volunteers' Week, which draws to a close today.
People living in the Highlands and Islands are statistically most generous with their time.
In Shetland around 55% of the adult population formally volunteered at some point in 2017 – topping the national list – while 39% did so in the Highlands.
The north's participation levels were followed by 28% in Moray, 25% in Aberdeenshire and 24% in Aberdeen.
Around 28% of Scottish adults volunteered that year.
Linda Birnie volunteers with Let's Get On With It Together in Inverness, helping people to work flexibly.
She praised the organisations "real life" approach to getting people involved, and said: "Staff and volunteers are warm and friendly and passionate about enabling and including people so it was really easy to get more involved.
"Initially I felt with a full time job I didn't have space to volunteer.
"LGOWIT recognises this is real life, and I appreciate that thinking."
Volunteering is also being recognised for the opportunities it offers the people giving up their time.
After not managing to secure a job in admin, Forres Area Community Trust offered volunteer Lauren Causier the chance to develop.
"I have achieved so much since becoming a weekly volunteer teaching online skills," she said.
"So many other doors have opened for me which would never have happened and it's very much because the support of the volunteer co-ordinators at FACT.
"I am proud of myself, my confidence has grown and the volunteering has helped me."
Earlier this week Margaret Mursion – who has volunteered at Eigie House in Balmedie for more than 40 years – was recognised for her service.
The Belhelvie Community Trust praised her dedication to projects in the region including a beach wheelchair service and a community hut in Balmedie country park.