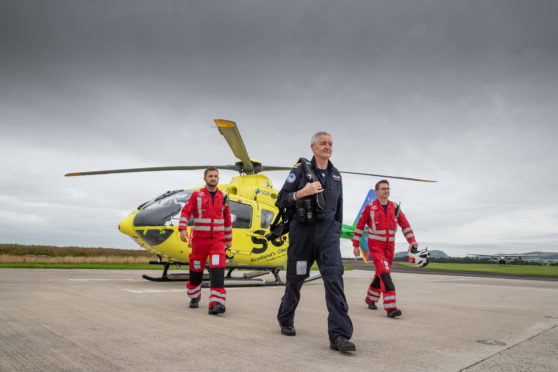 For the crew of Scotland's Charity Air Ambulance, it is all about giving people time.
Coming to the aid of some of the most seriously injured casualties, often in the most difficult locations, the paramedics on board say their job is to "stop the clock" – vastly reducing the time it takes to bring patients to hospital compared to road ambulance.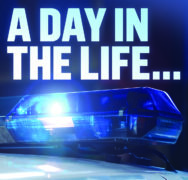 Since its launch in 2013, SCAA has been called into action across the country more than 2,200 times.
From its base at Perth Airport, the crew can be rushed anywhere in Scotland at a moment's notice to deal with road collisions, farming accidents or to retrieve patients stranded in remote locations.
They cover an area of around 30,000 square miles, though SCAA plans to have a second aircraft taking off from a new base at Aberdeen airport by next March.
Each day, two or three paramedics report for a 12-hour shift at the control tower in Scone, alongside one of two staff pilots.
Preparation for the day begins at 7.30am as the helicopter is checked from top to bottom.
Insight into day in the life of north-east fire crew as they train for life-saving missions
Undertaking that duty today is Captain Shaun Rose, who jokes as he clambers under the aircraft to check the fuel tank: "You would not catch an airline pilot doing this".
He has previously worked in the navy, the offshore industry and as Tom Cruise's private pilot, but now finds himself in rural Scotland.
Occasionally, he still sports a Top Gun patch on the sleeve of his flight suit.
Once satisfied with the helicopter, airport staff help him to wheel it to a helipad, a short distance from the control tower.
Life-saving equipment, radios and navigation tools are checked and batteries replaced before being safely stowed away.
By 8am, Captain Rose has started to brief today's crew on everything that could affect them in the air – from the likelihood of rain to a hurricane watch and from no-fly zones to planned fireworks displays.
Then the pilot heads outside to fire-up the aircraft and check everything is working as it should, while the paramedics check-in with colleagues across the country.
SCAA complements the work of the Scottish Ambulance Service's two helicopters, flying out of Inverness and Glasgow, as well as crews from its 56 ambulance stations.
Today, Helimed 2 is down a paramedic, meaning the workload just got bigger.
Jobs are assigned by the ambulance control in Glasgow and are not necessary split geographically.
The Perth-based helicopter can be anywhere from the Borders to the very north of the country, with the EC135-T2i fuelled for around an hour or two of flying time.
The planned Aberdeen crew would help cover the north-east but could find themselves heading further north if the Inverness air ambulance is unavailable.
Some days are a rush of activity while others are a chance to check over medical kits and brush up on life-saving skills in the on-site training room.
"It can be be a bit paradoxical waiting here," paramedic Darren O'Brien said.
"You don't want people to have a bad day and need us but we want to get out and do something."
His colleague Matt Allen added: "These things will happen so it is more a case of us wanting to be there to help when they do."
They average one or two calls a day, with each emergency response costing the charity around £2,500.
A Day in the Life…: The P&J learns what it takes for the nation's RNLI crews to keep our coastlines safe
The time spent waiting for the worst to occur can be dark and the crew uses it to process some of what they have to deal with.
"It is quite painful when things don't go well," Captain Rose said.
"There might be a run of several people who cannot be saved, but then there is one you can.
"They come in on crutches six months later to thank you and for everyone, that is marvellous."
SCAA is currently halfway towards its £6 million pound fundraising target for the new EC135 T2e helicopter to be based in Aberdeen.
Chief executive at the Scottish Ambulance Service, Pauline Howie, recently said the new resource would "no doubt make a real difference, especially to patients in rural and remote areas in the north-east".
Shuttle runs up and down mountain and cow-related injuries are all in day's work
You could be forgiven for associating air ambulances with car crashes.
It is probably the circumstances we hear about them the most, flying in to whisk the seriously injured away to hospital from a horrific collision.
But for SCAA, they only make up about a fifth of the work.
Around half of the charity-funded crew's call outs are to trauma-related incidents but those also include agricultural and industrial accidents.
The day The Press And Journal spent with SCAA was a quiet one, the day before the paramedics were rushed to four jobs.
There was a crash, a medical emergency to respond to and two incidents on farms – and this feels like a fair representation of their workload.
The SCAA crew had recently been in the north-east to aid a farmer who had been trampled by a cow in its pen.
Paramedic Darren O'Brien said: "He was quite badly injured as it was an animal weighing over a tonne.
"We flew him to Aberdeen Royal Infirmary and as things developed we feared he would have serious internal injuries."
The aircraft was met by doctors, nurses and surgeons at the hospital and information immediately handed over.
Mr O'Brien added: "This is when minutes matter. In the end, he did quite well."
The farmer apparently did not hold too much of a grudge with the animal but told the crew it was an "affa thing of a coo".
The pair reminisced about another occasion, near Rannoch in the Highlands, when they were left doing shuttle runs up and down a mountain to fetch supplies to treat a 60-year-old who had gone over his ankle.
Much of the job is ensuring those living on Scotland's islands have the same access to emergency medical care as those on the mainland.
When other emergency resources are at the scene, the SCAA crew will often take a step back and take over management of the rescue operation.
But sometimes, as paramedic Matt Allen confirms, they are simply there to offer families and friends reassurance, even when things go badly.
"We share in their grief. What we do at a scene could affect them for the rest of their lives.
"It helps if they see you do everything that could be done – even if that is just getting someone to a hospital."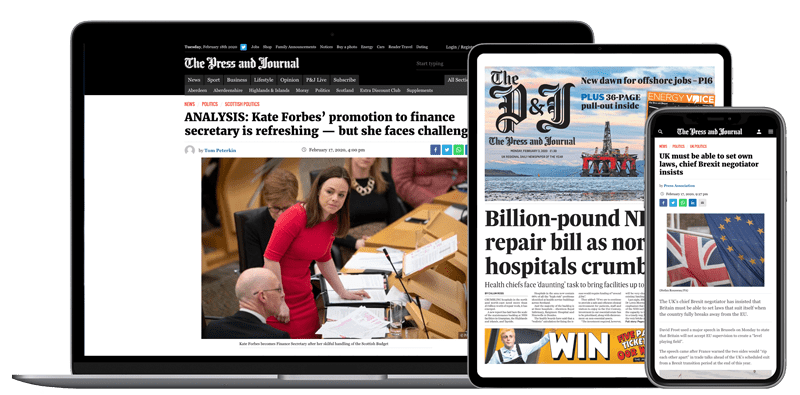 Help support quality local journalism … become a digital subscriber to The Press and Journal
For as little as £5.99 a month you can access all of our content, including Premium articles.
Subscribe