Scotland's largest Gaelic festival has drawn to a close following a "spectacular" week of competitions and performances
The nine-day Royal National Mòd celebration – organised by An Comunn Gàidhealach – ended with one final performance on the streets of Glasgow by this year's competing choirs, as organisers handed the torch over to the event's 2020 host city of Inverness.
John Morrison, chief executive of An Comunn Gàidhealach, said: "This has been a spectacular event, and the importance of our Gaelic culture was at the forefront.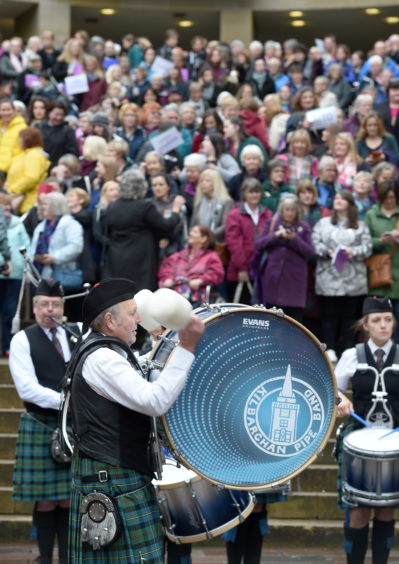 "The level of competition has been stellar and it is great to see so many new faces joining the community alongside our regular attendees.
"We are grateful as ever to everyone involved in running this year's Mòd, especially the local organising committee and all of our volunteers and sponsors."
Choral singers from across the country gathered on the steps of Glasgow's Royal Concert Hall to perform a selection of songs chosen for this year's choral competitions, led by the conductors of some of the Mòd's most prominent singing groups.
A crowd of spectators lined the street for the brief morning concert as the curtain came down on another successful year for the extravaganza on Saturday.
Among the crowd was 81-year-old Raibart McCallum from Campbeltown – who was celebrating his 73rd Mod.
The former conductor of Glasgow Hebridean Choir – who first performed at the world -renowned festival aged just eight –  took to the stage to conduct the choir through the popular Gaelic song Sine Bhan.
This year's most sought-after prizes were awarded to Claire Macaulay, originally from Ness, and Ruairidh Alastair MacLennan from Glasgow in the Gold Medal competition.
Western Isles singers Isabelle Bain and Crisdean MacKenzie claimed the Traditional Gold Medal as Julie-Anne MacFadyen, of Oban, and Calum MacColl, of Fort William, took home the Silver Pendant.
In the choir competitions Back choir won the Lorn Shield and Bùrach scooped the Sheriff MacMaster Campbell Memorial Quaich.
Stirling Gaelic Choir was presented with the Margrat Duncan Memorial Trophy as the Lovat and Tullibardine Shield was presented to Oban Gaelic Choir.
Allan Campbell, president of An Comunn Gàidhealach, spoke of the legacy the world-renowned festival has left behind.
He said: "I think we have left a renewed awareness of Gaelic and, for some people, maybe an interest in learning the language. That would be of particular benefit that we would be delighted with."
The week-long celebration injected more than £2 million into the Glasgow economy – and hopes have been raised that Inverness can expect a similar boost next year.
More than 3,000 competitors turned out as the annual festival returned to Glasgow for the first time in 29 years.
A host of fringe events were held at venues across the city to coincide with more than 200 competitions.
The financial figures were revealed following a ceremonial handover to the event's 2020 host city Inverness.
The Mod was last held in the Highland Capital in 2014, where it generated more than £3.5m for the local economy.
Highland councillor, Alister MacKinnon, said: "I am delighted the Mod is coming to Inverness. It's great for the Gaelic culture and great for the local economy. There is a huge task ahead of us to ensure it is as successful as this Mod.
"We will do everything we can to ensure that it will be a success."
President of An Comunn Gàidhealach, Allan Campbell, said: "The average over the last 10 years or so has been between £2m and £3m.
"This year they have set a target for us and each year we have to try and beat the one before."
Meanwhile the Royal National Mod is to return to its "home" on the west coast as organisers announce the festival's 2023 host town.
Scotland's largest Gaelic festival – organised by An Comunn Gàidhealach – will take place in Oban  in four years time, marking its 17th appearance in the Argyll town since 1892.
The announcement was made by Allan Campbell, president of An Comunn Gàidhealach yesterday during a morning press conference in Glasgow – the Mod's 2019 host city.
He said: "The Mod in Oban is always a joy but I should say the Mod everywhere is a joy and that is naturally a reflection on the work of the host community, the generosity and the work of the host committee and the skill that An Comunn Gàidhealach has developed over the years of professionalizing the management and production of this enormous festival, whilst managing to do that within very modest budget constraints.
"I am not an expert on funding of other major Scottish festivals but I do believe that the Royal National Mod is delivered for a very economic figure given that it involves 10,000 people every year. It's a nine day event and alongside it there is the support for a network of 18 provincial mods.
"We are delighted to be going back to Oban by way of Inverness next year and by way of Perth and Paisley."
The news comes as the final day of competitions in this years Mod got underway.
Organisers of the nine-day festival are celebrating another successful year following a bumper year in entrants.
Argyll and Bute Council's Policy Lead for Gaelic, Councillor Robin Currie, said he was delighted by the news and is looking forward to seeing the Gaelic festival return "home".
He said: "This is great news for Oban and for Argyll and Bute, where we are very passionate about ensuring a long term future for Gaelic. The Royal National Mod is such an important date on the calendar for Gaelic, and Oban will be a wonderful host for the festivities in 2023."
He added: "The council put a bid in a while back so we have been working on that and we have now guaranteed money to bring it as they say "back home". A lot of people call Oban home for the Mod so we are absolutely delighted that it was there four years ago and that it is coming back in 2023."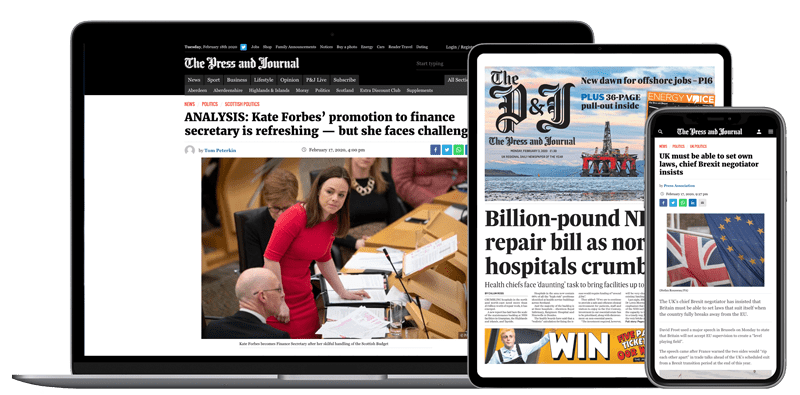 Help support quality local journalism … become a digital subscriber to The Press and Journal
For as little as £5.99 a month you can access all of our content, including Premium articles.
Subscribe