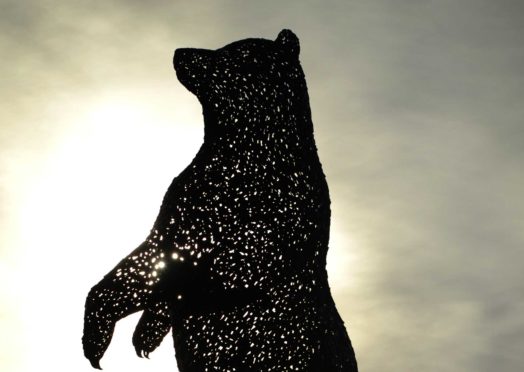 The artist behind the Kelpies has revealed his latest creation – a 16ft bear in tribute to Scots naturalist John Muir.
Andy Scott has been working for months on a sculpture of a giant steel bear, which has now been placed next to the A1 entering Dunbar – the birth place of John Muir, the forefather to America's national parks.
Mr Muir, known as John of the Mountains, emigrated from Scotland in 1849, and is famous for petitioning the US Congress for the National Park bill, establishing Yosemite National Park.
Landowners Hallhill Developments commissioned Mr Scott to create the tribute and it was unveiled yesterday.
A competition will now be undertaken with local schools to give the bear a name.
Mr Scott, 55, said: "It is fantastic to see this sculpture finally being erected as part of the Hallhill development, especially in memory of such an influential character as John Muir, which is particularly apt given today's focus on the environment.
"This bear sculpture will provide an opportunity to enlighten people about the man and his work.
"It is a symbol of the wilderness John Muir was such a passionate advocate of and is testament to his incredible desire to protect the natural environment."
The bear was created at Mr Scott's Philadelphia studio and transported to Scotland in sections before being assembled at the site.
East Lothian Council granted permission for the statue to be erected last year despite opposition from Transport Scotland.
Councillors initially rejected the proposal, citing concerns about the impact it would have on traffic on the A1.
An appeal was lodged and the council's local review body overturned the decision.
The bear was constructed in a similar style to the 100ft Kelpies statues near Falkirk, which opened in October 2013.
Angela Leitch, chief executive of East Lothian Council, said: "We're absolutely delighted that Andy Scott's latest eye-catching sculpture has been unveiled here in East Lothian. It's a highly appropriate way of paying tribute to John Muir, one of the county's most famous sons, who played such an influential role in the development of America's national parks.
"At five metres (16ft) high, we're sure the sculpture will become a real talking point, helping to draw even more visitors to the area."