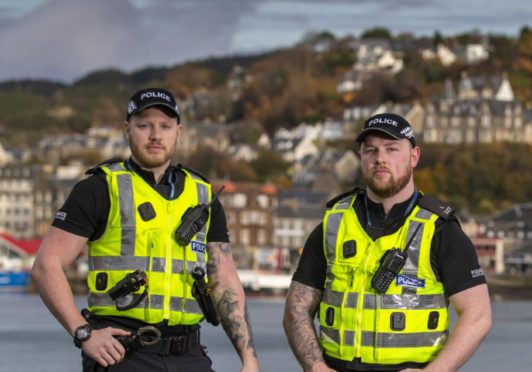 Two Oban police officers have been honoured at the Scottish Police Bravery Awards.
Constables Shaun Conway, 27, and Scott Deakin, 31, were called to reports of a man stabbing himself in the neck at a property in Oban, Argyll, on March 3.
When they arrived, they found the heavily armed man threatening to throw himself out of a third floor flat window. As he tried to jump, they grabbed hold of him and saved his life.
The Cabinet Secretary for Justice, Humza Yousaf MSP, said: "These awards are an important way to commend the actions of officers who have gone above and beyond the call of duty. Each incident is an example of the professionalism and dedication I see throughout Police Scotland.
"I am grateful for the efforts of all the officers involved."
Andrea MacDonald, chairwoman of the Scottish Police Federation, added: "All the winners this year are a credit to the service and it was my privilege to thank them for their heroic actions, on behalf of their colleagues, families, friends and the general public.
"Much has changed in Scotland's policing landscape in recent times with new and unprecedented challenges facing officers on a daily basis.
"But what remains the same is the dedication and bravery of the men and women who put on their uniform every day and go out to do their duty."