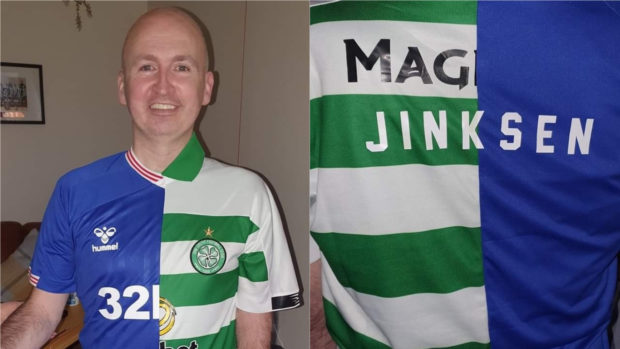 An Oban man diagnosed with a degenerative disease crafted his own unique football shirt to encourage Old Firm fans to unite in memory of two sporting legends.
Celtic supporter Brian MacDonald decided to stitch his preferred green and white jersey together with a Rangers top to take in Sunday's heated Glasgow derby.
The 42-year-old was diagnosed with motor neurone disease (MND) earlier this year – and forced to give up his 13-year career as a firefighter in Glasgow to move to Oban to be with relatives.
The experience has changed his outlook on life, and he asked a friend to make the shirt to urge fans to look beyond the match.
Yesterday, he explained how he wore it to remember two of his idols who also battled the disease – Jimmy "Jinky" Johnstone and Fernando Ricksen.
The name on the back of his strip reads "Jinksen" as an homage to both.
After he shared a picture of himself wearing it on his social media, friend Naomi McGleish, who made it for him, has had hundreds of people placing orders.
Mr MacDonald said: "I got one of my friends to make it especially for me after seeing a similar one – I wanted to wear their names on the back.
"I put it on for the first time on Sunday for the game.
"I don't just want to help raise awareness of the disease in Scotland. But we need to show that it's just a game, and we should be concentrating on the players that play in it.
"Jinky and Fernando are two legends from both sides."
While the 2-1 win for Rangers wasn't the result Mr MacDonald hoped for, he said the best team won on the day.
Mr MacDonald added: "Well done to Rangers for the win, the best team did win on the day.
"Despite being a Celtic fan, Fernando Ricksen has become a huge part of my life with this condition.
"I hate when there is trouble at the Old Firm – it shouldn't be about fighting and sectarianism.
"People need to remember, it's about the football. Let's try and get rid of the hatred in the game."
Mr Ricksen died in September, aged 43, after being diagnosed with MND in 2013. The footballer dedicated the final years of his life towards fundraising and collected more than £1 million to fight the disease.
Mr Johnstone died in 2006 having been diagnosed five years earlier. He was 61.
The last person to call him was old Rangers rival Willie Henderson, who had become a firm friend when their playing days were behind them.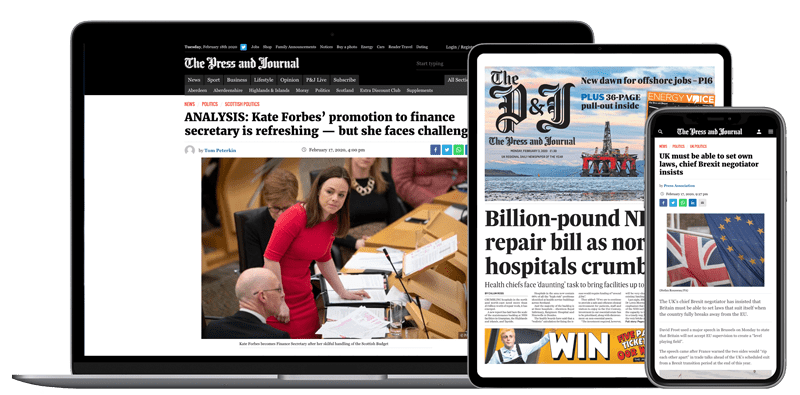 Help support quality local journalism … become a digital subscriber to The Press and Journal
For as little as £5.99 a month you can access all of our content, including Premium articles.
Subscribe