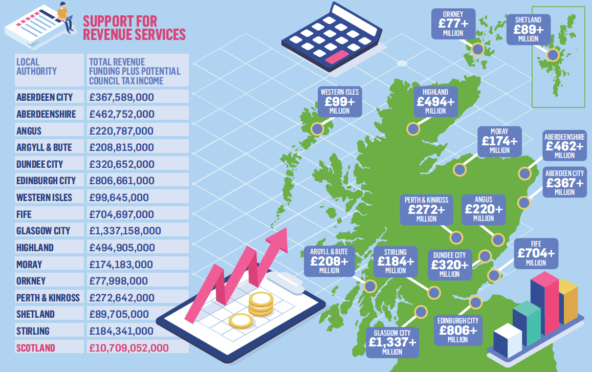 The north and north-east's councils have reacted cautiously to the budget announcement, saying the figures are broadly in line with expectations.
But many have warned that more time is needed to fully explore what consequences they may have on their day-to-day spending power.
Overall the Scottish Government has pledged £11.3billion to the country's 32 councils, an increase of £494million on last year.
The figure includes £100m for social care, £25m to support the living wage and £120m to close the school attainment gap.
Local authorities are also being given the choice to implement another council tax increase of up to 3%, which could generate up to £135m.
But the budget has been criticised for featuring an apparent £117m cut in the funding available for key projects such as schools and housing.
And some have warned that the region's cash-strapped councils will have further tough decisions to make as they set their own budgets in the weeks ahead.
Local Government Secretary Aileen Campbell said: "Taken together with the flexibility to increase council tax, this local government settlement gives councils an increase of revenue spending of up to 4.3% in real terms to deliver local services.
"This increased settlement will ensure fair, sustainable funding for local authorities."
But Cosla, the Convention of Scottish Local Authorities, has said the reality behind the figures is "quite different".
Resources spokeswoman Gail Macgregor said: "What we are left with, when you factor in the Scottish Government commitments of £590m, is a cut to local government core budgets of £95m.
"This is £95m in hard cash that will need to be taken out of frontline services for communities.
"We campaigned hard to ensure that this position did not happen – it is disappointing our message has not been listened to."
Aberdeen City Council will receive £361m from the Scottish Government this year, with the possibility to add another £6.3m with a 3% rise to council tax.
Co-leader Douglas Lumsden warned that local government services across the country are "likely to suffer" as a result of yesterday's announcement.
He said: "It was a tough budget that will see a lot of cuts to services and possibly a rise in fees and council tax to deal with the shortfall in money.
"We had a list of demands that we would have liked met and this budget has fallen far short of that.
"Aberdeen and the north-east has been underfunded for years and the local councils are being forced to their breaking points."
Aberdeenshire Council will be given £456m, which leader Jim Gifford described as "largely flat" compared to last year's settlement.
He added: "From a local government point of view it is quite disappointing, there is a distinct lack of detail.
"The headline of real terms increase for local government does not chime with what we are seeing.
"It's just getting to the point of being past ridiculous.
"Councils are being squeezed to just about the point of not being able to function any more.
"Given a lot of funding is protected, the pot of money we can actually making savings in is getting ever smaller which makes the savings feel increasingly big and more difficult."
Several councils are taking the time to fully comb through the figures, but expressed relief that they did not fall foul of any nasty surprises.
Moray Council leader Graham Leadbitter said: "While there's still a lot of number crunching to be done, the early analysis of the figures suggest that the revenue grant is not too far from the assumptions that have been made."
A spokesman for Western Isles council said: "We will need to analyse figures before making any definitive statements and of course it is all subject to change depending on the settlement the Scottish Government receives from UK Government.
"Whilst the bare figures seem to show a slight increase in the revenue settlement from last year, a lot of it is ring-fenced and non-discretionary."
Highland Council said its budget allocation was "in line with planning assumptions."
Leader Margaret Davidson added: "It will take a few days to assess exactly what this means and how much of this funding is ring-fenced.
"It is extremely concerning that capital funding available to local authorities appears to have reduced."