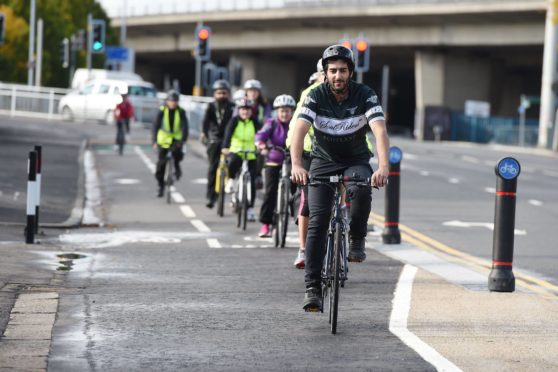 The Scottish Government has committed to further investment in transport and infrastructure, with ferries, railways, roads and air travel to receive funding.
In its budget, there were vows to maintain low fares for the Clyde and Hebrides ferries, and freeze passenger and car fares on services between Orkney, Shetland and Aberdeen.
Grant support will also be offered for "priority" harbour projects in Tarbert, Lochmaddy, Uist and Ardrossan.
A total of £11.5 million has been earmarked for inter-island ferries, a £1 million increase from last year.
But Highlands and Islands Conservative MSP Jamie Halcro Johnston said the investment was not enough.
"Despite years of promises from ministers, our island councils will yet again be left picking up costs of millions of pounds for delivering vital lifeline internal ferry services which, in other parts of Scotland, are fully funded by the Scottish Government," he said.
"These services are absolutely critical to our island communities and it is simply not right that council services in other areas risk being impacted in order to pay for our essential transport infrastructure."
The Scottish Government will reveal plans later this year to decarbonise the country's railways by 2035, which will include the use of battery electric and hydrogen-powered trains.
It is also planning to develop infrastructure improvements on "key routes" including Aberdeen to Inverness, the Highland Main Line, the Far North Line and the West Highland Line.
Redevelopments for train stations at Aberdeen and Inverness will also be supported.
For motorists, the government has re-committed to projects improving the Haudagain and Longman roundabouts, as well as a new junction at Laurencekirk on the A90.
Liz Cameron, chief executive of the Scottish Chambers of Commerce, said: "The budget hits a delicate balance between the need to invest in a low carbon future and the sustainability of our rural communities and crumbling road network.
"Commitment to current plans of investment in A9 and the A96, as well as the commitment to regenerate the Clyde, are key asks from the business community and we are pleased these will continue to go ahead along with other key projects."
In addition, the budget proposes a £5.5 million boost to funding for active travel – offering £85 million in total.
This will be used to deliver new infrastructure for "walking, wheeling and cycling," which will improve citizens' health and cut carbon emissions.
National charity Cycling UK welcomed the announcement, but urged ministers to further increase its investment.
Jim Densham, its Scottish campaigns and policy manager, said: "We are pleased to see this modest increase in the budget for cycling and walking.
"However, the Scottish Government said this would be the budget to tackle the climate emergency.
"To do that it has to enable more people to walk and cycle, reducing car-dependency and transport related carbon emissions.
"That requires a much larger shift in funding."