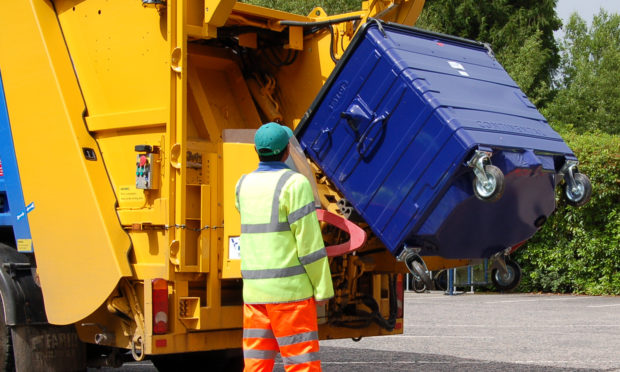 Like other local authorities across the country, Argyll and Bute Council has made significant changes to allow its frontline services to continue.
Currently only the green waste bins are being uplifted for disposal and no recycling is available.
Meanwhile the council ferry workers who operate the routes serving Jura, Luing, Easdale and Lismore can only take passengers who are making essential journeys.
Chief executive Pippa Milne praised the frontline staff for going "above and beyond" for the community to keep things moving.
Pippa Milne, chief executive of the council, said: "We are immensely proud of our frontline staff who continue to deliver the services that our communities rely on, in really difficult circumstances – from our amenity workers making sure bins are lifted to cleaners, and the catering staff still feeding our children.
"There are grave-diggers and crematorium operators, ferry and harbour staff, not to mention carers providing lifeline services for vulnerable people. They will all go well beyond what is normally expected to keep things going."
She also thanked those working behind-the-scenes to assist with business access grants and support and to provide information to worried communities.
'It is essential that we keep going'
One thing we definitely can't do without in these restricted times is drinking water.
Colin Luke is a senior water treatment operator in Orkney.
He and his co-workers operate the islands' water treatment works, which produce drinking water for distribution to homes 24 hours a day.
Mr Luke, 40, said: "Since we are providing the public with a vital service, it is essential that we keep going. For me working to keep Orkney's water flowing during the current situation isn't so different to business as normal, just with a few important alterations.
"We have put precautionary measures in place to prevent contact with our fellow workmates. Hand sanitiser stations have been installed at all the treatment works on the islands which are to be used prior to entering the buildings. Shift rotation is in place to minimise contact with our fellow colleagues and a 'single person to a single van' policy is in place.
"Working during these times is a bit more challenging than normal, though Scottish Water has been very supportive with the measures we have put in place to ensure that customer supplies can be maintained.
"As for everyone in the community, we are not having the contact we normally would with other people – our colleagues, contractors and customers. That is how it has to be, so that our work can continue safely – and so that everyone can continue to have the clear, fresh and great-tasting drinking water that they need on tap."
It's a dirty job – but someone has got to do it.
Dougal Leslie is a network maintenance operative with Scottish Water's sewer response team in Inverness.
Despite the recent movement restrictions, the 54-year-old and his colleagues play an essential role in in keeping the waste water network in the area flowing.
Important duties include attending at properties which have reported a blockage in the sewer network and taking action to prevent flooding.
Mr Leslie said: "At the end of the day we're there to do a job. The team all feels the same. The coronavirus has had an impact on the way we work, but it doesn't feel too bad at the moment although it is changing every day.
"I'm feeling OK about working at the moment – I like keeping busy and being able to help people in any way I can. People can really help us too by thinking about what they put down the toilet and the drainage system – and especially by not flushing wipes down the toilet.
"There is no such thing as a biodegradable wipe and the vast majority of chokes that we attend are caused in some way by these things. People should only be flushing toilet paper down the loo – any alternatives they may be using at the moment should go in a bag and then in the bin. That would make a big difference in protecting everyone and keeping everything flowing as it should.
"We wear personal protective equipment as a matter of course during our work anyway, which includes gloves and a visor, so that hasn't changed but we've been issued with hand sanitiser and wipes as well which we're all using."
He praised customers for maintaining a distance, and assured them there is always a work-around for those who needed help but were perhaps having to self-isolate.
"I had a customer recently who was having to self-isolate but I was still able to go and complete the job, we just communicated through the window," he said.
"We know that everyone is concerned about minimising travel and avoiding spreading the infection, but I hope they appreciate that we need to maintain essential services for all of our customers – including by unblocking toilets and drains to prevent sewage flooding."