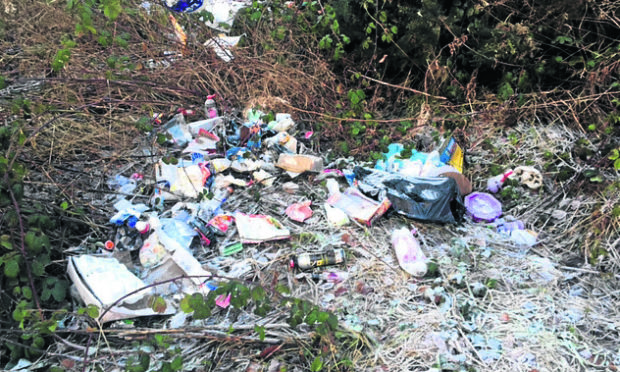 Whistleblowers spotted more fly-tipping incidents in parts of northern Scotland last year than at any other time in the previous decade.
There were more reports of illegal dumping in Moray and the Highlands during 2019 than in any of the previous 10 years, while levels in Aberdeen were at a five-year high.
The new figures, which detail reports to the Scottish Environment Protection Agency (Sepa) and were obtained by the Scottish Conservatives through a freedom of information request, have been branded "alarming" and "unacceptable".
They have also prompted widespread condemnation of fly-tippers as councils are having to divert resources, which are often already stretched, to clean up after them.
Last year there were 50 cases reported across the Highlands to Sepa's Dumb Dumpers hotline – the most of any year in the last 10.
There were 35 in Moray, which is the highest number since 2009, when 41 were recorded.
In addition, the 48 reported in Aberdeen marked a five-year high for the city.
But this figure was still substantially down on previous years, where a high of 95 was noted at the start of the decade.
Incident levels in Aberdeenshire have also fallen dramatically, almost halving from 90 in 2009 to 49 last year.
Scottish Conservative north-east MSP Tom Mason said he was deeply concerned by the effect such incidents are having on beauty spots across the region.
He said: "The figures are very alarming and show the strain these types of incidents are placing on our councils.
"Each fly-tipping incident means a crew is distracted from delivering another core service in the area and that is very concerning."
Mr Mason added: "Families and tourists often travel to visit beauty spots across the region, which is why it's appalling to see piles of rubbish dumped recklessly in these areas.
"I would encourage anyone who notices any incidents of fly-tipping to get in touch with Sepa, their council or the police as soon as possible."
Catherine Gee, operations director at Keep Scotland Beautiful, said: "Sadly, clearing litter and fly-tipping from Scotland costs more than £1 million a week and levels are unacceptably high across the country.
"This also impacts upon our health and wellbeing, as well as causing untold damage to the local environment and wildlife.
"These latest figures demonstrate that a growing number of people are frustrated enough to report a problem.
"However, we need to ensure that the criminal activity of a persistent few stops with increased enforcement and better awareness-raising campaigns to help people understand what they should do."
To report flytipping, visit www.zerowastescotland.org.uk/DumbDumpers.