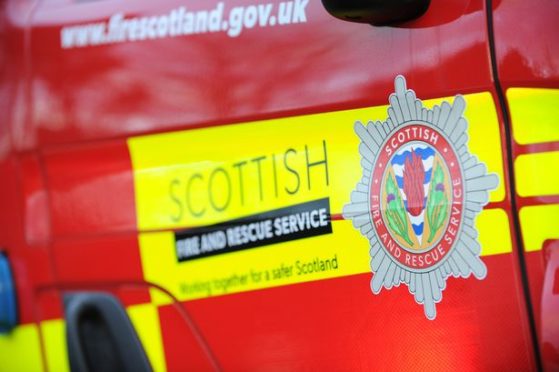 Scotland's fire service is sitting on a "dangerous knife edge" as hundreds of personnel are forced to self-isolate, union bosses have claimed.
The Fire Brigades Union (FBU) yesterday issued an urgent plea for firefighters and control staff to be tested for coronavirus to eenable much-needed emergency workers to return to the front line.
There are currently 362 firefighters and control staff self-isolating across the country – representing 4.6% of the service north of the border.
This is more than double the percentage of some English counties, such as Hampshire with 0.7% self-isolating, 1.7% in Leicestershire, and 1.9% in Gloucestershire.
Without immediate action, the FBU warned that the situation will only deteriorate and heap pressure on those still working.
A spokesman said: "Without urgent testing of frontline personnel, there will inevitably be an impact on brigades' ability to provide fire cover and respond to other emergencies, including their work supporting the coronavirus response."
The Scottish Government has committed to initial limited testing of firefighters and control staff, which has already begun at Glasgow Airport.
But in a letter to the FBU, UK Security Minister James Brokenshire made no commitment to the blanket testing of fire and rescue personnel in isolation.
In just the last few days, several incidents in the north of Scotland have highlighted the importance of a fully functioning fire service.
Yesterday, five crews were sent to a "well-developed" house fire in the Cunningsburgh area of Shetland. Nobody was injured, but it took more than hours for crews to extinguish the flames as they spread to the roof.
Meanwhile, colleagues in Macduff tackled a wild fire at Hill of Doun.
And over the weekend, six crews spent several hours battling a fire at a farm building near Aberchirder while crews were also called to a small fire at a student flat in Don Street, Aberdeen on Sunday night.
Last night, FBU general secretary Matt Wrack said: "The Westminster government is playing with fire by not testing firefighters and control room staff for coronavirus.
"Currently, crews are maintaining services, but this will become increasingly difficult as the virus spreads.
"There are already thousands of firefighters and control staff in self-isolation, only a fraction of which will have the disease.
"If we aren't able to find out exactly who is infected, and more staff isolate unnecessarily, services will be put on a dangerous knife-edge.
"Ministers need to get to grips with this crisis and ensure that all emergency service personnel are tested as soon as possible."
A UK Government spokesman said: "We are prioritising the testing of the most acutely ill and vulnerable patients in hospitals and those on the frontline to help them get back to work as soon as possible to support our NHS.
"We are working very closely with fire chiefs to ensure they have the resources and support they need to carry out their vital roles and to keep people safe."
Follow below for the key coronavirus updates: