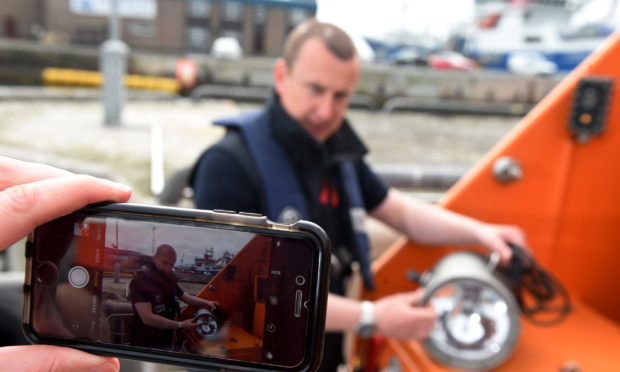 The message from government and health officials couldn't be any clearer – stay at home to save lives.
However, for volunteers of the RNLI, many have to leave their homes to do their life-saving.
Crew members remain on call 365 days of the year, even in the current pandemic, to man the coasts and waters of the UK.
That has meant adapting quickly to best protect the health and well-being of its workforce while still ensuring round-the-clock cover.
When bars, gyms and shops closed their doors, so did RNLI lifeboat stations. Volunteer crews have been asked to stay away from what would usually be their base unless visiting it is operationally critical.
They are asked to continue to respect social distancing as much as is physically possible, whilst maintaining the strict standards required to undertake a life-saving mission on the high seas.
Vital maintenance and essential exercises on equipment and vessels are still undertaken by volunteers and staff mechanics, however – but these are done by one member of staff at a time.
Michael Avril, RNLI's regional water safety lead for Scotland, said: "We have, of course, had to change the way in which we operate, to ensure our crews are as safe as possible.
"Volunteers and staff only attend the lifeboat station now if absolutely, operationally, necessary.
"However, we are still on hand 24/7 to respond when tasked by the coastguard."
Previously, when the pager sounded, every available crew member would attend the station as quickly as possible and an operational crew would be selected.
New rules to safely observe social distancing, and to best protect the crew and any casualty, dictate that as soon as the required number present at the station a message is relayed to the rest of the crew not to attend.
Stuart Gudgeon, area lifesaving manager for the RNLI, said: "The new protocols have changed the way the volunteer lifeboat crew respond to a call to service in many ways.
"In addition to adhering as far as possible to social distancing measures, existing stringent hygiene controls have also been stepped up.
"This has a significant impact on the time required to perform the necessary cleaning methods on the boat and of all personal kit scrupulously."
Martyn Simpson, coxswain mechanic at RNLI Peterhead, said: "We are still fully on call so if the pager goes off, the crew come down to the station but stay outside in their cars. Nobody leaves their vehicle.
"The duty coxswain and mechanic will discuss what sort of an incident it is, what sort of crew is required and a timescale.
"From there they will select the crew from the vehicles and only at that point once the crew is selected and the boat is going to sea will crew come out of their cars and into the station.
"Once we go onto the boat we can't comply with social distancing due to the size of the boat.
"For that, we are taking extra precautions so we are going further with cleaning and disinfection."
And the public need to do their bit as well: the RNLI has issued a plea that everyone uses their essential exercise time safely and sensibly.
The calls come after some of the charity's most recent shouts included reports of water users in distress, including one to overdue kayakers off Shetland and another to lost walkers in Argyll.
Public asked to be vigilant when stay at home restrictions relaxed
Operations in the past few months have been quieter than usual for RNLI crews across the north.
Easter usually marks the start of the busy season, with more people taking to the sea or coastal walks, but not so much this year.
And although it has been a strange time for the crews, they are urging members of the public to remain vigilant about their safety when restrictions are relaxed.
The concern comes as the RNLI's regional management teams begin identifying areas where they will face "shout hotspots".
Michael Avril, the charity's water safety lead in Scotland, said: "We would ask those who intend to return to sea, whether on commercial vessels or pleasure craft, to ensure that their boats are well maintained and, if possible, checked by a professional before they head out to the open sea.
"For the public, heading back out on coastal walks or onto the sea for pleasure, we'd suggest taking a quick look at our website and reminding yourself of some key safety advice, for example checking tide times, ensuring personal safety devices are charged, flotation devices are maintained and that all your equipment is in working order."
Lifeboat crews train at home using online videos and messages
Despite restrictions changing the way in which RNLI staff and volunteers conduct their roles, members of the lifesaving charity have adopted new methods to maintain training and keep crew camaraderie high.
Online resources have become a key part of everyday working, but although the team is using apps for training, expert knowledge continues to be passed on from experienced crew members.
In Peterhead, coxswain mechanic Martyn Simpson has been keeping fellow crew members on their toes while undertaking his essential maintenance by offering virtual 'walk rounds' allowing other crew members to familiarise themselves with every nook and cranny of the lifeboat.
The process is designed to build and maintain competency within crew members when they are required to launch with the lifeboat on a shout, all whilst remaining safe and respecting social distancing measures from the comfort of their own homes.
Other teams have also opted to shift materials online to allow the continuation of training as well as providing support during the pandemic.
The RNLI's support teams have uploaded videos to allow crew to maintain and learn new skills, with one, filmed pre-lockdown, demonstrating the efforts and methods required to safely conduct a tow of one of the charity's Atlantic 85 inshore lifeboats.
The RNLI has made sure it is implementing a fine balance of encouraging work to be undertaken by crew members, whilst also allowing for the social aspect to be maintained through online messaging and video conferencing platforms.
Jill Hepburn, the RNLI's lifesaving lead in Scotland, said: "While, like every organisation, the pandemic has brought us plenty of problems to solve, as ever our operations teams and crew have displayed their commitment and adaptability whilst they do their very best to conduct any operations safely.
"The pandemic has also brought us the opportunity to review how we operate and how, going forward, we can maintain some of this flexibility for our crews. For example, we're already looking at how we can make our shore-based training available online.
"This could mean that crew who have childcare, or other evening responsibilities, will be able to attend this training remotely, won't miss out and will be able to continue progressing through their crew training plans."
The RNLI's water safety teams have also been keen to assist parents struggling to amuse children at home, launching Water Safety Wednesday – an online resource of materials and interactive live videos.
Fundraisers: Charity forced to get creative
The RNLI rely on fundraising to continue their lifesaving work, and like many other charities are facing a challenging time.
In order to best protect its employed workforce, the RNLI has furloughed at least one-third of its staff to reduce operating costs.
However, as the main source of income usually comes from the public, those behind the ideas and novel funding of the charity have been getting creative in finding ways in which it can still continue to flourish despite restrictions halting mass gatherings.
May is the charity's busiest fundraising opportunity, as it normally focuses on Mayday.
To keep the funds coming in, while keeping supporters safe, this year the RNLI is inviting people to enjoy a "a cuppa with the crew" through a Facebook live event on May 1.
Participants can ask questions about volunteering and learn more about the stations dotted around the coast.
Alison Byers, RNLI's engagement lead for Scotland, said: "We hope that not only will Mayday help raise funds for our crews but that it will also help raise spirits and give people something to plan for, to look forward to and enjoy with friends, even if it is just online."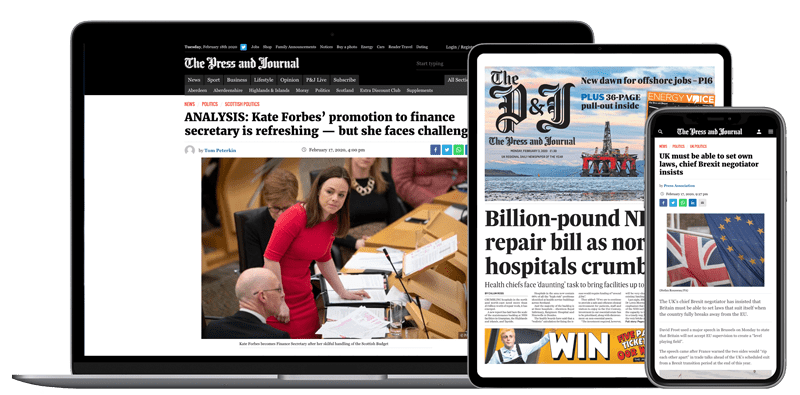 Help support quality local journalism … become a digital subscriber to The Press and Journal
For as little as £5.99 a month you can access all of our content, including Premium articles.
Subscribe