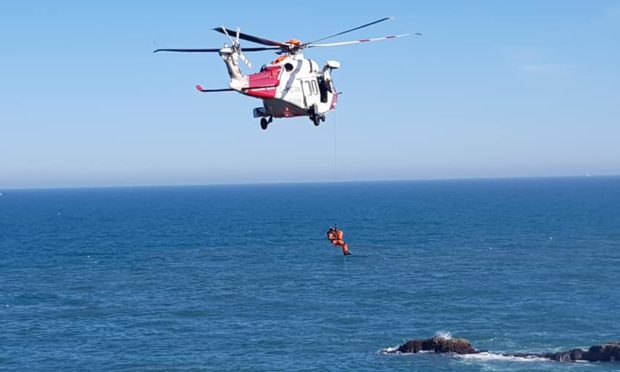 A man was airlifted to hospital after plunging from the cliffs at a north-east castle as Coastguard crews were placed on high alert over the weekend.
The rescue at Slains Castle, beside Cruden Bay in Aberdeenshire, was among scores of incidents that crews responded to as lockdown was eased.
With temperatures soaring and large numbers of visitors travelling to coastal beauty spots, Coastguard teams attended "a record 206 incidents" across the UK.
The Maritime and Coastguard agency said some people were flouting safety messages  and "taking unnecessary and dangerous risks".
Crews from across Aberdeenshire were scrambled to Slains Castle on Saturday afternoon.
Paramedics, the police, the RNLI's Peterhead lifeboat team all attended when a man fell off a cliff into the sea.
He was airlifted to Aberdeen Royal Infirmary by the Rescue 151 Inverness search and rescue helicopter, where he was said to be in a serious condition.
Martyn Simpson, RNLI coxswain mechanic at Peterhead Lifeboat Station, said: "Peterhead Lifeboat has launched to two calls at Slains Castle within the last two weeks – it is a beautiful walk but it can also be very dangerous so we would urge everyone to take extra care."
North-east regional MSP Peter Chapman said: "This serious incident underlines the very difficult job faced by our emergency services as the weather improves.
"People are returning to the coast as lockdown measures ease off. Cruden Bay has stunning scenery, but walks need to be carefully planned.
"I would urge anyone considering a trip to be mindful of the pressures of the RNLI, the coastguard, the police and many others."
Two people and their dog had to be plucked to safety by lifeboat crews after being cut off by the tide at the Old Bar, east of Nairn.
The Findhorn-based Moray Inshore Rescue Organisation was tasked with rescuing the trio at about 4.20pm on Saturday.
Operations manager Peter Mackenzie said: "All three were found to be safe and well and were taken on board and conveyed to Nairn Harbour, where they were met by the Coastguard.
"Our weekly crew training has been suspended since the start of lockdown as we are unable to socially distance in the rescue boat.
"However, our crew have been ready to respond in an emergency situation."
Sun-seekers were warned against using the footbridge to reach Lossiemouth's East Beach due to the crossing being sealed off on safety grounds.
Instead, people wading through the River Lossie to reach the sands were urged to check tide times to ensure they did not become trapped.
Following the busy Saturday, Coastguard crews across the north and north-east mounted increased patrols along the coast on Sunday.
And Jacob Davies, the RNLI's lifesaving manager for Scotland, warned that exposure to the chilly coastal water could still be fatal despite the warmer weather.
He said: "Just because the lockdown restrictions are being relaxed does not mean our coasts are safe, the dangers that have always been there remain.
"We ask those who are local to beaches to continue to be aware of the inherent dangers and to avoid taking risks.
"Our strong advice to the Scottish public, who are not local to a beach, is to exercise locally and not to travel to the coast."
Under phase one of the Scottish Government's lockdown easing guidelines, residents are now permitted to travel short distances for outdoor leisure, but the advice is to stay within five miles of your local community.
Previously, Nicola Sturgeon said although restrictions were loosening, the government was discouraging people from flocking in great numbers to beauty spots.
However, many popular inland destinations were also very busy, particularly with motorists, over the weekend.
The Forestry Commission Scotland car park at Bennachie in Aberdeenshire has been shut to visitors, however on Saturday many drivers parked their cars at the barrier to the car park, blocking access for emergency vehicles.
It was also reported that people had parked on road verges, as well as at the end of farm roads.
In Edzell at the Blue Door walk south-west of Fettercairn at the River North Esk, large numbers of cars were spotted parking up on verges of the road outwith car parking spaces.
The high volume of vehicles blocked parts of the road, reducing it to a single lane in some areas as drivers squeezed to get past each other.
In England, three people were sent to hospital with serious injuries after jumping from a 200ft high cliff into the sea in Dorset on Saturday.
The casualties had leapt from a sea arch at Durdle Door beach, encouraged by cheering crowds on the packed sandy beach.
When helicopters arrived as part of the rescue mission, those crowding the beach were packed together tightly by the emergency services to keep them away from the aircraft.
Following the incident, Dorset Council had to close the roads leading to the beach for to restrict the number of visitors.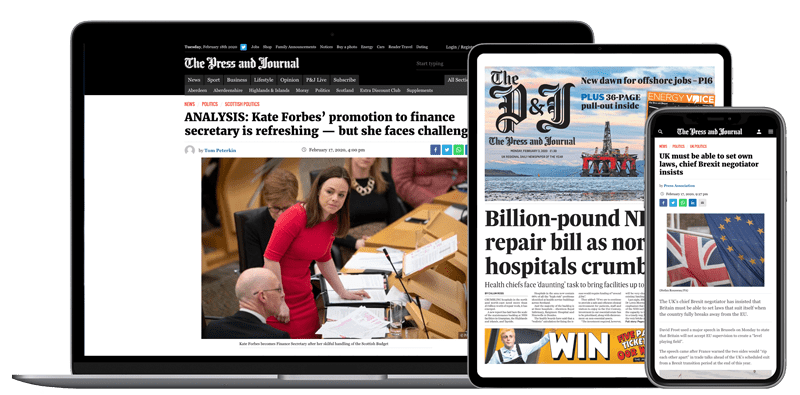 Help support quality local journalism … become a digital subscriber to The Press and Journal
For as little as £5.99 a month you can access all of our content, including Premium articles.
Subscribe