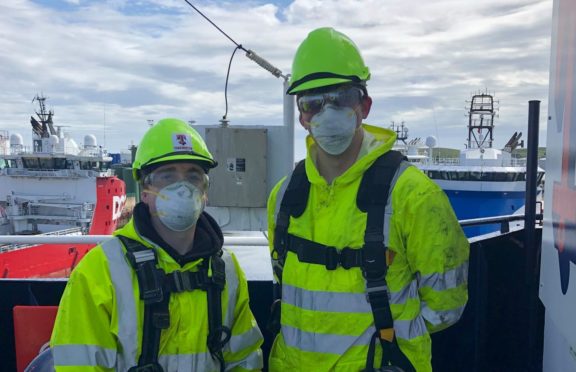 Gregor Aiken speaks to three people for whom the 'new normal' is not that different but are still feeling the effects of the changes coronavirus is forcing upon Scotland
Scotland has been in lockdown now for more than two months and in that time, many have had to get used to a new way of living.
We've had to live in a world where we couldn't see our loved ones and stay indoors for much longer periods than many would be used to.
It's been a difficult and strange process – but for some, the restrictions are not too dissimilar to their normal way of life.
Lockdown restrictions in Scotland recently eased to allow people to exercise as often as they like during the day and sunbathe or picnic in the park.
But for the first two months, conditions were tough for many – particularly those in a small flat with no garden and only allowed out once a day to exercise.
For Niall MacLeod, however, it is entirely normal to enter his small living area knowing he may not touch land again for another six weeks.
The second officer for Tidewater surveys the seas as part of a small crew delivering cargo to oil and gas platforms in the North Sea.
The 28-year-old's challenge begins each time he says goodbye to his wife, Ishbal MacLeod.
"She understands I'll be away from home for long periods of time and I'm going to miss out on a lot of important dates.
"But she encourages me to pursue and progress in the next steps of my career.
"It is a great testament to her that she is so supportive in my work.
"I remember in my first year, I was away for my birthday, my brother-in-law's wedding, my wife's birthday, Christmas and New Year.
"You start thinking 'will I be home for anything?'.
"I nearly missed my own wedding, but thankfully the crew were very understanding and I was able to tie the knot last summer.
"It is a sacrifice you make and, of course, you know what you are signing up for."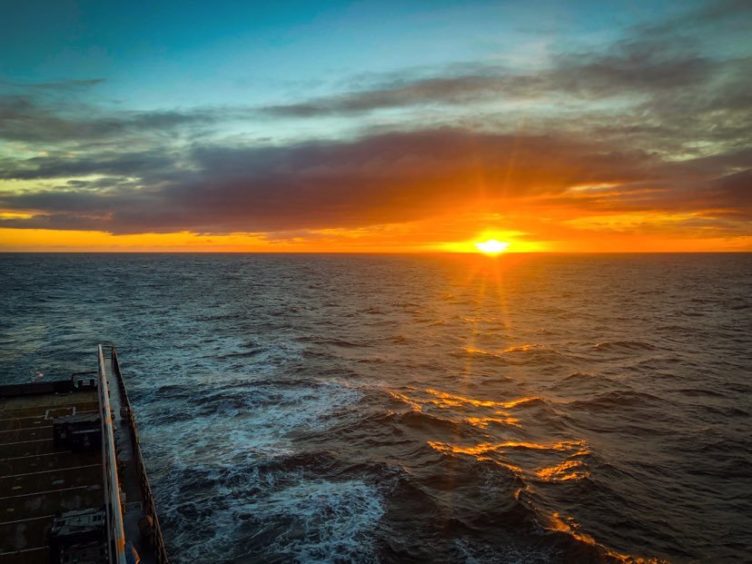 With the outbreak of coronavirus, new measures have been introduced to safeguard the workers and prevent the spread of the disease – and they have deepened the feeling of isolation for Mr MacLeod and his shipmates.
"We are not allowed any visitors at all – and this includes colleagues from the office.
"When we dock in Aberdeen we shut the doors down and the only people that come onto this ship are cargo loaders on the deck.
"They sign a health declaration form and we must stay at least two metres apart.
"No-one on this ship has tested positive for Covid-19, but there is no guarantee that anyone coming onto the ship has not.
"With this in mind, the workers are in theory forced into isolation."
Mr MacLeod said that with the restrictions in place, there is a lot less interaction for crew members and "we have all noticed it on the boat".
"Usually you can head ashore and have a walk, which is brilliant, but during these times if you step foot on land there is a risk you could bring the virus back onto the ship without knowing it," he said.
With a gym onboard as well as television rooms and a games station, the ship workers are still able to entertain themselves.
Mr MacLeod added: "Because of coronavirus we haven't been able to go ashore and I think that's why I've been going to the gym much more regularly on this journey than I have on any others.
"Frustration does build-up and there are times when I'd just love to go for a walk or a run on hard ground.
"The ship is only 87 metres long, by 17 metres wide, and there are not a lot of places to go.
"It is a challenging time for all of us but we know what is more important and understand why the measures are in place.
"They are there for the greater good and to protect the safety of our crew."
Driver William hit road to keep food on the shelves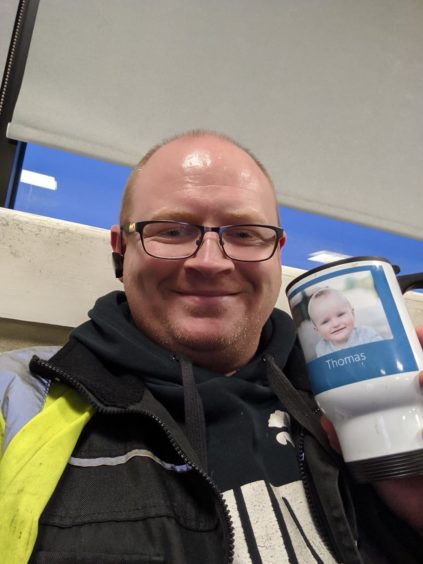 When William Shaw wakes up, he pulls back the curtains to be met with miles of tarmac and the open road ahead of him.
Getting into first gear, he shuffles from his cabin bed and into the driver's seat where he can remain for up to 15 hours a day.
The lorry driver said: "It is very basic. I've got my bed, a microwave and the front of the dashboard acts as a table of sorts.
"With my tablet I can watch TV programmes and that is me.
"I found it difficult to adjust when I first got into the industry, but after so many years, I'm used to it now."
The family man juggles time at home against time on the road – spending up to five days a week away from his loved ones. Days off are devoted to his two children and wife.
He has been busier than ever since lockdown was imposed, making regular trips to the north and north-east to keep supermarket shelves full.
"Being away from home can mess with your head a bit – sometimes I feel a bit helpless especially if the kids are not well, or something has happened my wife," Mr Shaw said.
"When I'm not at home I'm not able to help. I have only been home two days a week over the course of the year. Sometimes I've only been there once every second weekend."
He added: "I've missed a lot in my kids lives and my wife's too. I would go as far to say she has pretty much been a single parent for the last eight or nine years.
"You do get lonely, but I feel it's more helplessness. I feel I should be more of a husband and a dad. It can be tough.
"Luckily my wife understands and supports me in my career."
As a former European truck driver, days alone and without contact from another being were very common.
Mr Shaw said: "I would be away for six weeks at a time – driving through France, Spain, Italy.
"You'd be lucky if you met anyone who spoke English on the trip.
"I would pinpoint certain places where there would be British truck drivers – even if you'd never met them before.
"You could have some sorts of conversation with them and what a relief that was.
"You don't realise how much you can do your own head in – you can easily fall out with yourself.
"Having a five minute conversation helped bring back a sense of normality."
As lockdown began, and demand for essential items spiked, truckers drove the length and breadth of the country, day and night, to ensure shop aisles were packed.
But despite being in touching distance, the drivers could not get their hands on the essential items they themselves needed for their trips.
"Pressure had been piled on us since lockdown began," Mr Shaw said.
"However, going to the shops myself, I was limited in the groceries and products I could buy.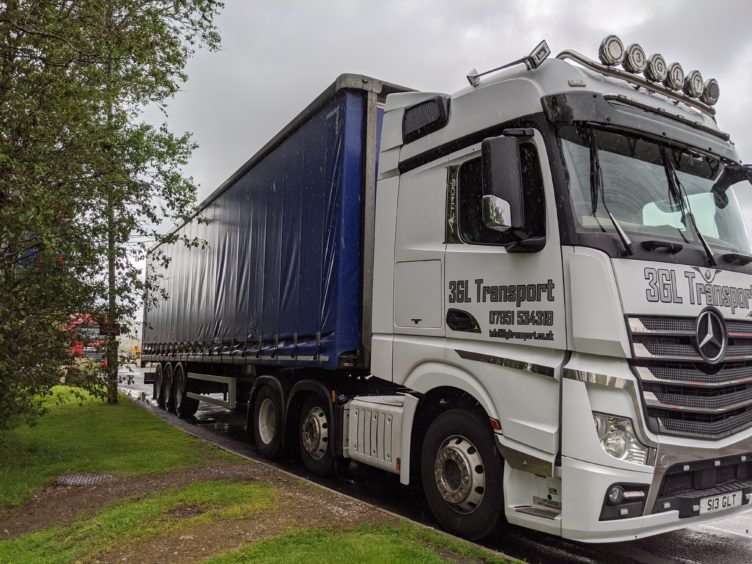 "I was trying to load-up for a five or six day period and I was only allowed the likes of three bottles of water or three microwave meals.
"I understand these restrictions were put in place to cater for everyone but we were filling the shops and couldn't feed ourselves."
Lockdown has been a testing time for many and, being a family man, Mr Shaw understands what is more important.
"I've had a good moan but at the end of the day I know I am lucky that none of my family have been affected by this.
"I appreciated there are people who have lost family and friends and that is way more important than scrapping over a couple bottles of water."
Gardeners used to losing themselves in the creativity of their work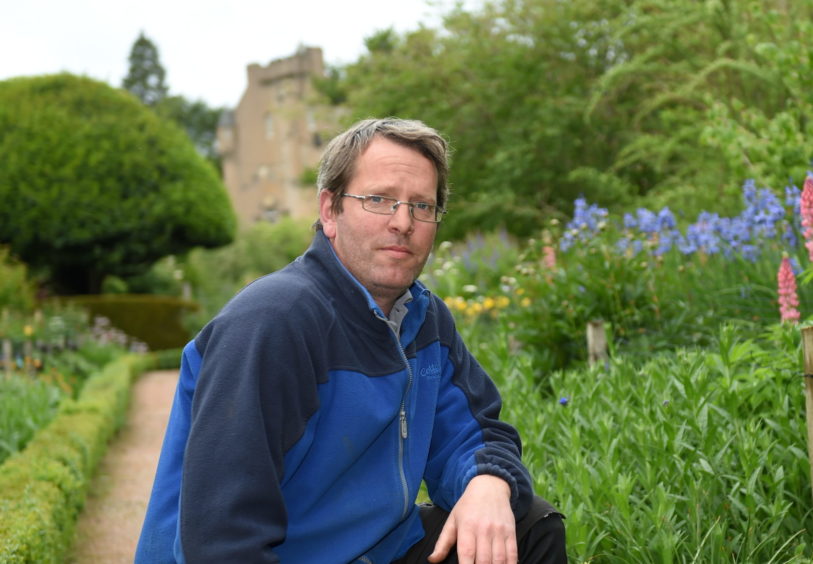 Time spent outside has been a welcome relief for Scots in the days since lockdown was imposed.
As head gardener at Crathes Castle in Aberdeenshire, however, it's been largely business as usual amidst the "new normal" for James Hannaford.
Mr Hannaford, who worked at Inverewe Gardens in the north-west Highlands for nearly 16 years, says being isolated from others "is all part of the job really".
The 43-year-old said lockdown had nonetheless been "a bit of a shockeroo" but a growing garden has certainly kept him busy.
"At the likes of Inverewe it can be very touristy, especially in the summer months, but that all changes in the winter," he said.
"You notice the difference in footfall and you might not see many people until March.
"It is something I have become used to but equally it suits some people and not others.
"Communicating with your team does help combat this, whether it involves a task or even a confidential chat.
"The trust (National Trust for Scotland) is very good as well, with services available if people are struggling."
He believes the gardens strike a balance between isolation and integration.
"People find themselves working alone, but there are opportunities to work as a team and come together," he said.
"It seems to work out just fine. Part of the reason for people pursuing this line of work is that you can lose yourself in something creative."
As it has across the tourism industry, the coronavirus pandemic has had a huge impact on the team at Crathes Castle.
Mr Hannaford said: "Normally we have six full time staff, including an apprentice.
"On top of that we have three seasonal staff on various hours and 15 volunteers that come at different times.
"Due to the pandemic this become a team of two – including myself and the first gardener – for six weeks.
"Thankfully we now have two others returning to the team.
"We are abiding to the new measures by staggering our tea breaks and spacing ourselves across the four acre garden and 240 hectare estate.
"In addition, we are making sure we are keeping good hygiene and keeping clean those contact areas and objects.
"So far it is fairly manageable and working out."
There is hope that as lockdown measures continue to ease, the castle grounds and gardens, run by the NTS, will open back up to the public in August.
Mr Hannaford said: "At the trust we are analysing the different measures we can introduce for the return of visitors.
"We would be looking to introduce hygiene stations at the gates and it is almost certain a one-way system will be put in place.
"We'll likely have to limit use of benches too.
"It is quite a complex subject and it is not going to be easy."