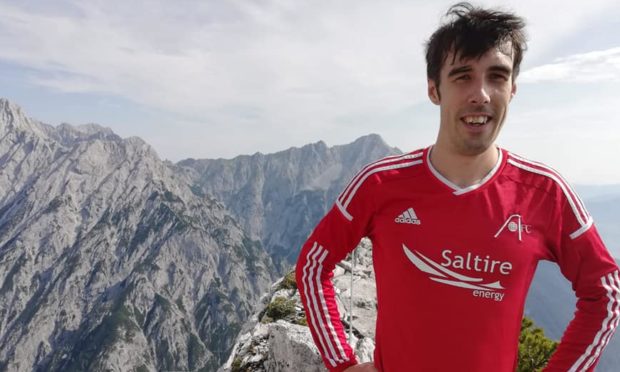 As we edge towards 100 days in lockdown, many of us are reflecting on what has been an extraordinary chapter in history.
Never before have we been asked to stay home in order to save lives.
We have witnessed unbelievable community spirit, with rainbows displayed in windows and widespread support networks set up.
But with the official death toll passing 41,000, Britain has been one of the countries worst-hit by the pandemic.
With Scotland's First Minister Nicola Sturgeon at odds with the policies of Boris Johnson, what could we have done differently?
We spoke with people from across the region, who have relocated around the globe, to hear of their experiences of lockdown.
From huge fines in Spain to a more relaxed attitude in Houston, what is it like to go through a pandemic when you're thousands of miles away from home?
Barry Mant, who grew up in Sheddocksley in Aberdeen, moved to Innsbruck in Austria in January 2019.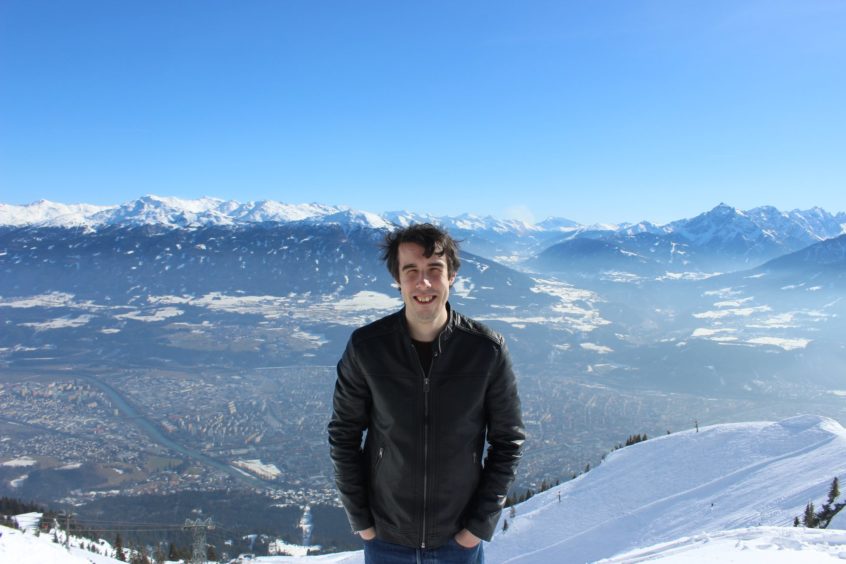 He believes the message from the government there has been clear in comparison to the UK.
I'm a researcher, I'm doing my post doctorate in the physics department.
I had never heard of Innsbruck before moving here, it's an awesome place. It means bridge over the river and we're surrounded by mountains. You can see them in all directions, it's paradise.
Austria locked down very quickly – the border with Italy is only a matter of miles away.
I think Austria was fast to act, we went into lockdown on March 14.
It has been a very strict lockdown.
You could leave for work, or to go to the grocery shop.
Exercise was not recommended at all, and police gave out fines to those flouting the rules.
It certainly wasn't encouraged the way it was in the UK. I didn't leave the house for two weeks, but I didn't think it was a huge deal.
I live with my girlfriend, she's a doctor.
There has been no shortage of PPE here, and the wards have not been struggling with cases.
There was a very clear message. Stay at home, no exceptions.
We've left lockdown in stages. I've been very impressed by how smooth things have been.
I've been able to see my friends for the first time and have beers together.
There are still rules though. It's only tables of four, a metre or so apart.
You have to wear a mask when not at the table, and you need to wear a mask in shops.
All shops have hand sanitiser at the door, and supermarkets were actually handing masks out.
The deaths have been very low, under 700.
It was very clear what was expected from us during the first stage of lockdown. You weren't allowed to leave your town, and police were stopping cars. You couldn't go and visit your family.
Most of my family in Aberdeen were working from home or furloughed.
When Austria locked down, I was really shocked the UK didn't. It seemed incredible to me that a Lewis Capaldi concert still went ahead in Aberdeen.
I've missed friends and family of course, and seeing the Dons play.
The beer is much better in Austria though.
Alongside relocating due to work, there are those who opt to enjoy their retirement in the sun.
Margaret and George Rennie moved to Spain 11 years ago. The couple, who previously lived just outside Aberdeen, have not regretted their decision. But they never imagined they would be worrying about friends and family back home.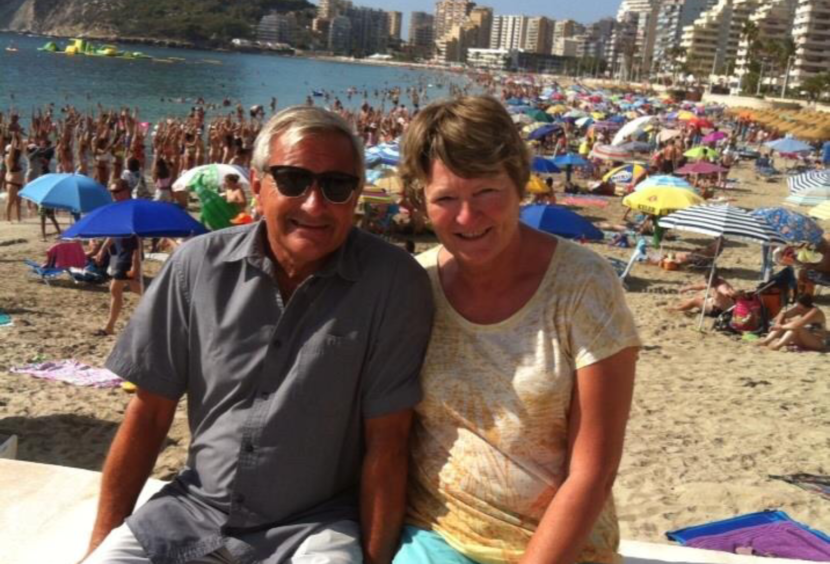 Margaret explained what life has been like in recent months.
We moved here in search of a better life. I had just retired from Norscot, but George was still working on an oil tanker in the North Sea.
He was able to commute back and forth.
We were attracted by the weather, and thought it would really help with arthritis.
We'd been on holiday to Costa Del Sol, and we spoke to various people who had already made the move.
We now live in Costa Blanca, but we've actually lived in a fair few places around Spain.
It's a different way of life, and we have really enjoyed it.
We went into lockdown here on March 14.
The prime minister does everything by the book, he gets permission before anything is enforced. Not like Boris Johnson, who seems to have done whatever he likes.
The fines here were horrendous. If you got stopped and you had no valid reason for your journey, it was a 600 euro fine.
Only one person was allowed in a car, unless you were driving someone to get medical help.
You couldn't go into a supermarket together, and it had to be the closest shop to your house.
Phase two has only just started. Two people are allowed in a car now, but you can't go to drive somewhere for exercise.
Our dog had to be walked within 50 metres of the house, and there was allocated slots when you could go out.
Now you can go to a restaurant with up to eight friends. But you have to sit outside, two metres apart.
I feel sorry for people with children in flats. Kids weren't allowed out at all during phase one.
We feel the UK lockdown is play acting, and even then people were complaining.
People ask what I'm worrying about, but my family still lives in Scotland. Scotland is my home.
We have a granddaughter-in-law, she is a nurse in the respiratory wards. So we know things have been bad.
At the moment we can't even visit another province.
But the message here is clear, and we respect that.
Donna and Steve Devlin swapped Aberdeen for Kuala Lumpur in Malaysia. They made the move with their 10-year-old son, Calum, in October 2018.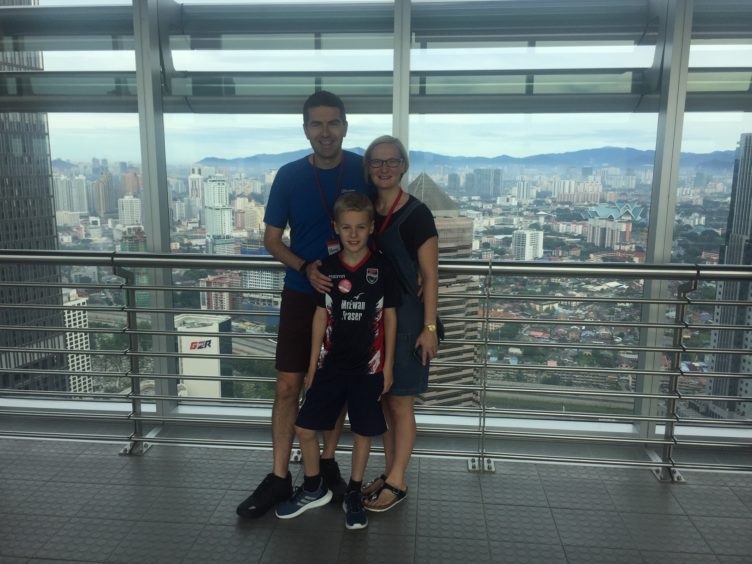 The family had hoped to return to visit friends and family in Aberdeen this summer, but have been forced to cancel their trip.
They believe their experience of lockdown has been much stricter, with both the police and army called in.
Donna says she feels safe within a gated community, and has been home-schooling Calum.
We moved for oil-related reasons, Steve was offered a job. It seemed too good an opportunity to miss for us as a family.
It's a very different country, and there are so many different cultures. Malaysians, Thai, Indian, Chinese.
With that comes all their religious festivals; it's amazing to see.
There's not really any massive change in seasons, it's wet or dry. At night time, it goes down to high 20s maybe.
We both come from small villages, so just moving into Aberdeen felt like a big move. Now, Aberdeen feels minute.
It was a huge undertaking, leaving family behind, but I have two brothers in Australia, and we've been able to see them a bit more.
I remember it was around January, and news was breaking about Covid. We weren't sure how things were going to go; we went into lockdown on March 18.
Our lockdown was entirely different to the UK. You weren't really allowed to leave the house at all. It had to be one person going for food supplies or medical help.
It was very limited, we weren't allowed to go out for exercise.
Both the army and police were called in, and road blocks were erected.
You had to have a legitimate reason for leaving the house, and take your passport with you.
We're into the fourth phrase now, meaning restaurants are allowed to open.
The kids haven't returned to school yet, although Calum's school is running a normal day through live classes.
There's a full schedule of work to do, with school starting at 7.40am.
We have a small garden, and we have been doing Joe Wicks each day. It has been challenging though.
Sometimes it was difficult to know what the rules were due to mixed messages. A minister would come on TV and explain everything. The next day there would be adjacent rules.
Most people adhered to all the rules and regulations, because they were too scared to go out.
All the state borders were closed, city border lines closed, and no internationals were coming in.
It's difficult, because of course you worry about people at home. Both my parents are in their 70s, and my mum wasn't so well recently.
It's difficult when you are not there, you can't pass a window and check they are OK.
They live in a small village in the Highlands, and community spirit has been amazing.
We were able to go out on the bikes recently, that was a godsend.
We had flights booked home for the summer time, they have been cancelled now. It is disappointing to have to postpone, but we understand.
Donna and Donald Norman MacLeod also moved across the globe, after relocating to Houston in 2014.
They are well used to the expat life, having moved to the US from Norway.
They previously lived in the Mannofield area of Aberdeen, although hail from Lewis in the Outer Hebrides.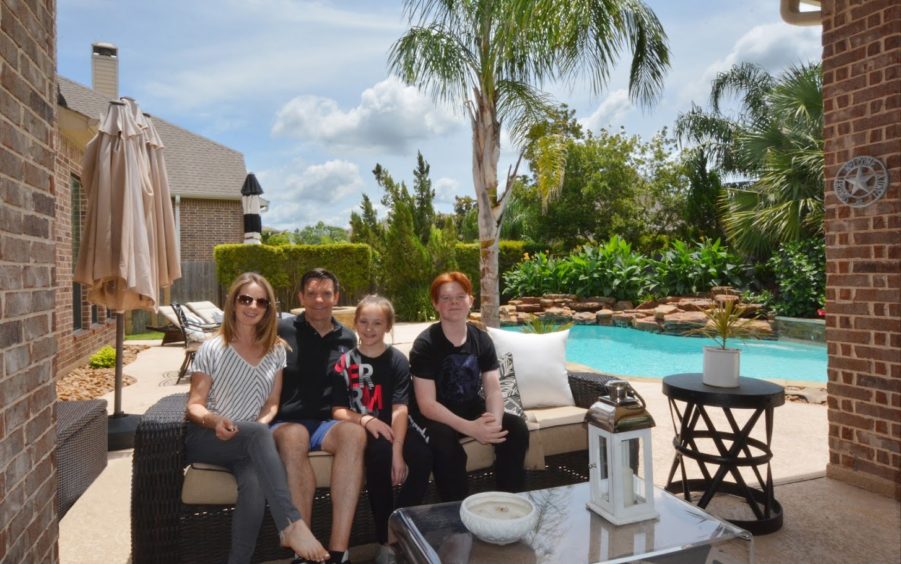 Life in Houston is certainly different to growing up on a small island, and the couple admit they did not expect such a big culture shock.
Their two children, 14-year-old Samuel, and Lucia, 11, have thrived in the local school as opposed to the more common choice of international school.
Covid brought an abrupt end to the school term, but the family believe they have been fortunate.
There are a lot of differences living here, many of which we didn't anticipate.
In Norway, you are prepared for the language. But people find it difficult to understand our accent here.
There's the simple things, like navigating food. There's at least 18 types of milk to choose from at the supermarket.
It's easy to live here though, and we're pretty settled.
Our community is like Bridge of Don on steroids.
Our lockdown has been different from the UK, and different again to other states.
There was the food panic, with no pasta or toilet rolls.
We went into lockdown a few weeks before the UK, so we stayed at home, and a lot of non-essential businesses closed. But what we class as essential is different.
Construction companies stayed open, so did DIY stores.
When things started to escalate in New York, it made other states nervous. Gyms closed down, although we were allowed to go outside as often as we wanted.
The message was to socially distance, with no gatherings of more than six people.
Lockdown has eased, but most places do a scan of your temperature before you're allowed in.
We haven't had anywhere near the number of deaths in comparison to other states.
There isn't really any public transport, that takes away people being together.
No one has been through this before, it has been on a state-by-state basis really.
Most of the people we know have coped just fine, and we've been fortunate.
Of course we worry about our family on Lewis, but the island has been lucky so far.
Being a long way from home is second nature for Amy Hayward, who is currently based in Dubai with her job as cabin crew.
But with flights grounded, Amy has been forced to stay at home and adhere to strict curfews.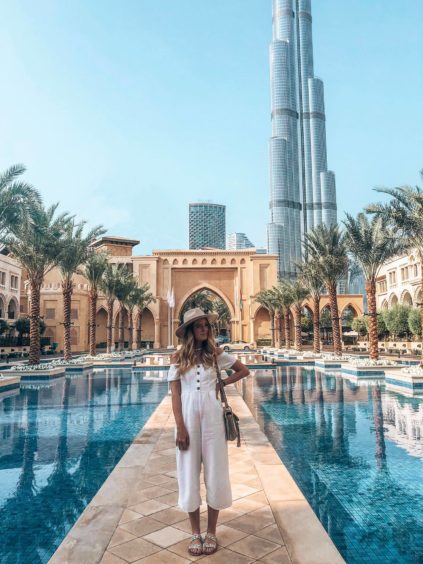 She believes the new regime is necessary though, and thinks measures were actually eased too soon.
I relocated to Dubai in 2015. I was previously studying and living in Glasgow, although I'm from Ellon.
As a flight attendant, the most challenging adaptation was the lack of sleep. Other than that, I adjusted extremely well to the relocation.
I loved exploring a new country, and I still do, even five years on.
I must admit that Asda and Tesco are sorely missed – the supermarkets here just cannot compare to those in the UK, in both price and quality.
I enjoy the outdoors life that I have in Dubai. With the exception of some summer months when the temperature is too high, there is always the option to go to the pool, walk along the beach or just enjoy the sunshine.
March 31 was the first lockdown announcement. It wasn't until April 4 that 8pm curfews were imposed.
Going to the pharmacy and supermarket was the only time we were allowed to leave home, but to do this we had to apply for an online permit.
Things changed on April 23 when Ramadan began. Curfews were extended until 10pm, malls and restaurants were gradually reopening but only at a 30% capacity.
The main news source for me in the UAE is Twitter and the radio, which seems a bit old-school but that's just the way it is here.
The message wasn't very clear in the beginning.
When the police recognised that the residents were confused with the restrictions, they began introducing very clear and detailed PDF leaflets which circulated on social media.
Masks are compulsory, even while driving, otherwise you will be issued with a 1,000 AED fine, which is around £200.
The only exception is during strenuous exercise. You can remove the mask as long as you are adhering to social-distancing regulations.
At first, I was unimpressed by the measures taken in the UK. I felt like lockdown took too long to begin, and people were not taking the message to "stay at home" seriously whatsoever.
However, now, with Dubai returning to normal, I am happy to see that there are still strict measures being adhered to at home, because I think Dubai has eased too much, too soon.
My whole family are still in Scotland, and we talk daily via WhatsApp and have Zoom chats.