Scores of eager shoppers returned to high streets across the north and north-east for the first time in months.
Queues grew outside a number of popular retailers in Inverness and Aberdeen as doors opened but overall the return of shopping went-off with barely a hitch.
This morning marked the long-awaited return to trading for shops with street access, but a full return is still some weeks away.
YOUR VIEWS: How do you feel about returning to the High Street?
Units inside centres must remain closed until phase three of Scotland's route map out of lockdown.
That next step is expected to be taken on July 15. In the meantime there is some limited opening of centres that provide access to essential shops such as supermarkets and pharmacies.
Traders had put in extensive measures to ensure they were able to reopen safely.
Measures included perspex shields at tills, providing face coverings, gloves and hand sanitiser to customers and enforcing social distancing measures.
First Minister Nicola Sturgeon had counselled against any risk taking and the picture on the streets of Aberdeen, Inverness and Elgin was one of relative calm despite the pent-up shopping needs of locals.
Aberdeen's main thoroughfare, Union Street, remained almost relatively quiet throughout the morning.
The only significant gathering of shoppers was outside the Primark store, where dozens queued in search of bargains, essential clothing or just to browse the rails.
Even the wet weather did not deter people from turning up, with some braving the rain for about 30-minutes before they were allowed access to the store.
In Inverness, crowds also gathered at the Primark store on Bridge Street with staff forced to extend the cordon around the corner onto Church Street, laying down blue markings to ensure shoppers maintained a safe two metres distance from each other.
Families seeking to purchase school clothes ahead of their anticipated return in August to those seeking to purchase gifts for grandchildren's upcoming birthdays were among the shoppers.
Queues at each store were carefully managed by security staff.
While the return of shoppers to some retailers was unmistakable, the easing of lockdown was not instantly noticeable in other parts of Inverness city centre.
Sports Direct on Academy Street opened its doors once again, but while trade was brisk, shoppers entered and exited the store without need for queue management.
Similarly, the opening of Smyths toy stores at 10am was undertaken without fuss, though parents and children entered steadily throughout the day.
At Inverness Shopping Park, tailbacks were few and far between, with only minor queues as shops restricted the number of shoppers allowed in at any one time.
George Kitson, manager of the Next store, said 15 people were waiting for the shop to open at 9am.
"He said: "It was more pleasant than I thought it was going be if I'm honest.
"It had a Saturday vibe about it and although things are clearly not back to normal as restrictions remain, it does feel that people are eager to get back out there and spend a bit of money.
"Sales today have been brilliant. We are doing far better today than we usually do on a Monday.
"Kids clothes and home goods are selling well. Maybe people have had a lot of time to think about what they want to do in the house and are now out to spend their money.
"It feels good. We are controlling the flow of customers coming in the door and the customers have been great.
"They are being very respectful of the restrictions in place and also of people's space, which has been a very good thing."
After a slow start in Elgin town centre, trade picked up for businesses as the sun broke through in the early afternoon, with many shoppers opting to sit on the Plainstones to enjoy lunch.
Large queues formed outside banks on the High Street throughout most of the day, while most other stores had a steady flow of customers.
Queuing systems had been set up outside Matalan and Next on the Edgar Road retail parks, but they remained mostly quiet, with the largest wait being outside Currys PC World.
Vic Flett, owner of the Sound and Vision music shop on the town's South Street, said: "It's been quite steady for us, although we did have one of our regulars in before we opened to drop-off some instruments to be restrung.
"The internet has kept us going while we've been closed for walk-ins. Not everyone on the street is open but hopefully they will be soon.
"We've been advising customers handling instruments to use sanitiser beforehand, and then to leave them for a day before touching them once they take them home."
After a 12-week hiatus, Johnstons of Elgin reopened today – a move managing director of retail George McNeil described as a "welcome first step back to normality".
He added: "With closures originally anticipated to last until April 5, it's a great pleasure to reopen and welcome guests back to our beautiful stores."
The picture at Aberdeen's Berryden Retail Park was also subdued, with around 20 people waiting patiently outside Next before it opened at 9.30am.
The majority of shoppers were picking up clothes for their children or returning clothes that had lain in wardrobes for months.
They said they felt "reassured" by the protocols in place.
One shopper, who did not wish to be named, was, however, unimpressed with his fellow customers.
He said: "I think wearing masks in shops should be mandatory.
"Barely anyone is wearing them despite the small lanes in the shops.
"If it's mandatory on public transport, masks should be mandatory in public shops."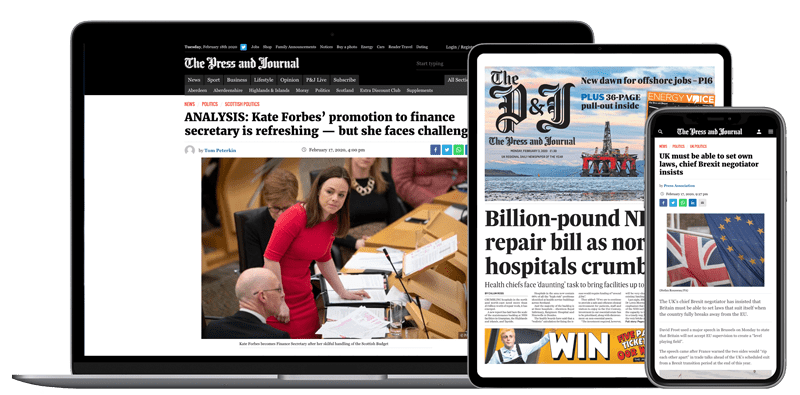 Help support quality local journalism … become a digital subscriber to The Press and Journal
For as little as £5.99 a month you can access all of our content, including Premium articles.
Subscribe