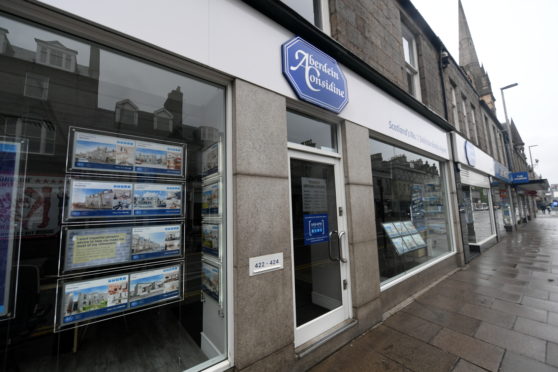 Estate agents are anticipating a record month for property sales, as the industry gets back underway after weeks in lockdown.
The reopening of the property market yesterday after a three-month hiatus is likely to mark start of a hectic period for property sellers, as they begin tackling a long backlog.
Aberdein Considine are working through more than 3,000 viewing requests, which they say is an indication of pent-up demand in the market.
Senior property partner Michael Sinclair said: "The reopening of the market is going to trigger a wave of completions and we expect July to be a record month for property sales as all these delayed deals go through."
The company tried to make a head-start on things by introducing interactive 3D virtual viewings earlier this month, which Mr Sinclair says have been embraced by house hunters.
More than 30,000 people have taken advantage of the company's online viewings already – the first offer received and accepted after a digital viewing came within the first 48 hours.
"These are going to be an essential part of the house selling process in 2020 and beyond," Mr Sinclair said.
Housebuilder CALA Homes also returned to business yesterday, with sales offices and showhomes in and around Aberdeen up and running again, albeit by appointment only.
Sales director Fraser Carr said: "We are looking forward to welcoming customers back to our sales offices and helping them in their search for their dream home.
"The safety of our customers, our team and the wider community is absolutely paramount, and we've put in place a number of new health and safety measures to ensure their wellbeing, which all of our teams have been extensively briefed on.
"While our sales teams won't be able to accompany customers around showhomes, customers will be given plenty of time to explore these properties on their own and our advisors will be on hand before and after to answer any questions."
CALA is also offering virtual guided tours of properties, for those unable to get out to visit in person.
After lockdown was imposed on March 23, house moves were banned apart from those deemed "reasonably necessary", while estate agents were barred from listing new properties and house hunters were banned from viewing properties in person.
Mortgage lender Nationwide has said about 15% of people are considering moving home as a result of life in lockdown.