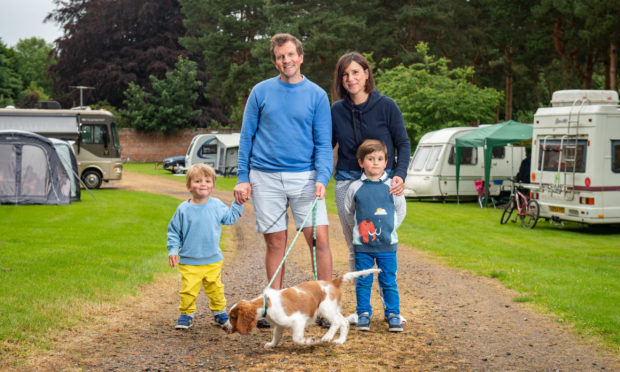 North holiday accommodation owners are hoping to take full advantage of Scots eyeing-up summer staycations rather than jetting abroad.
They believe the season can still be salvaged in Scotland, post lockdown, and have already had large numbers of bookings from both north and south of the border.
Self contained accommodation reopened at the weekend for the first time in months as the industry looks to kickstart itself.
That came after phrase two of Scotland's route map out of lockdown allowed the five mile travel distance for leisure to be lifted and caravan parks to reopen.
The opening weekend may have not served up the roaring trade that some may have hoped for.
But bookings are coming in thick and fast as large numbers as people look to explore different parts of the country for a deserved break after months of constraints on their movement.
For Oliver Lyon of Speyside Garden Caravan Park in Aberlour, it was a welcomed return after lockdown forced the business to close its doors in March.
Mr Lyon said: "Obviously we have been closed for almost nine months, so when the announcement came it was a bit of a mad rush, but it is brilliant to be open.
"We took about 150 bookings in the first two days after the announcement was made, which was exciting.
"I think we will now have July, August and half of September in which we will be really busy.
"A lot of our visitors are normally foreign tourists from countries like the Netherlands, France and Germany, touring the whisky distilleries.
"Whether they are coming this year we don't yet know, but what we are seeing a lot of Scottish people all travelling from much closer places, like Elgin and Inverness."
Mr Lyon is focused on looking at all the positives rather than dwelling on the time lost due to the pandemic.
He added: "We have extra cleaning measures in place and social distancing in the shop so there is only one person at a time.
"You just have to adapt and look at the positives that more people will be doing staycations rather than going overseas.
"Hopefully we can take advantage of it.
"There is a huge sense of relief at being able to have money coming in once again."
Gordon Shand who runs the Invercauld Lodges in Ballater shares that relief, saying: "It feels great to re-open.
"We've got some people in already and more bookings coming in.
"It's not flat out yet, as I think some people are still being a bit cautious, but hopefully things will pick up even more.
"The summer season is so short that we've got to do what we can to make the most of it now, and then plan ahead for the winter season."
Kelly McAlpine, managing director at Dalriada Lodges in Stonehaven, said the family-run business was "keeping it local" and encouraging people from the surrounding area to enjoy a holiday away from home.
She said: "Most of our bookings have been Scots so far, and we've had extended families who can come together for the first time in a while and stay in different lodges, which has been really nice.
"We certainly do have it easier than hotels, given that our accommodation is all separate, and it will be interesting to adapt to this new normal.
"We've adopted the catchphrase 'keeping it local' and even before this most of our guests did drive rather than take a plane or a train.
"People can stay with us and feel far away enough from home for it to be a holiday, but still close enough to get home if need be."
Some more rural communities say it will be important to keep supplies coming as they have some food concerns, should large numbers of visitors come calling, as many businesses have still to reopen.
Kath Ainslie of Seaside holiday cottage in Culkein, north of Ullapool, is taking bookings again for her coastal croft house.
She added: "It's good for the local economy, which depends heavily on tourism, but I know a lot of local people aren't happy about tourists coming back.
"I've been telling the first folks coming to bring most of their own food with them as some places are offering carry-out, but not many.
"And if there's an influx of visitors, there won't be much left on the shelves in the shops."