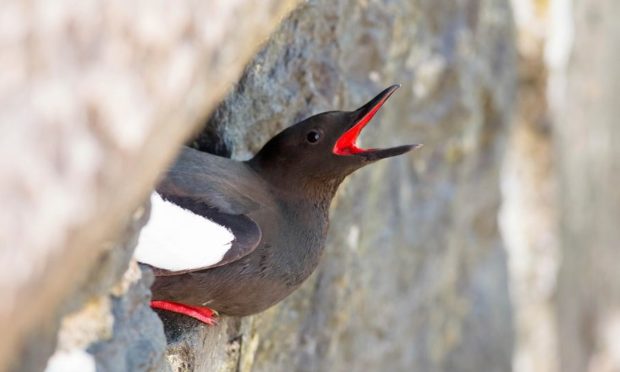 They are already local celebrities, but national television is about to widen the fame of some of Oban's most colourful characters.
The black guillemots on the town's waterfront are known to locals and visitors for their nesting antics in the harbour wall along the Esplanade.
It is only in Oban that the birds and their unusual ritual can be viewed in a busy town centre rather than out at sea.
Their love nest has now been filmed by a Glasgow-based crew from BBC's 'The One Show', on one of their first assignments since lockdown eased, and will feature on air next year.
The black guillemots, or 'tysties' as they are sometimes known, have a unique courtship routine that some people make special trips to watch. It involves the male 'dancing' around the female with head and beak pointing downwards and showing off his bright red feet. The female reciprocates with a similar crouching dance around him, but she doesn't display her red feet.
All the time, they have a high pitched whistling call from where it is thought their old Norse name 'tystie', meaning 'whistler', probably comes.
RSPB Scotland's Mull officer Dave Sexton, who was interviewed for the TV show, said: "Every time I travel to and from Mull and Oban, I look out for these dapper birds.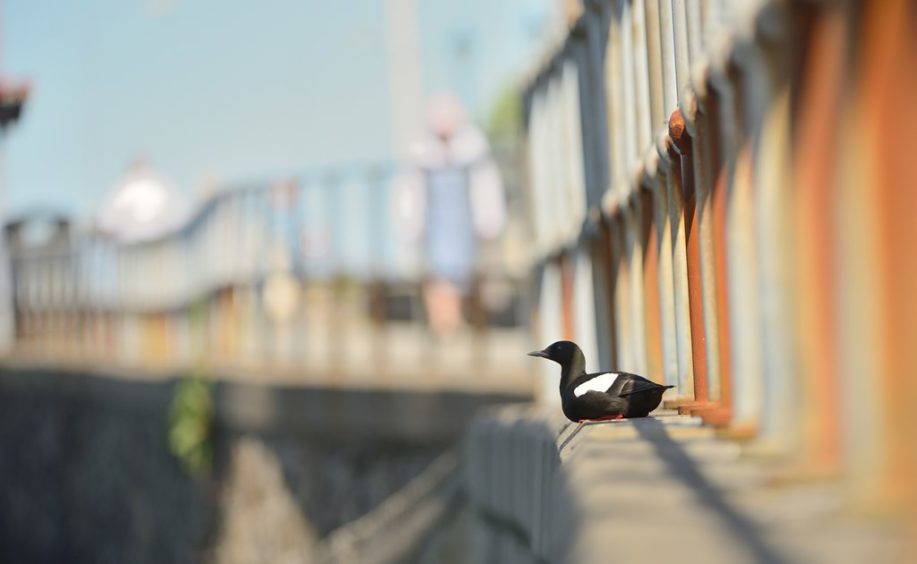 "Their bright red 'lipstick' matches their 'shoes'. They're such busy, active little characters and really draw the crowds. Oban is unique in having such an easily watchable colony and they can allow people to watch them close-up."
It is thought there are approximately 15-30 pairs of the birds along Oban's waterfront. But Mr Sexton says that, like other seabirds, black guillemots are under threat.
RSPB is helping with the 2020/2021 Joint Nature Conservation Committee's Seabird Census which will count seabird colonies all over Scotland.
"The last full survey was Seabird 2000 – 20 years ago – so it will be interesting to see what has changed over that time", he said.
Black guillemots are typically found in larger sea lochs in western Scotland and the northern and western isles, but also in Ireland, the Isle of Man and parts of England and Wales.
The highest numbers are in Shetland and Orkney and the west coast of Scotland.
Meanwhile, RSPB is also seeking help from bird watchers to help record puffins. Its Puffarazzi project which asks people to send in photos of puffins with fish in their beaks, is running until August 31.