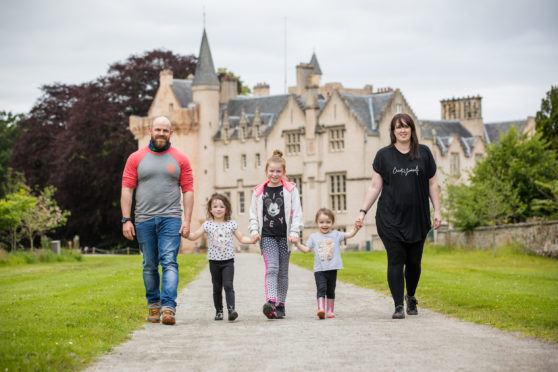 Cash-strapped National Trust for Scotland (NTS) has launched a campaign to encourage people to enjoy the great outdoors.
With lockdown having decimated the charity's cash reserves, the Trust is urging people to get out there and help raise much-needed funds for its Stride Out for Scotland (SOS) appeal.
From March 24, paid visits to NTS locations were reduced to zero, with visits limited to free-to-enter properties.
With the usually busy Easter season having fallen by the wayside, alongside a 5% drop in memberships, the NTS has been left in crisis with a £28 million loss in essential income.
The SOS fundraising appeal hopes to raise a minimum of £2.5 million as part of its recovery plan, to ensure the continued protection of the properties and cultural heritage in its care.
The campaign encourages people of all ages and abilities to enjoy walks and trails across the country, whether it be woodlands or waterfalls, Munros and sea clifftops, or gentle paths and gardens.
Many such walks double up as wildlife trails, where walkers may be lucky enough to spot 'Scotland's big five' – the golden eagle, red deer, red squirrel, harbour seal and otter.
Head of fundraising at NTS, Ali MacLeod, said: "We wanted to inspire our supporters to explore and reconnect with the places they love and we protect and, if they are able to, fundraise to help ensure their ongoing care and conservation.
"With our countryside places, gardens and estates now open to the public we're asking everyone who enjoys walking in our many locations to join in.
"After such a difficult few months, many of us are craving the restorative effects of fresh air and greenery and the Trust has plenty of that to go round.
"Stride Out for Scotland will not only inspire people to enjoy the stunning places on their doorsteps but will also help raise funds for our emergency appeal.
"Whether you're a novice hill walker, an experienced hiker or just looking for a fun family adventure, there's a walk to suit everyone."
As well as routes, NTS has published a downloadable walking pack at www.nts.org.uk/campaigns/stride-out-for-scotland, and people can share their pics on social media, using the hashtag #NTSSOS.