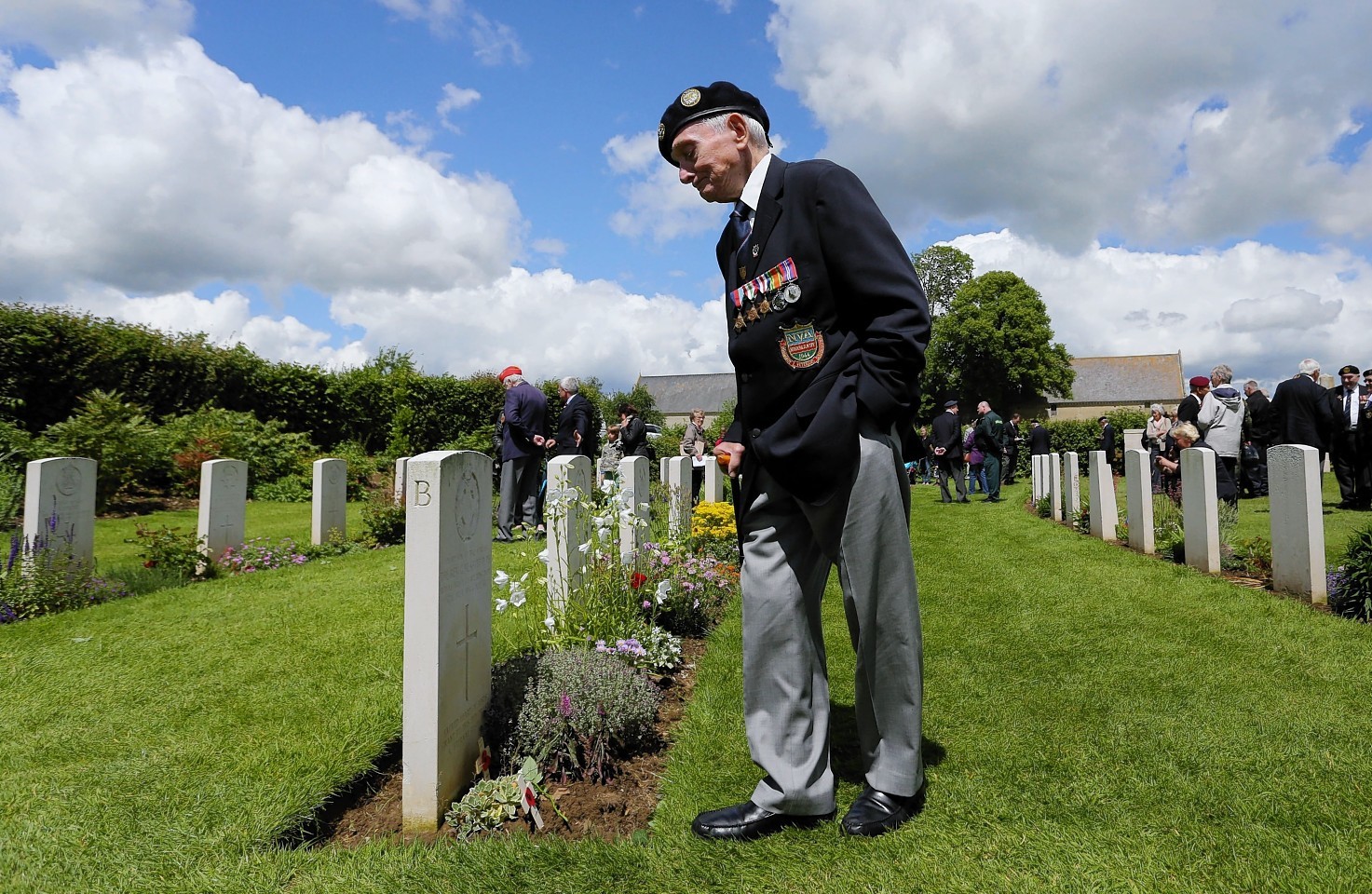 Hundreds of World War II veterans have crossed the Channel for what may be the last time to mark the 70th anniversary of the Normandy Landings.
As more than 650 ex-servicemen, most in their 80s and 90s, gathered in northern France for two days of official ceremonies marking D-Day and the start of the liberation of Europe from Nazi rule, survivors from across the north and north-east were sharing their memories of the operation.
Arthur Grant was an 18-year-old distillery worker from the Crathes estate on royal Deeside when – with just six weeks' Army training – he set foot on the sands of Normandy as a soldier in the biggest seabourne invasion in military history.
Private Grant of the Royal Pioneers Corps would be a corporal by the end of the European assault. That day, on Sword Beach, he was an ordinary teenager pitched into the horrors of war.
He remembers "the smell, the bombs and the killing".
"The place was just full of cordite and the air was warm with all these explosions," he said at his home in Stonehaven.
"It was a hell of a job – boys falling down and dead bodies and you just had to hope for the best.
"Later that night things kind of stilled down and we all lay along the side of the road. I had a boy who was dead beside me all night, and we just had to lie there."
Roy Mackenzie, originally of Fortrose and now in Inverness, was a 17-year-old Royal Marine when he steered an assault landing craft through withering fire on Sword Beach, Normandy.
The teenager and his crew-mates, who were part of a unit led by legendary war hero Lord Lovat, had to be rescued from the water after their vessel was hit by a booby trap.
Mr Mackenzie told the Press and Journal: "It was my shortest, longest day. The first thought I had was to get out of there. There was a lot of noise and things going on around you that were very unpleasant.
"We were kids and we thought we were men."
Fellow veteran Ian Gillespie will spend today in quiet remembrance of those lost during the invasion of Normandy 70 years ago.
The 88-year-old from Turriff was an able seaman on board HMS Kelvin, which was stationed off Sword Beach on D Day and carried Winston Churchill across the Channel six days after the invasion.
Then an 18-year-old forestry worker, he spent June 6, 1944 in the thick of the fighting.
"On D-Day itself we were bombarding the beaches from around half a mile away and, of course, the Germans were firing back at us," he said.
"I was young and foolish at the time – I just thought it was exciting more than anything.
"I really do feel sorry for the boys in the Army and Navy who landed on the beaches that day. I can't begin to imagine what it must have been like."
Jim Glennie was also just 18 when he stepped off the boats at Sword Beach as a private in the 5/7th Gordon Highlanders.
Now 88, Mr Glennie, of Fairview Road, Aberdeen, said: "We went into the water and when I got onto the bit of sand I looked down, and there was a dead body.
"That was my first experience, and I said to myself 'what am I doing here?'
"I hope nothing like that every happens again, I wouldn't wish anybody to go through that again."
Robert Lerche, 93, of Talisman Road, Aberdeen, saw action with the 7th armoured division of the Royal Horse Artillery across Africa and southern Italy before the D-Day landings.
He landed on Sword Beach, and immediately had to run through 3ft of water up a hill to an orchard. Once there, the soldiers had to hammer waterproofing off their guns before they could even begin firing.
"You were too busy to be scared or anything," he recalled.
Elgin veteran George Carr, 95, had already taken part in another momentous moment in the war – the evacuation from Dunkirk – when he landed on D-Day as a corporal in the Seaforth Highlanders.
Today his wartime medals are a proud reminder of his role in world history.
"I felt honoured to receive them," he said. "There were a lot of good men who I worked alongside in the Seaforth Highlanders."