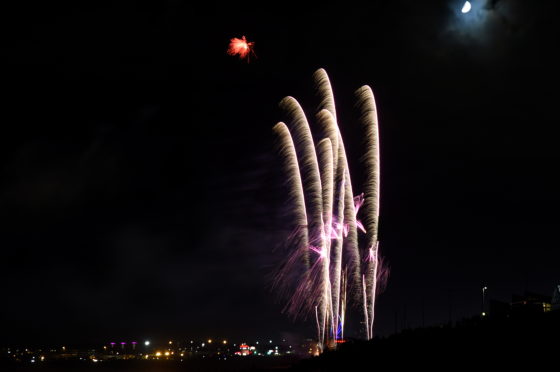 People have been urged not to hold their own makeshift bonfire night celebrations to make up for the cancellation of major annual events across the north and north-east.
Traditional north-east celebrations including Aberdeen City Council's usual fireworks display at the beach, the Stonehaven and District Round Table's fireworks show and Banff's annual fireworks spectacular in the grounds of Duff House have all been called off.
And questions remain over whether the bash at Bught Park in Inverness or at Oban Bay will go ahead.
But for those considering their own private events, both the Scottish Fire and Rescue Service (SFRS) and the Fire Brigades Union (FBU) have called for them to think carefully about adding any extra pressure on the emergency services.
Alasdair Perry, head of prevention and protection at the SFRS, has asked those considering their own festivities to "consider the impact" on others, and warned of the "genuine risk" fireworks pose to children.
He said: "Due to the impact of Covid-19 and social distancing, many public events involving large gatherings have not taken place as planned.
"We continue to remind those considering hosting an informal private firework event to consider the impact of fireworks on others including the broader community, pet owners and emergency service workers.
"There is no doubt that fireworks present a genuine risk to spectators, particularly children, and that's why it is vital that anyone planning to host a private event familiarises themselves with our fireworks code before purchasing fireworks.
"In addition to the risk presented to the public, the impact on emergency services is traditionally significant. Last year we received nearly 900 calls from the public and attended more than 350 bonfires."
He added: "While we will always respond where required, people across Scotland can help us by being mindful of the dangers presented by fireworks and to ensure they are aware of all key safety advice before hosting an informal event."
Denise Christie, regional secretary for the Fire Brigades Union (FBU), added: "The FBU supports the Scottish Government advice on not having large gatherings which includes organised bonfire nights, and would stress to the public not to start individual bonfires and to listen to the advice of the SFRS.
"The safety of the public and firefighters must be our priority, especially at the time of year when attacks on firefighters are usually on the rise."