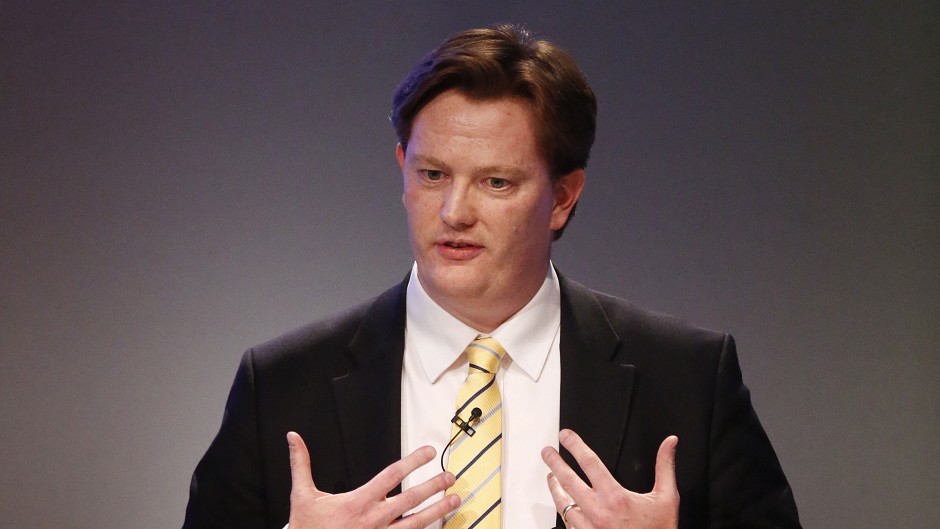 Scottish Government promises of tax breaks to the North Sea oil industry in the event of independence should be treated with a "big pinch of salt", it has been claimed.
Chief Secretary to the Treasury Danny Alexander said SNP ministers had been over optimistic about oil revenue projections which would result in a "widening chasm" between overall revenues and costs.
The Highland Liberal Democrat MP said current fluctuations in revenue were absorbed by the pooling and sharing of resources across the UK.
Scottish Government projections shows tax receipts as high as £38.7billion between 2014-15 and 2018-19, with the mid-range figure at £34.3billion.
The bottom end is the Office for Budget Responsibility (OBR) projection of £15.8billion.
It drastically reduces revenue projections put forward in the independence white paper by between £15.5billion and £18.4billion over a range of five-year scenarios.
The SNP have pledged there would be no repeat of Chancellor George Osborne's shock £10billion tax raid on the North Sea oil and gas sector in 2011 in an independent Scotland.
The white paper on the nation's future includes a promise of a "stable and predictable" fiscal and regulatory regime for the sector.
The document, Scotland's Future – Your Guide to an Independent Scotland, revealed there would be no changes without consultation with the industry.
Mr Alexander, who was giving evidence to Holyrood's energy committee earlier this week, claimed SNP Government projections for independence were "wrong" because they were based on over optimistic oil revenue projections.
He said: "Because you have that much more worrying and difficult fiscal position under independence, I think any promises that the SNP seek to make to the oil and sector about stability of future revenues have to be taken with a big pinch of salt.
"If Scotland were to be independent the Scottish Government would be faced with some pretty serious decisions on either substantially cutting public expenditure or putting up taxes."
Mr Alexander claimed said new investment in the North Sea was due to UK Government decisions on decommissioning relief and new field allowances.
He said the sector was shifting from being a tax asset because reserves are in decline.
Mr Alexander said: "We simply cannot expect to get tax revenues anything like we have seen in the past or anything like the Scottish Government's forecasts.
"If you think about the multi-billion cost of decommissioning relief when spread across a much smaller population of Scotland, it becomes much harder to bear under independence than it would with the deep pockets and shared resources of the UK."
Highland and Islands SNP MSP Mike MacKenzie, a committee member, claimed the OBR predictions suggested oil revenues would flat-line from 2016-17.
He said the organisation had predicted oil would cost about $99 a barrel while the UK Government department of energy and climate change had said the value would be £132 a barrel at that point and continue to rise.
Mr MacKenzie said: "OBR take the most pessimistic outlook on production, UK Oil and Gas suggest a 14% increase between now and over that time scale and yet OBR suggest production is going to remain low.
"And yet all those investors who are making crucial decisions are doing so on the basis production is going to decline and prices are going to flatline.
"Surely that is stretching credulity to make that suggestion?"
Mr Alexander said the tax take from the sector was lower now than it was decades ago due to UK Government tax allowances to enable oil firms to drill for oil in unaccessible parts of the North Sea.
"The very nature of tax allowance is you are getting less tax than you would get if that allowance did not exist," he added.
"But I think it is the right fiscal decision to take a hit on the tax side to enable the investment to go forward."
Committee member Chic Brodie, an SNP MSP, claimed the OBR was not independent of the UK Government.
"As Alistair Darling said not that long ago they are a wing of the Tory party and in fact the first chairman was an adviser to Mrs Thatcher," he added.
"The OBR itself considers its methodologies to be a work in progress so they are not fully reputable forecasters are they?"
Mr Alexander reacted angrily to the remark.
"The attack of the OBR is a characteristic of the approach to this debate by those who seek to besmirch the reputation of those people who speak on this side of the argument," he added.
"It lowers the tone of the debate."