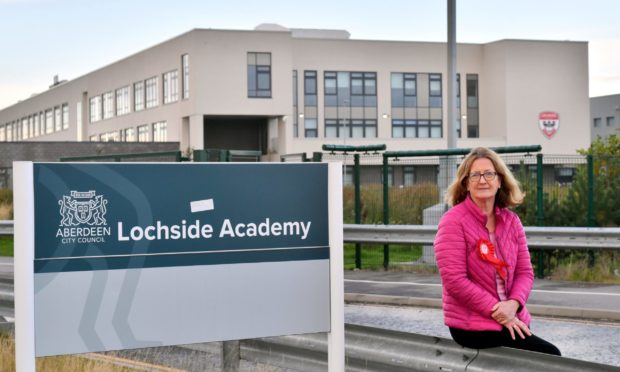 Schools across the Highlands and north-east stood to be some of the worst affected by moderated SQA exam results this year – until a U-turn meant teacher assessments would be used instead.
Alness Academy stood to be the most impacted of the schools in the north, as the SQA worked out an algorithm based upon previous exam performance and teacher advice.
Lochside Academy in Aberdeen would have been hardest hit in the north-east.
It came after the regular exam diet was abandoned due to coronavirus.
Nearly half of students sitting Highers at the soon-to-be-replaced Alness secondary were marked down – with almost 16% having results changed from a pass to a fail.
Highland Council education chairman John Finlayson said: "We had teachers who had been asked for estimations of what pupils' grades should be – they are the people who know their young people best.
"We should be trusting the assessment of the teaching professionals.
"Maybe this is a line in the sand to enable us, looking forward, to view how we do things.
"Are exams the best way of assessing pupils' knowledge and application of skills? Hopefully this is the start of a conversation to bring in change in the future."
Alness pupils will return after the October break in a brand new £34 million school, something Mr Finlayson described as a "really exciting development for the community".
Some schools in the Central Belt were worse still, with Edinburgh's Loretto in line to have 60% of marks lowered.
Critics have argued a study showing the impact on individual schools carried out by Glasgow University researcher Barry Black shows the disparity in how the SQA fiasco applied to the country's affluent and most deprived areas.
Mr Black said: "We know from the review into the circumstances surrounding results, the SQA don't regret the technical application of the model and we know ministers and officials didn't seek a fuller understanding of the inequalities implications of the data when it became apparent.
"It's important these are highlighted in greater detail.
"There was an opportunity in March, borne out of crisis, to maybe rethink how we do assessment and qualifications that was missed this year but it's encouraging the discussion is now about how to do it differently."
Nationally, schools in poorer areas were four times as likely to have Higher passes revoked compared to pupils at fee-paying ones.
Comparing Alness to Aberdeen all-girls school St Margaret's, the difference was six-fold.
Across the north, schools in Dornoch, Grantown-on-Spey, Wick, Portree, Buckie, Keith, Banff, Fraserburgh and Peterhead would have been worst-affected.
The effects would have been felt in Aberdeen academies too, where 38% of pupils at Northfield and 39.8% at Lochside stood to have their Highers downgraded.
At Lochside, youngsters were more than six times as likely to be failed after teachers recommended they pass than those attending private Robert Gordon's College.
The replacement for Kincorth and Torry academies, Lochside is at the heart of an ongoing by-election campaign in Kincorth, Nigg and Cove.
Last night Scottish Labour candidate, Shona Simpson, said: "With 20% of Highers adjusted from pass to fail, and 39.8% of grades downgraded overall, it's clear that the SNP failed pupils, parents and teachers at Lochside Academy, causing them inexcusable levels of stress and anxiety before being forced into a U-turn.
"I will always stand up for the interests of our young people."
The SNP's candidate for the November 5 vote, Miranda Radley, fired back: "It is a shame Ms Simpson would rather reflect on events of almost three months ago when the Scottish Government acted to ensure that all teachers estimates would be awarded."
An SQA spokesman said: "We do not believe the methodology here is robust.
"The overall position shows clearly that local authority schools saw proportionately more upgrades than independent schools through moderation. In local authority schools, 1.85% of entries were moderated upwards and in independent schools, it was 0.79%.
"Following the cancellation of the 2020 exams, SQA was commissioned by the Scottish Government to develop an alternative certification model, based on teacher and lecturer estimates, to maintain standards over time.
"Given the estimates we received, we considered some moderation of teacher estimates was necessary, however almost three quarters of estimates were unchanged.
"Every school and college was in scope for moderation and all were treated in the same way.
"Data was anonymised throughout this process.
"The Equality Impact Assessment included statistical analysis of available data from 2016 onwards based on the Scottish Index of Multiple Deprivation (SIMD).
"It demonstrates that, after moderation, there was an increase in attainment for those learners living in Scotland's most deprived areas and a narrowing of the attainment gap between those in the most deprived and least deprived SIMD bandings compared with previous years.
"So what this analysis fails to show is that attainment levels rose and the attainment gap narrowed even after moderation.
"Following the ministerial direction issued to SQA on 11 August, the results generated by this approach have been replaced by school and college estimates.
"The deputy first minister has set out the measures for the delivery of qualifications in the 2020-21 session and SQA is now focused on taking that work forward."