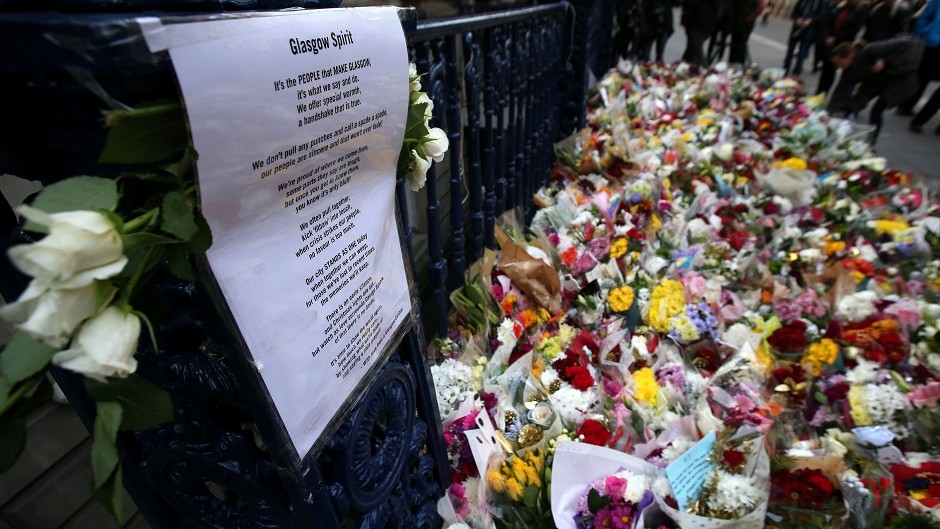 A fund for the victims of the George Square crash will open tomorrow as Scotland rallies around the families affected by the tragedy.
Glasgow's Lord Provost Sadie Docherty said there had been "tremendous" offers of support in the aftermath of yesterday's accident, with people getting in touch almost immediately to ask how they could help.
The city council has now set up a fund, starting with its own donation of £20,000. The Lord Provost's goodwill fund has also contributed £20,000.
Members of the public can donate from tomorrow by calling 0141 287 7878 and paying by debit or credit card.
Lines will be open Monday to Friday from 8am to 8pm but will close for Christmas Day and Boxing Day, and January 1 and 2.
Ms Docherty said: "We have had tremendous offers of support already.
"Glaswegians started calling us to offer donations almost as soon as this tragic incident happened.
"That's heart-warming but not surprising in a city which responds so well to tragedy."
Today at Royal Exchange Square, close to where the first pedestrian was knocked down by the out-of-control lorry, people laid floral tributes and lit candles to remember those who were killed and injured.
A card propped against some railings was simply signed "a Glaswegian grandad" and a poem entitled Glasgow Spirit by a local taxi driver was fixed to a post.
It reads: "Our city stands as one today, when together we can weep
"For those we've lost in recent times, the memories we'll keep.
"There is an eerie silence, and the Christmas lights are out…
"But watch as love surrounds George Square, of that there is no doubt.
"It's time to show the world again how much we really care…
"By showing what we're made of and saying a little prayer.
"With love from a Glasgow cabbie."
Donations to the Lord Provost's Queen Street Fund can also be made at any bank using the sort code 834400 and account number 10809775.