A pack of 50 Dandie Dinmont Terriers have returned to their ancestral roots with a visit to Sir Walter Scott's home.
The dog was made famous by Scott's novel Guy Mannering, published 200 years ago, which introduced Borders farmer Dandie Dinmont and his distinctive terriers.
The character had six of the previously unnamed mustard and pepper coloured terriers, and they soon took on his name as their popularity grew.
They became fashionable "celebrity dogs" beloved by Queen Victoria, Agatha Christie and others, but the breed has become rare over the last 10 years and is now listed by the Kennel Club as a "vulnerable native breed".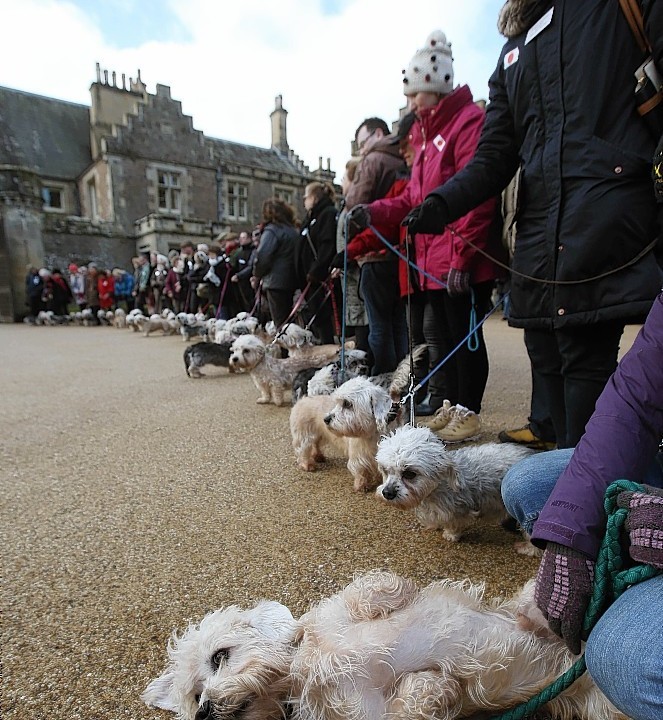 A group of 50 of the dogs and their owners paraded at Abbotsford House near Selkirk yesterday to celebrate the dog and raise awareness of the dwindling numbers born each year.
Abbotsford House was opened out of season for the visit and the dogs were piped from the visitor centre to the historic house.
Paul Keevil, coordinator of the celebrations, said: "We feel privileged that in 1815 Sir Walter Scott brought the Dandie Dinmont Terrier to prominence and today 200 years later.
"We are extracting his help once again to create awareness of this lovely little dog and hopefully, save it from possible extinction."
The visit is part of a series of three in the Borders that the breed has links to.
Owners and their pets – some of whom have travelled from as far as Canada – will also visit Bowhill, the seat of the Duke and Duchess of Buccleuch, and the Haining, a mansion where the father of the breed lived.
Unlike traditional terriers, Dandie Dinmonts are said to have a softly curved body with large eyes and a large, domed head.
They usually stand around 25cm in height and weigh up to 11kg.