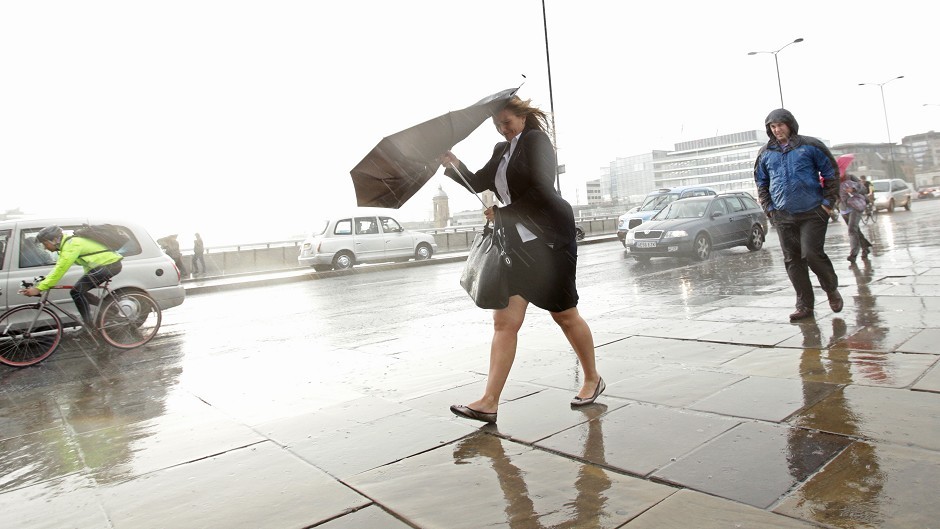 The grim Scottish summer could get even bleaker over the next few days.
Today, tomorrow and over the weekend Tropical Storm Bill is expected to arrive.
And areas north of the border are expected to miss out on the sizzling 30C temperatures forecast for England next week.
The Met Office has warned of heavy rain in western parts of Scotland this afternoon and it is expected to move across the country tomorrow.
By Sunday, there will be "persistent rain" and stronger winds.
Forecasters said the rain was due to ex-Tropical Storm Bill, which is 2,000 miles wide and has churned its way across the Atlantic.
Met Office forecaster, Laura Young, said: "A front into Friday and on Sunday will be dragged across us by the low pressure which was Tropical Storm Bill."
Scotland faces rain bands and highs of just 19C next week as England's south basks as hot air from the continent arrives, with highs up to 30C predicted.
Mrs Young said: "A southerly flow could bring very warm temperatures from the continent in midweek, which could see 27C or 28C in the south.
"Scotland would need warm air to be dragged further north to see the warmer conditions."
The Met Office forecast for Scotland from next week says: "Further unsettled spells will be interspersed with drier, brighter conditions."
A far-from-flaming June is on track to be Scotland's coldest for 43 years, and forecaster Brian Gaze, of The Weather Outlook, warned that next month was not looking much better.
He said: £Computer probability forecasts look mediocre into July."