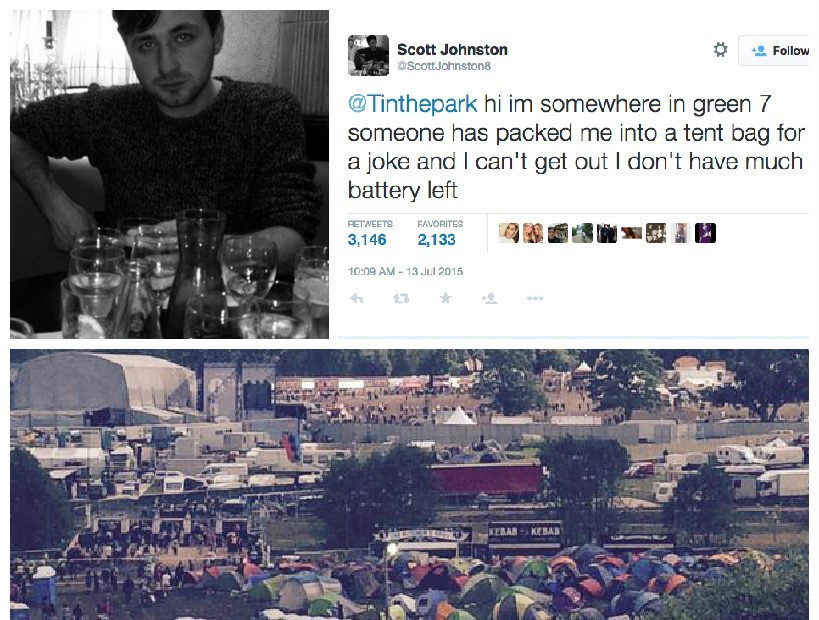 Police Scotland and T in The Park Stewards are engaged in a frantic search and rescue operation following a somewhat bizarre Twitter message.
Scott Johnson, a young festival goer from Ayr, used the social network to appeal for help on Monday (July 13) morning after finding himself trapped in a tent bag at the Scottish music festival.
His 'tent in bag' appeal has received 1,609 retweets
and 1,171 favourites.
Speculation online was rife that this may have been a  "windup" as twitter user @steelyhoops suggested. The search continues.
@ScottJohnston8 Tweeted:
@Tinthepark hi im somewhere in green 7 someone has packed me into a tent bag for a joke and I can't get out I don't have much battery left

— Scott Johnston (@ScottJohnston8) July 13, 2015
Police were quick to respond:
@ScottJohnston8 Hi Scott please tweet us with more info if you can. We have officers with stewards in the area looking for you now.

— Police Scotland (@policescotland) July 13, 2015