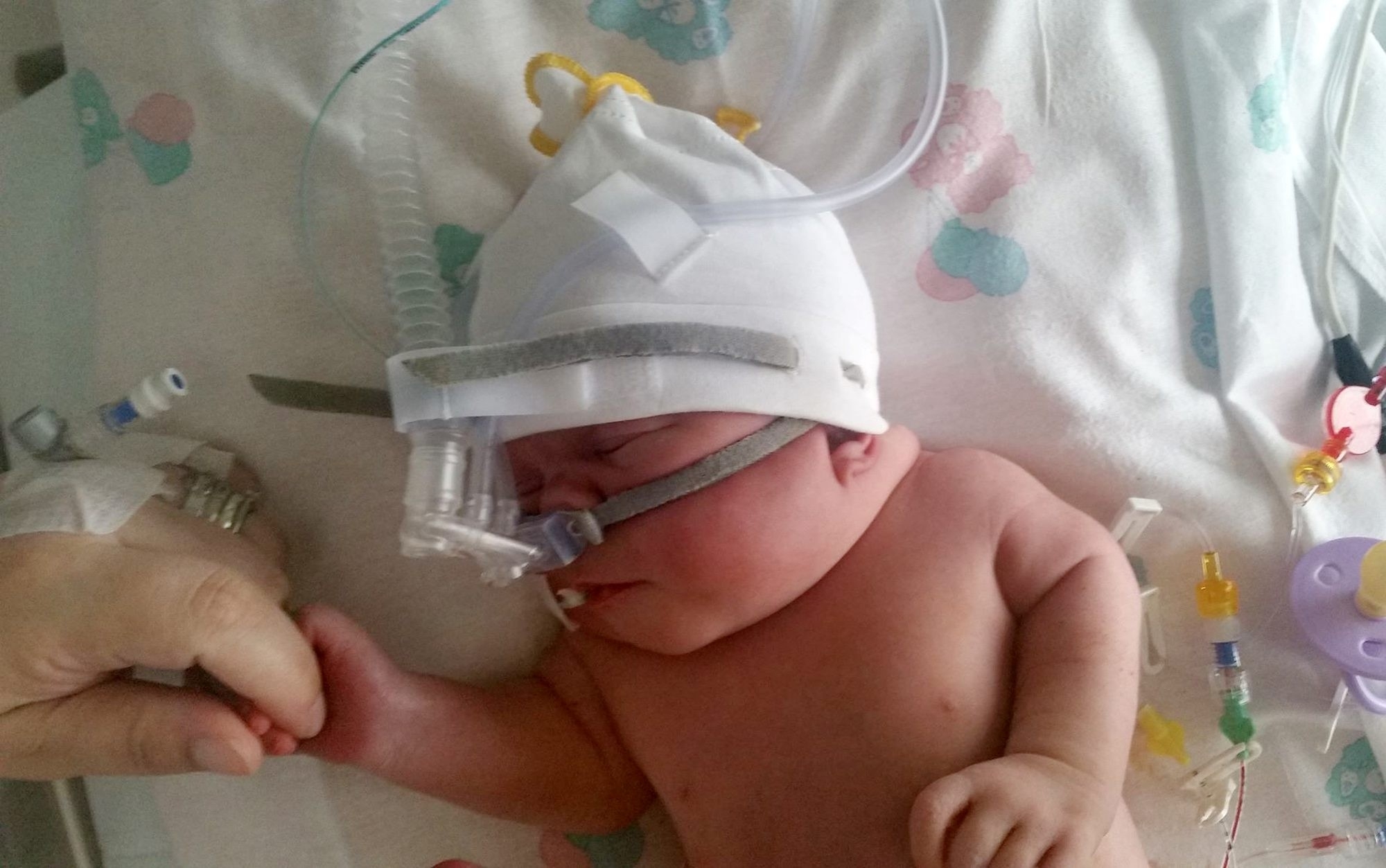 The parents of a tiny baby suffering from an extremely rare form of dwarfism are hoping to get her onto a clinical trial in America with the aim of extending her life.
Little Cassidy has one of the world's rarest diseases, Rhizomelic Chondrodysplasia Punctata type1 (RCDP), which is a painful form of dwarfism.
The condition causes severe intellectual disability and respiratory problems and is incurable with only few children surviving into adolescence.
There are believed to be only 55 known cases of RCDP in the world and Cassidy is the only person living with the disease in Scotland.
Parents, Natalie and Chris McCrone, from East Kilbride, South Lanarkshire are now trying to raise awareness in the hope to raise funding for a clinical trial in the United States, which if successful, would not cure the disease but improve Cassidy's quality of life.
Almost six months old, Cassidy has only just managed to smile, and her parents fear she will never talk or walk – if she manages to live beyond her first year.
Natalie, 29, said: "She's a beautiful wee baby.
"They can't tell you what to expect of the condition – that's the worst part.
"Sixty per cent pass away within the first year and any child that lives to five is classed a long term survivor.
"It can't be cured, I've resigned myself to that from the get-go."
Natalie found out she was pregnant in July 2014, and the happy parents discovered they were having twins.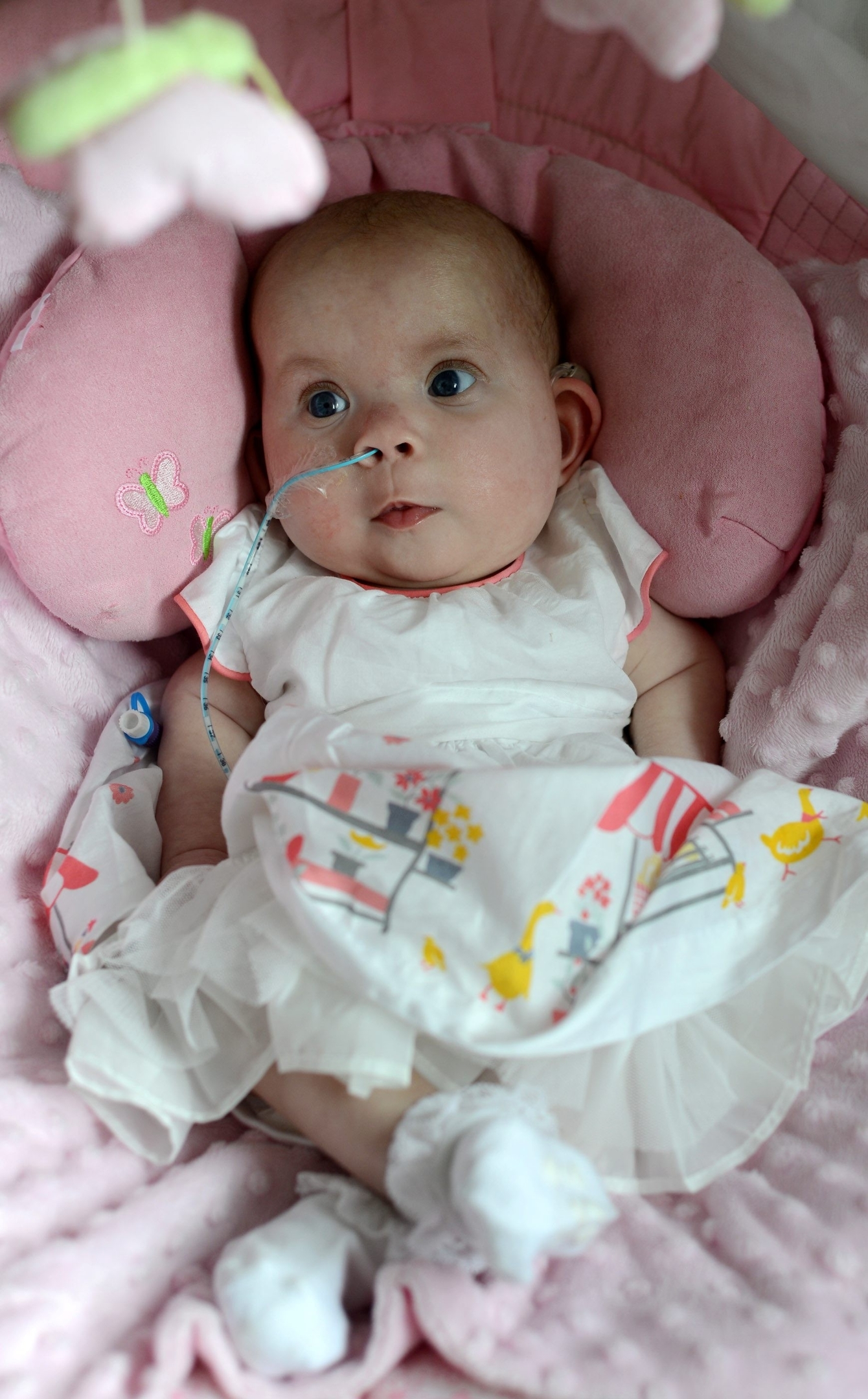 At the 12 week scan though, doctors revealed one of the twins' hearts had stopped beating.
The weeks went on, medics noticed little Cassidy was very small, but Natalie was not too worried, as her elder daughter, Brooklyn, was also a small baby.
During a routine scan at 35 weeks, Natalie and Chris received worrying news.
Natalie said: "We had a routine scan at 35 weeks to check Cassidy's growth.
"The midwife sat for ages doing measurements and staring at the monitor.
"I could just tell by the look on the midwife's face.
"The news went from bad to worse. She said your baby's limbs aren't measuring up.
"She explained that Cassidy was sitting in an awkward position but she would have to refer us to get this double checked."
"Blood taken from Natalie was sent to Great Ormond Street Hospital to test her DNA for dwarfism, which was negative.
"They said her chest is measuring up really small so she may not survive birth. We were devastated.
"But we never gave up hope."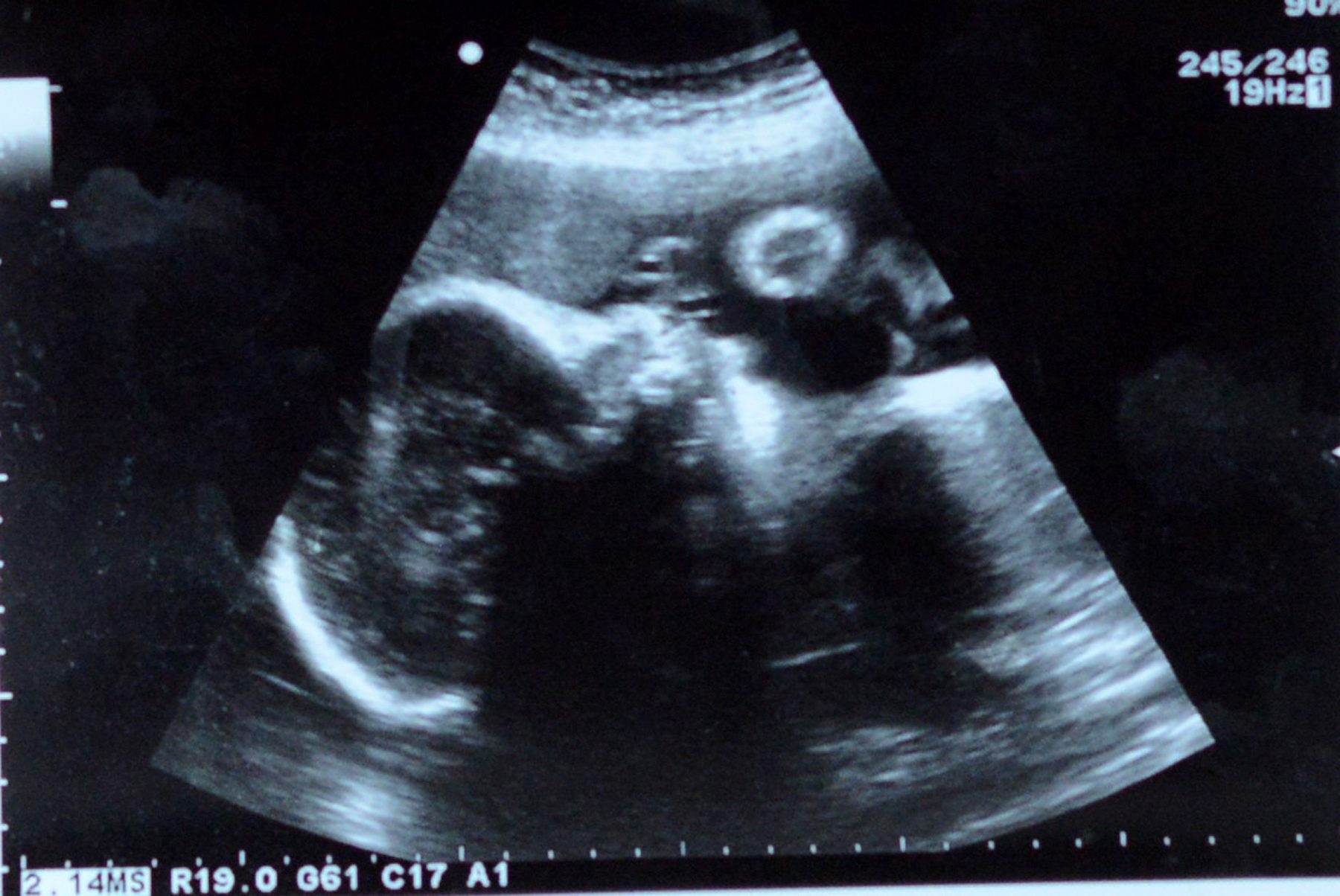 Cassidy was born on March 25 weighing 6lb 6oz.
She now weighs 8lb 14oz.
Natalie said: "She is still fighting. She's still here. She'll never be big.
"She'll never walk and never talk but she's got emotion – she started smiling and things, but everything is delayed.
"We know her wee brain is working, we can see it in her eyes.
"We don't know what the outcome will be – how long she'll have.
"We're just enjoying each day as we get it."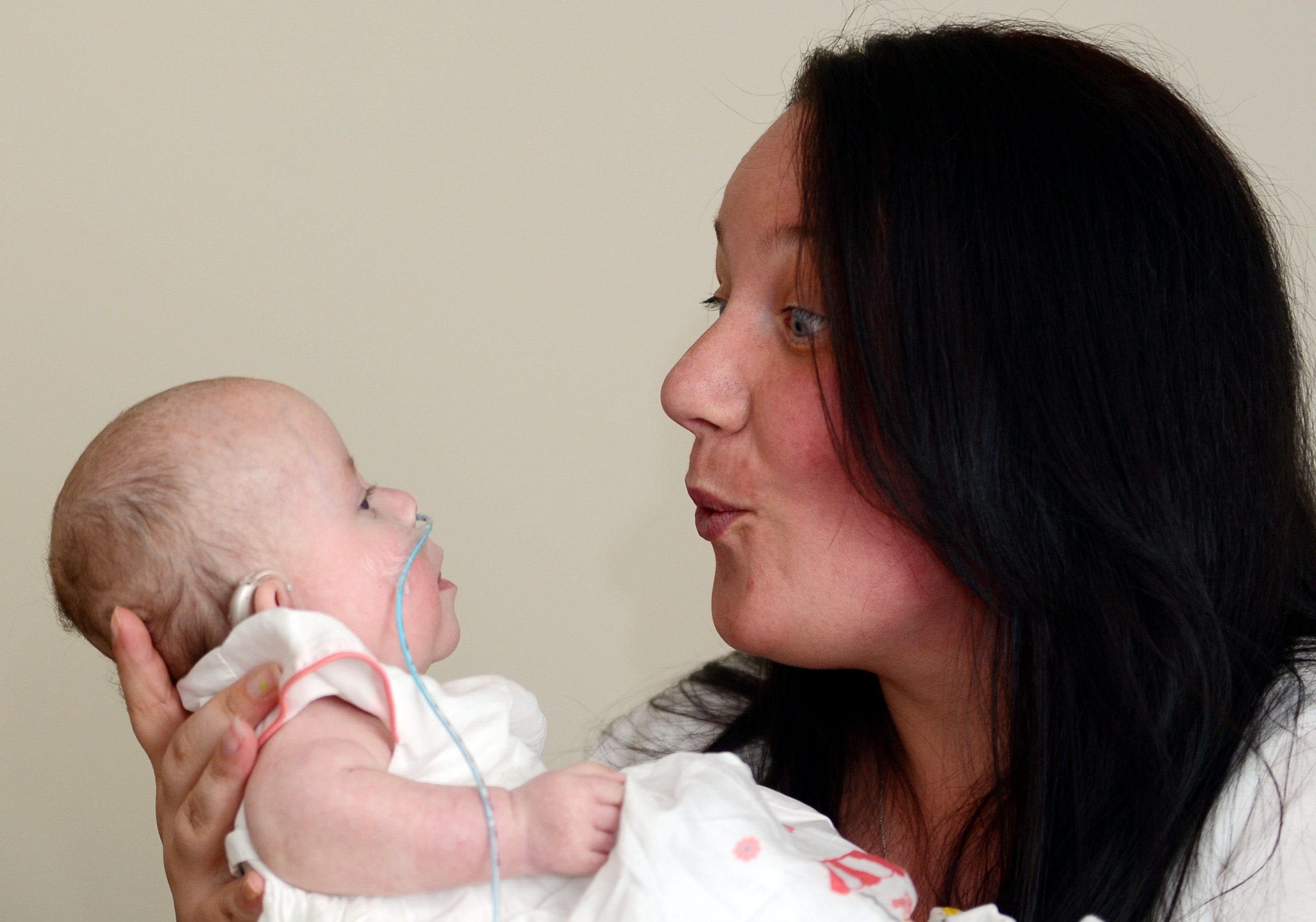 Despite her young age, Cassidy wears contact lenses after her condition caused cataracts in her eyes which had to be removed.
Last month she had hearing aids fitted due to mild to moderate hearing loss in both ears.despite the difficult situation her parents are in, they remain hopeful that Cassidy's life can be improved.
Natalie wants to raise awareness of the condition so money can be raised to help the trial go ahead and help other families in the McCrone's position.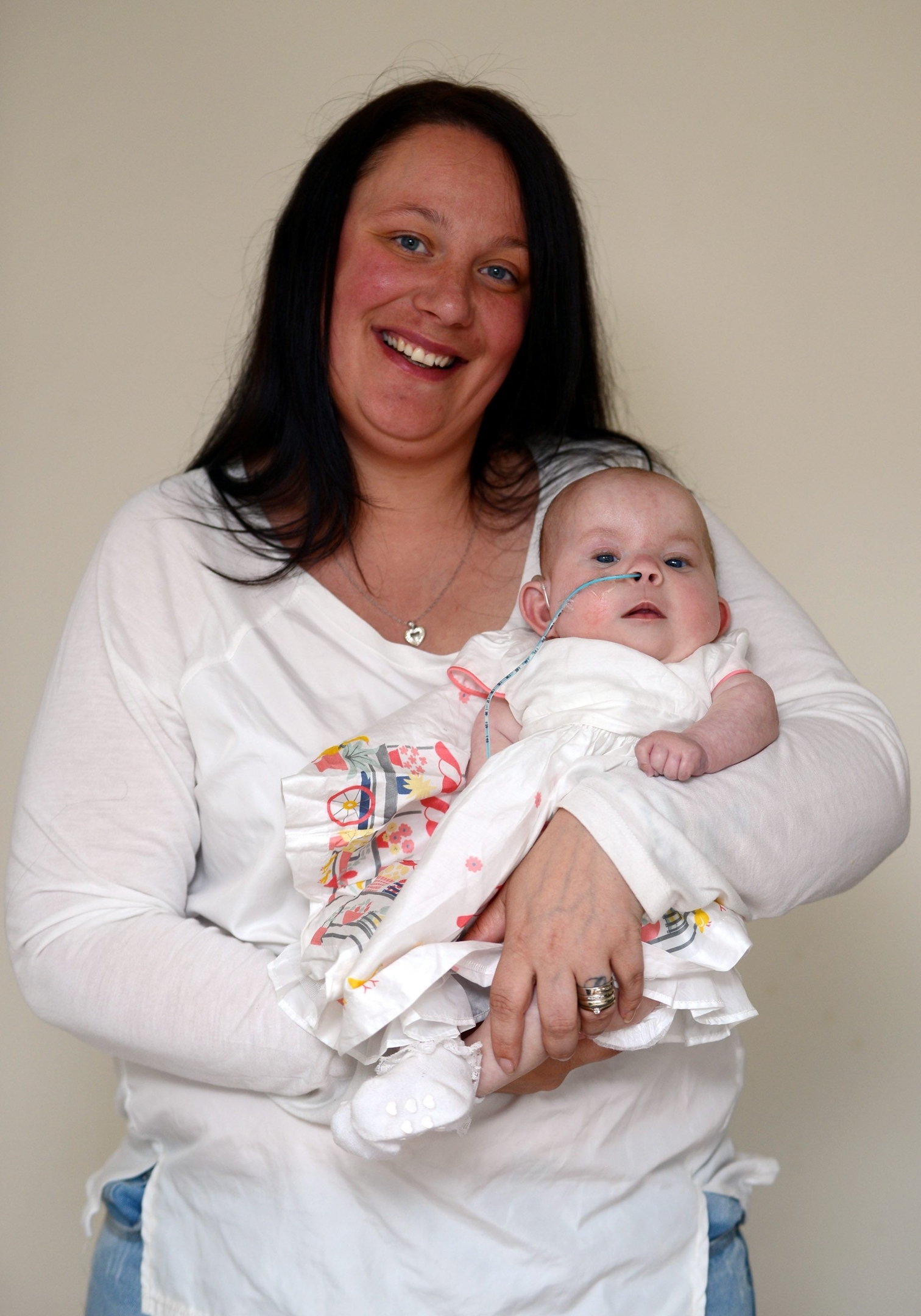 Phenomenome Discoveries, a Canadian drug company, has developed a set of compounds that might restore a missing ingredient in children with RCDP – plasmalogens a type of fatty acid found in cell membranes.
Natalie said: "We would love Cassidy to be part of the clinical trial and if the trial is a success the our main aim would be to get her to America for the treatment."