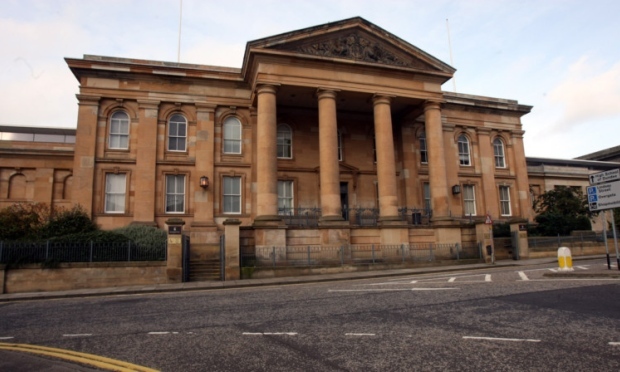 A Polish career criminal stripped naked in a busy toy store on Easter Sunday before abducting a six-year-old boy then battering the terrified child's grandmother with a cricket bat, a court heard today.
Prezymyslaw Kaluzny has previously served a series of jail terms in his homeland for violent offences, including a four-and-a-half year sentence for robbery and 10 months for hostage taking.
But on Easter Sunday this year, April 5, the violent thug was living in Dundee.
Today he admitted going on an horrific rampage that court sources said "defied belief".
Kaluzny first went to Dundee's Toys 'R Us store – then packed with young children with their families – at around 2.30pm while carrying a baseball bat.
The 41-year-old strolled into the shop – before stripping completely naked within the store.
He then walked down an aisle shouting and brandishing the bat and struggling violently with customers who were said to be put in a state of fear and alarm by Kaluzny's actions.
Witnesses said he "ranted and raved" in Polish before launching his abduction bid and violent attack.
Then – in the most horrific act of the rampage – Kaluzny grabbed a six-year-old boy, who cannot be named to protect his identity, by the arm and dragged him along the ground.
Kaluzny then picked him up and held on to him in a bid to take the terrified child from the shop against his will.
The boy's grandmother, a 67-year-old woman, then intervened.
But vicious Kaluzny responded by battering her across the head with a cricket bat, leaving her injured.
The thug was finally wrestled to the floor of the store by staff and customers, who managed to hold the struggling thug down until police arrived.
Witnesses described the rampage as "terrifying" and said Kalunzy had "wanted to cause carnage".
They said that it took up to 20 men to finally pin him down as he attempted to flee.
Kaluzny was then arrested and put into a police car to be driven to the city's police HQ, around three miles away.
During that journey Kaluzny managed to snap the solid metal bar and plastic casing of the handcuffs he was wearing behind his back.
Fiscal depute Eilidh Robertson told Dundee Sheriff Court that extensive investigations had been undertaken since the incident into Kaluzny's mental state.
She said: "His previous convictions disclose offences of theft, dealing in stolen goods, robbery, hostage taking and burglary.
"There has been investigation by the Crown and defence in terms of whether he is fit to instruct his solicitor and plead.
"There is a DVD which captures the charges he has pled guilty to.
"The CCTV is of an extremely distressing and sensitive nature."
Kaluzny, 41, presently detained at Murray Royal Hospital in Perth, pleaded guilty on indictment to a total of six charges.
He admitted that on April 5 at Toys 'R Us, Kingsway West Retail Park, Dundee, he was in possession of an offensive weapon, behaved in a threatening and abusive manner, committed an offence of public indecency, assaulted a six-year-old boy and abducted him and then assaulted a 67-year-old woman with a cricket bat to her injury.
Kaluzny further admitted an act of vandalism commited in a police car travelling from Toys 'R Us to Dundee's Police HQ.
He had not guilty pleas accepted to charges of theft, taking and driving away a car, driving without a licence or insurance, careless driving an an offence under the Sexual Offences (Scotland) Act.
Defence solicitor Nicola Brown said: "He has written what is a letter of apology, in essence.
"That is being translated and will be provided to the court.
"We are now satisfied that he his fit to give instructions and plead.
"He has never been in a position to do so previously."
Sheriff Lorna Drummond QC imposed an interim compulsion order, meaning Kaluzny will be detained in a secure hospital unit to undergo treatment for a mental disorder ahead of a review hearing in December.
At that point the court will be shown the horrific CCTV footage of the attack and be given a full written narrative of the events.
At the time of the rampage witnesses told of their horror at the events which unfolded.
Gavin Watt, who was in the store, said: "He was swinging the bat and tried to get at to folk and an older lady – he didn't seem to be going after one particular person.
"He had been ranting and raving in a foreign language.
"There must have been 20 other folk who jumped on him and took him down.
"He was still struggling and we had to put trolleys on top of him to keep him there.
"The man was really strong and absolutely out of it.
"He was big and bulky and tattooed all over and very strong.
"Even with him being pinned down by all these folk he was still able to wriggle about.
"I don't think anyone else was hurt, luckily enough.
"The young child was taken away round the corner out of harm's way.
"The police cuffed him and put him in a van."
One woman, who asked not to be named, said: "I saw one woman with a young girl in the toilets and he was kicking the toilet doors.
"They tried to run for it but he then chased them down the aisles.
"The man was crazed – he wanted to cause carnage.
"Now there are several parents having to try to explain to their kids why a naked man was chasing them with a bat.
"How can they? There can't be a reasonable explanation. It was terrifying."
Another witness added: "He walked straight past us starting to strip off and throwing things on to the shelves.
"Luckily my husband realised something was up, he notified security and got us out of the store just as he was starting to kick off."