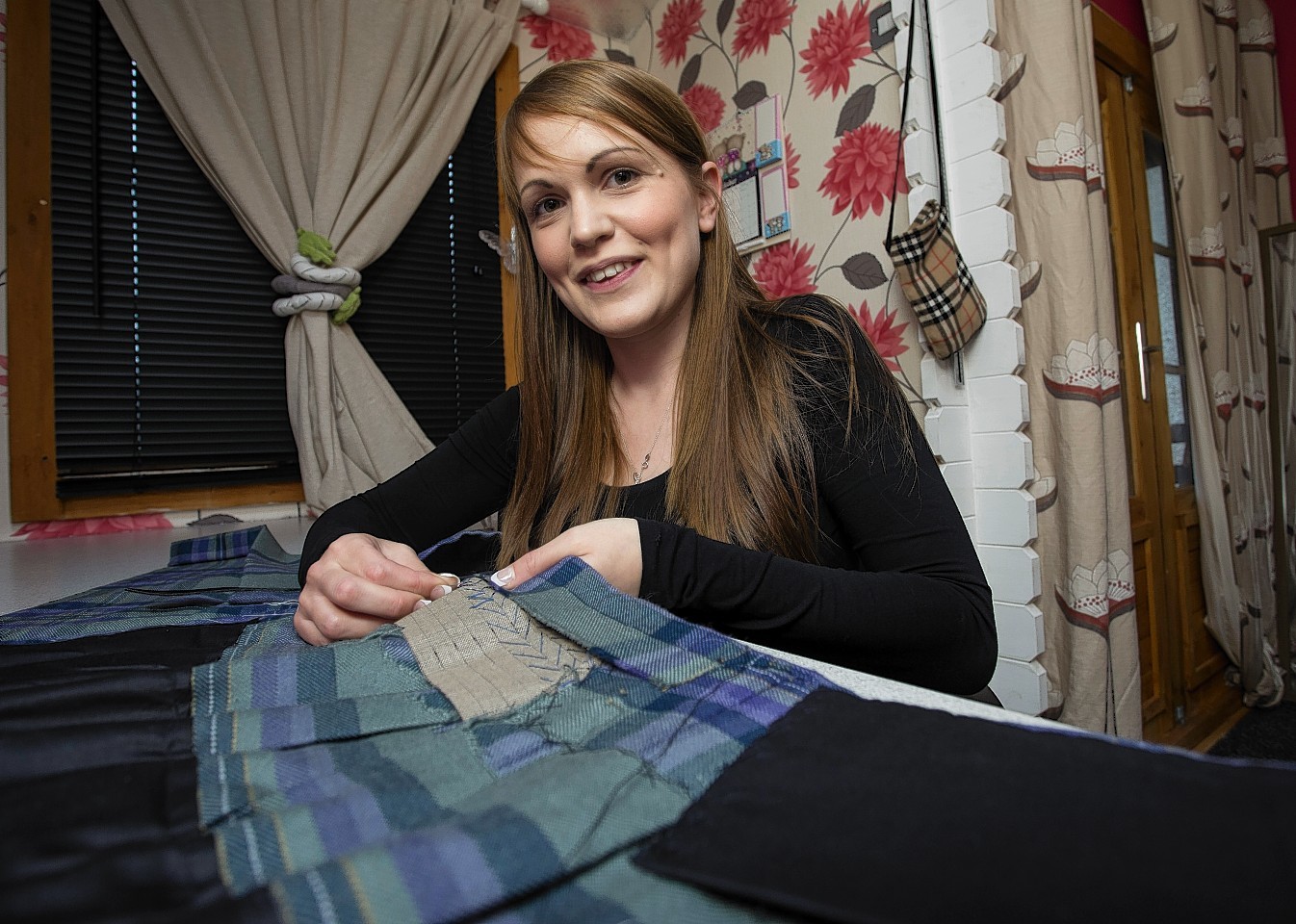 The future of handcrafted Highland wear is in safe hands thanks to a new generation of Scots starting a career in kilt making – including one talented north-east seamstress.
Rebecca Scarlett is set to become one of the first to pick up the long-awaited Scottish Vocational Qualification (SVQ) in Kilt Making, certifying her as having the skills necessary to set-up in the traditional industry.
The 25-year-old grew up watching her talented mother – also a seamstress – spend many a long night marking and hand stitching metres of plaid together for her customers.
So when she got the opportunity to be one of the first two people to undertake the new course she jumped at the chance.
Miss Scarlett, from Inverurie in Aberdeenshire, said her interest was sparked when she was "dragged" to her mother's workshop as a teenager.
"I have had a few jobs but this is the one I am happiest with and that I can see myself having a future with," she said.
"Kilts aren't just a Scottish tradition, they are all about memories.
"You wear them for weddings, birthday parties, and there's even a few who will wear them at funerals."
Her mother, Beverley, was taught by former Master Kilt Maker of the Gordon Highlanders and Keith Kilt School founder, Robert McBain.
The 62-year-old enrolled in his classes 15 years ago and has since become an industry stalwart and a trainer herself.
Mrs Scarlett said: "My grandmother on my mother's side was a seamstress, so I guess it is in the blood."
But like many of her peers, she realised that the traditional skills were at risk of being lost to the next generation.
It spurred her on to help the SQA set up a qualification to pass on the tricky skills associated with making bespoke handmade kilts.
Now, her daughter and fellow kilt maker Alastair Callum, from Edinburgh, are in the final stages of becoming the first two people to complete the course.
One year ago, it took Miss Scarlett around seven weeks to make a kilt from scratch, working five hours a night.
Now she can create one in four to five days in her cosy workshop in her back garden.
Recently, her proud mother got to see her skills in actions as the pair hand stitched eight kilts in seven weeks for a family wedding.
"Like anything you buy, you don't really know what you're going to get until you get the product," Mrs Scarlett said.
"This award gives the industry a benchmark, a really solid base on which to get their experience."