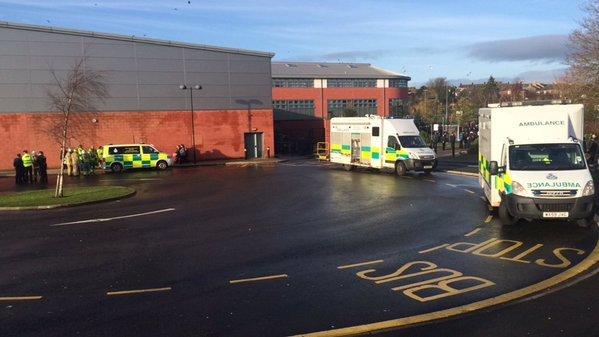 Three neighbouring schools in East Ayrshire have been evacuated after an incident at a science laboratory.
East Ayrshire Council said the incident occurred in the laboratory at Grange Academy, in Beech Avenue, Kilmarnock.
The school has been evacuated, along with Annanhill Primary and Park School, which are part of the same campus, to allow the emergency services access.
The council said parents with children at the schools were being asked to collect them.
A council statement said: "We are aware of an incident in a science lab at Grange Academy and emergency services are in attendance.
"As a precautionary measure the Grange Campus has been evacuated.
"This affects Grange Academy, Annanhill Primary School and Park School.
"These will remain closed for the rest of the day. Parents are being notified by the schools to make arrangements to collect pupils."
https://twitter.com/malibuphan/status/677472790983872512/photo/1
A statement from Police Scotland said: "Emergency Services are currently in attendance at Park Primary, Annan Primary and Grange Academy in Kilmarnock following a report of a bottle, within the chemistry department at Grange Academy, being broken and liquid leaking onto the floor.
"Due to a strong odour being released, pupils from the three schools have been evacuated as a precautionary measure.  None of the pupils have been affected by the odour.
"The bottle was within a cupboard in the chemistry department and enquiries are ongoing to establish what the liquid is.  All three schools are being closed and parents are being asked, if possible, to collect children earlier than usual."