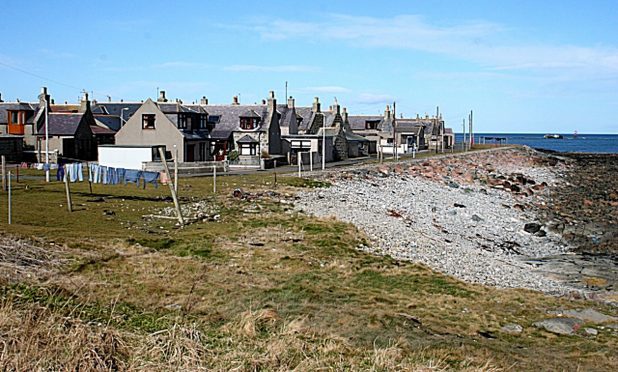 An architectural company, who made a bid to the Scottish Government to have a modern home built in a north-east conservation zone, have been defeated.
Glasgow firm, Keppie Planning and Development, appealed to government reporters after a scheme to construct a four-bedroom house in Inverallochy was thrown out by councillors last August.
Local resident, George Nicol, wanted to demolish a 150-year-old cottage at 5 Main Street and replace it with a modern build.
However, councillors felt the property – which would replace the one-and-a-half storey building in the fishing village – would not be in keeping with the surrounding properties, and would not add to the character of the conservation area.
Don Rankin, the reporter assigned to the appeal case, has now backed councillors and blocked the proposal from going ahead in its current form.
He said: "The proposed replacement house due to its size, orientation, contemporary style and materials would not preserve or enhance the character or appearance of the conservation area.
"In consequence, it does not justify the demolition of the existing buildings.
Keppie had suggested the house would be "sympathetic" with the existing surroundings, which have been subject to a number of new builds in recent years.
But Mr Rankin explained that every proposal must be considered on its own merit.
He added: "I conclude that these other examples do not justify demolition of the appeal buildings and do not therefore alter my conclusion."
The firm's appeal came just weeks after councillors backed the demolition of an abandoned house in a traditional fishing village in neighbouring Cairnbulg – also part of the conservation area – despite Aberdeenshire Council planners urging it to be refused.
One local councillor, Ian Tait, said modern families would not be "content" living in old-fashioned 'but and bens'.
Another, Charles Buchan, claimed that villages needed to "move forward" and said that a vibrant community needed family houses.
A spokesman for Keppie last night responded that they were keen to progress with fresh plans for the home.
He added: "We are currently working with the planning department and the built heritage team to deliver a scheme both acceptable in terms of the their sensitive conservation policies, and what our client's aspirations are for a modern family home."