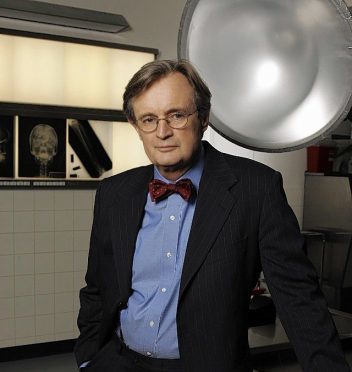 Neil Drysdale
David McCallum might be in his ninth decade, but you would never guess it from this wonderfully versatile actor's mellifluous voice and delightful surprise at the way in which his life has unfolded.
This is the Glasgow-born fellow who earned fame for his Beatlesque good looks as Russian spy Illya Kuryakin in the hit 1960s series "The Man from U.N.C.L.E" and starred in a diverse range of films and TV series including "The Great Escape", "Sapphire and Steel", "The Invisible Man", "The Greatest Story Ever Told" and "A Night to Remember".
Yet, for younger viewers, McCallum is most famous as medical examiner Dr Donald "Ducky" Mallard in the global smash hit "NCIS".
He has featured in this phenomenally successful show for 13 years and loves the quality of the production, ensemble cast and scripts.
And he knows a lot about the latter since he has just written his first book, a compelling thriller "Once a Crooked Man", which a myriad twists and turns and just screams out to be transformed into a film.
McCallum is a self-deprecating individual, somebody who doesn't take himself too seriously and he told The Press and Journal he was as surprised as anybody else at re-emerging into the spotlight in NCIS.
"I was working with Jim Dale on [New York's] Park Avenue back in 2002 when I got a call from my agent asking me if I was interested in auditioning for the role of a lecherous doctor in a new medical drama," said the 82-year-old Scot.
"I thought to myself 'why not?', so I read the script, thought it was interesting and then I was asked to go to California to audition for CBS. It went okay and I was told the same afternoon that I had got the part.
"You never know how these things will work out or what is around the corner. But NCIS has been a phenomenon, it has attracted huge audiences all over the world and I am now hearing from people who have watched the programmes I made back in the 60s and 70s.
"In the old days, we used to get fan mail, but nowadays, it's all Facebook and Twitter and the impact of these things is remarkable. My publisher in America recently organised a book signing and more than 30,000 people read it on Facebook. Incredible!
"The book was something else which just developed and grew. The idea came to me 15 years ago when I was doing an audio book [by Jack Higgins] and I thought to myself: 'I could do this'.
"Well, I soon learned it wasn't as easy as I had imagined. I had to start from scratch and my early efforts were pathetic. But eventually, I wrote draft after draft and it all came together.
"My publishers [the book has been released in Britain by Dingwall-based Sandstone Press] have done a great job and you can't believe the thrill I received when I saw the finished version.
"I never expected to do it, but then Woody Allen once said the only books which aren't published are the ones which don't get finished."
Once a Crooked Man bristles with brio and no little wit. As a trained musician, McCallum has a gift for making words sing and he has already been asked to create another novel, away from NCIS commitments.
This hectic schedule means he doesn't have as much time as he would wish to visit Scotland – he has family links from Glasgow to Macduff – but, as he said poignantly: "I feel a little lonely when I go home these days because everybody's gone".
However, McCallum is not one to indulge in recherche du temps perdu. Quite the contrary. As he declared: "We have grandchildren to keep us young and they are a blessing. And we had a new addition to the McCallum-Carpenter family this year.
"I'm very happy with how things are going and the idea of being described as an actor/author really appeals to me. Now, I just have to come up with the words for the second book project."
One suspects this blithe character won't be struggling for inspiration too long.