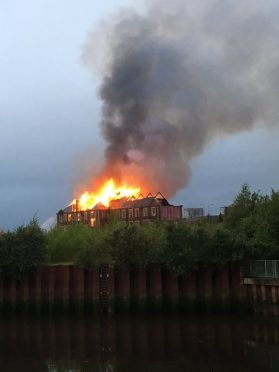 Firefighters are currently battling a blaze at a historic building in Glasgow.
Emergency services were called to Scotway House on Castlebank Street just before 9pm and found flames shooting through the roof.
A section of the road has now been closed off as firefighters battle the blaze.
It is understood there was no one in the building when the fire started.
Just made my first ever 999 call. Fire at abandoned building along for Glasgow Harbour. pic.twitter.com/8EQoKnS6HB

— Carole Rennie Logan (@crgrieve) May 20, 2016
Abandoned building on fire in Partick. pic.twitter.com/yFYCmDustE

— Paul Theriac (@paul_depacartel) May 20, 2016