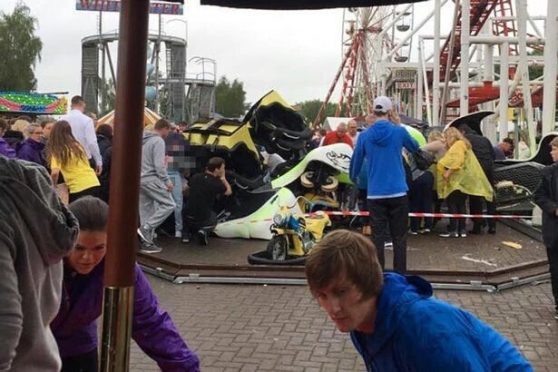 Children and teenagers are feared to be among those injured in a rollercoaster crash at a theme park in Scotland, according to eyewitnesses.
Eyewitnesses said the Tsunami ride at M&D's amusement park in Motherwell, near Glasgow, had been full when it derailed.
Police, firefighters and paramedics rushed to the scene as several visitors posted images on social media appearing to show a mangled carriage on a pathway surrounded by dozens of people.
In one image, taken by Dean Borris, people can be seen trapped upside down in their seats on the carriage, with their legs protruding into the air.
Katie Burns said she had just finished riding the Tsunami rollercoaster and was walking past when the carriage crashed with children on board.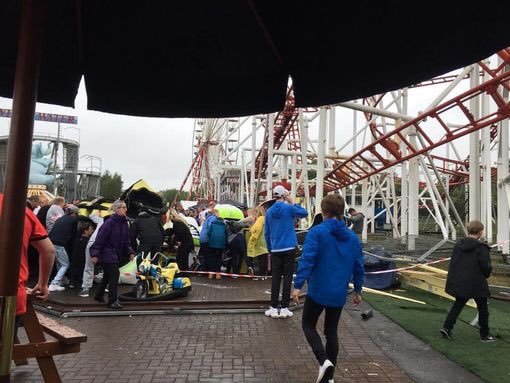 On Facebook, she said: "Literally got off the Tsunami at M&Ds and then walking past and the next lot of people get on and the full thing goes off the tracks.
"Honestly never been so scared in my life, with this weather they should not be on.
"Kids and adults are still on it upside down, it's like something out a horror film, children crying and everything.
"Literally can't believe this, my heart goes out to everyone on it, a full load came off the track but and on the pavement, like a horror film worse thing ever heard and seen, can't get over this."
She posted an image of one of the rollercoaster wheels on the pavement.
Witness James Millerick, who was queuing for another rollercoaster at the theme park, said he heard "shrieks" from customers.
He said there was talk that someone had come off one of the rides and rushed over.
"When we got there the rollercoaster had come off the track entirely – straight through the gated fence at the side of the rollercoaster and was upside down on the concrete path at the side," he told Sky News.
"There were maybe seven or eight individuals, mostly of younger age between maybe 10 and 15 years old that were actually trapped inside the rollercoaster lying on the ground. The harnesses were still on as well so there was absolutely no movement."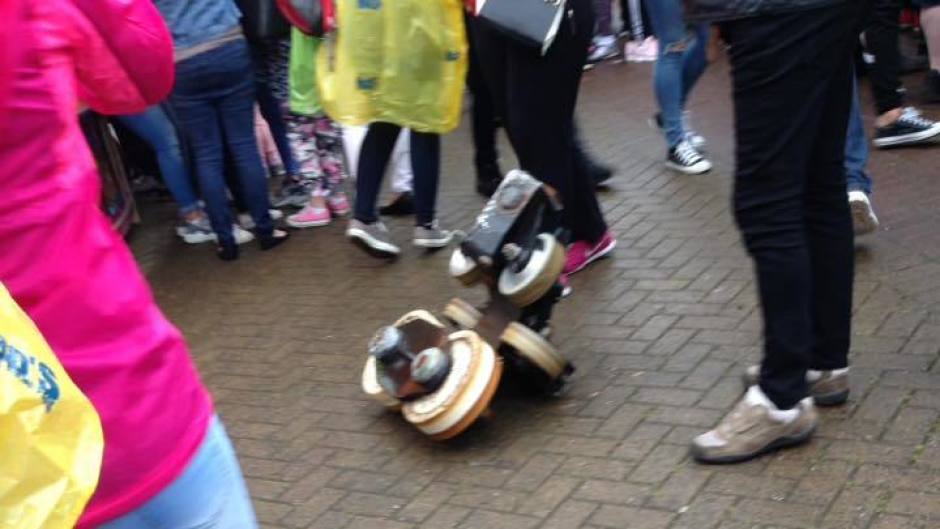 He said he thought the rollercoaster had slipped off the tracks as it came around a corner but did not fall from the highest point.
Police Scotland said seven people have been injured in the crash and the park has been evacuated, according to the BBC.
A Police Scotland spokesman said: "Emergency services are responding to an ongoing incident at M&Ds theme park in Motherwell and further updates will be given in due course."
A spokesman for the Scottish Ambulance Service said six ambulance crews, a specialist operation team and emergency doctors were on the scene.
He said: "I can confirm that we are attending an incident at M&Ds theme park in Motherwell."
According to the M&D's website, the Tsunami rollercoaster can go at speeds of up to 40 miles per hour through corkscrew turns and loops on a 650km track.
Children under 10 are not allowed to use the ride, and under 14s must be accompanied by a paying adult.
A spokeswoman for M&D's said: "A serious incident occurred at M&D's today involving the Tsunami rollercoaster.
"We have all emergency services on site to assist. The theme park is closed until further notice."