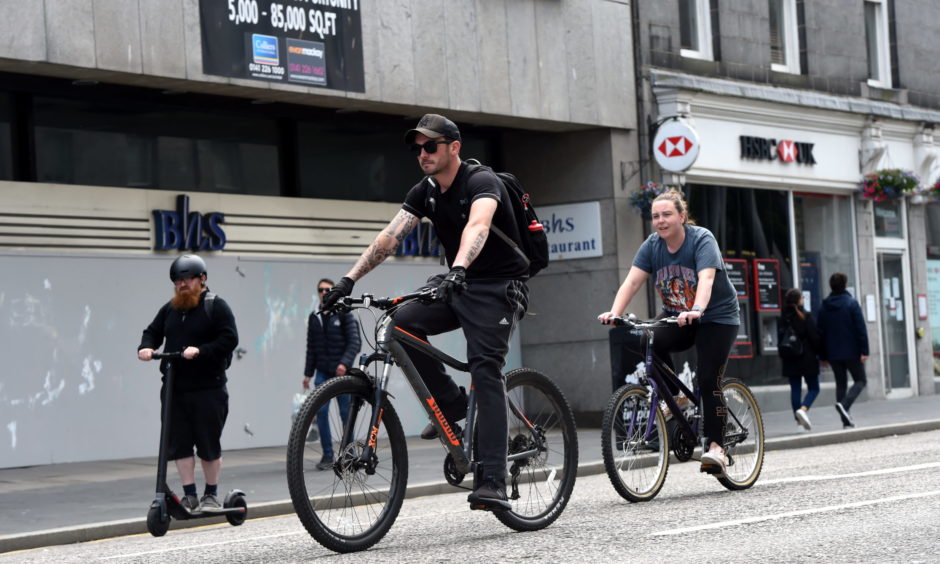 To paint clear regional pictures of how cycling habits have changed before, during and after lockdown, the Press and Journal has analysed the results of the Pandemic Pedal Power survey by local authority area.
In addition, we have presented the comments and regional trends to each local authority and given them the opportunity to respond to our findings.
Here, we examine the results for Aberdeen City – the only exclusively urban council area featured in our survey.
Cycling in Aberdeen: what's changed?
Cyclists in the Granite City have enjoyed a series of changes to the city centre and surrounding roads thanks to £1.76 million of Spaces for People funding.
A divisive pedestrianisation project was undertaken on Union Street, with the street completely closed to motorised traffic between Bridge Street and Market Street.
Elsewhere, traffic was reduced to a single lane and pavements expanded to allow for social distancing, and a two-way cycle lane has been created on the Beach Boulevard.
What have you told us?
Unsurprisingly, Aberdonian cyclists own the most hybrid bikes, which blend the comfort and durability of a mountain bike with the speed of a road bike making them ideal for commuting. They also own more folding bikes for the same reason.
City dwellers' reasons for cycling are also fairly different from other parts of the north of Scotland. Aberdonians were most likely to cite cycling as a time and cost-efficient way to travel, and 35% said the environment was a factor in their choice to cycle.
Richie Brian wrote in his survey response: "(I like the) exercise, fresh air, consistent commuting times (traffic jam? I just sail past!), and the knowledge I'm not destroying the environment. I love my nieces and nephew, I want them to inherit a world worth living in."
However, Aberdonians have rated both the funding and infrastructure in their local area as fairly disappointing – and were not afraid to share their frustrations in our survey.
City cyclist Martin Downer said: "The infrastructure in Aberdeen is poor, the designated cycle lanes are in a terrible condition and often it is safer to cycle outwith them.
"The recent changes to Union Street have actually made matters worse by removing the bus lane for widening pavements. It has squeezed buses, cars, lorries and bikes into one lane.
"There are still a proportion of drivers who squeeze past or pull out in front of you. As an experienced cyclist I am able to anticipate these things, but feel that it is too dangerous for my children."
Ross Barney-Whyte added: "I find that Aberdeen City is not cycling friendly at all. The roads are in horrible condition, along with a lack of cycling infrastructure.
"I would feel at risk cycling in Aberdeen. I tend to cycle out west into the countryside.
"Also the general attitude towards cyclists in Aberdeen is not great. Car drivers seem especially entitled."
Key troublespots for local cyclists include the main thoroughfare to Aberdeenshire Anderson Drive and Market Street, berated frequently for having no provision for cycling.
Dozens of cyclists from Aberdeen gave their support to segregated infrastructure for cyclists, distinct from both motor vehicles and pedestrians.
James Love said: "Everyone knows this is the answer but the local government or government at large will not provide the provision."
Case study: The novice in the saddle for the first time
Photography lecturer John Prince made a resolution at the start of 2020 that he would look after himself better, and bought himself a bike so he could get out and get fit at the same time.
Little did he know that three months into the year he'd have more opportunities to cycle than he ever could have wanted.
The 44-year-old, who lectures at North East Scotland College, said: "It was so much easier to get out with the roads quiet. It was great for getting used to riding a bike on the roads, dealing with junctions and roundabouts and that. But they're getting busier now."
John says he has to keep his wits about him more now than he had to before – but the Spaces for People measures across Aberdeen have helped.
"It's a lot better with the temporary lanes in place – you can actually get across the city on a cycle lane, which you couldn't before.
"Overall the other road users are quite respectful but there's been a couple of incidents where there have been vehicles parked on cycle lanes and I've had to swerve into the road.
"There have been times I've put my hand out to indicate and other road users haven't acknowledged me."
Originally hailing from the north of England, John has looked on enviously as cities like Manchester roundly embrace cycle-friendly infrastructure while Aberdeen and other Scottish cities lag behind.
"More permanent markings would make things a lot easier but what we have is definitely a step in the right direction. Hopefully they help people get out there and cycle. The more people that get fit walking, running and cycling, the smaller the overall cost to the NHS."
Woman, 76, left in tears trying to negotiate overhauled Aberdeen roads
But at the moment, he doesn't cycle to work – citing a lack of safe cycle parking in Aberdeen.
The Aberdeen Cycling Forum estimates that more than 500 bikes are stolen every single year.
"Bike theft in Aberdeen – I've never known anything like it," John says.
"We need lockers – not just bike racks. It only takes a few seconds to take a lock off. If the government wants us to remain fit and cycle we need to be catered to in the same way motorists are with multi-storey car parks."
What is the council saying?
In response to the findings of the Pandemic Pedal Power survey, Aberdeen City Council provided a statement from transport spokeswoman councillor Sandra Macdonald.
She said: "Covid-19 and the lockdown has changed what we're doing in the short term as we are providing measures in a very tight timescale alongside other Spaces for People work to facilitate the additional numbers of people cycling around the city.
"This includes new cycling facilities at the beach area, Rosemount Place, and George Street/Maberly Street. The creation and extension of 20mph speed limits in residential and retail areas is also underway.
"In light of these changes and that physical distancing measures are likely to be in place for a while yet, we are looking at our Active Travel Strategy to examine where it can be refreshed.
"Some of the routes mentioned in the survey are being changed through the Spaces for People project, however, due to existing road widths segregation cannot always be provided.
"Through our Active Travel Strategy, we have committed to examining where we can improve infrastructure facilities for pedestrians and cyclists while balancing the needs of people who travel in vehicles. We have carried out several schemes to improve cycling and walking infrastructure in communities, and also the city centre."
Explore the data