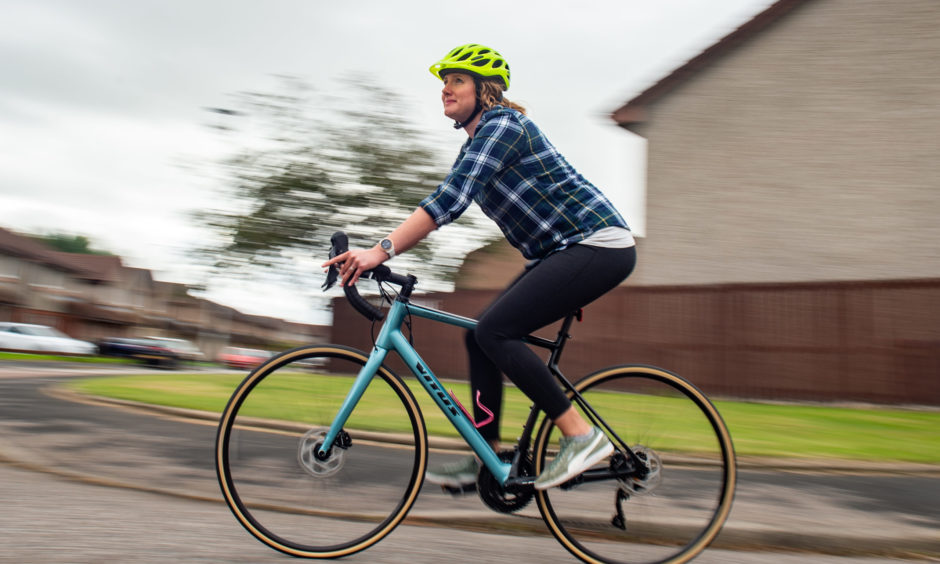 To paint clear regional pictures of how cycling habits have changed before, during and after lockdown, the Press and Journal has analysed the results of the Pandemic Pedal Power survey by local authority area.
In addition, we have presented the comments and regional trends to each local authority and given them the opportunity to respond to our findings.
Here, we examine the results for Moray – with sandy beaches and most of its townships in the north and the Cairngorms further down, how do cyclists rate it as a place to get around?
What's happened?
During the summer, Moray Council was provided with £500,000 from the Spaces for People fund which it has used to implement parking restrictions in towns such as Elgin, Forres, Fochabers and Lossiemouth. Parts of Elgin's high street were also pedestrianised during peak trading hours to support social distancing.
During the summer, the authority also passed its new Local Development Plan of planning policies, which include goals of promoting active travel and public transport over private car use.
Communities encouraged to suggest Moray streets to close to help social distancing
Cycling in Moray: What have you told us?
Moray is home, it seems, to the middle-of-the-road cyclist – it compares favourably with the survey's average rates of bike ownership, distance travelled and reasons for cycling.
Cyclists here are as likely to cycle over 30 miles each week as they are to cycle less, and rate fellow road users such as motorists and bus drivers more favourably than other local authorities across the north and north-east.
Outside the norm, Moray pedal-pushers are also the most satisfied with the infrastructure and funding of cycling provision, 52% and 32% respectively rating them "average" or better. Elgin, which has a number of dedicated cycle paths, came in for particular praise from readers.
That's not to say things can't be improved, in their view. A common complaint was that the routes often served visitors and tourists better than local residents.
Andrew Chestnut said: "Although there are some cycle lanes in Moray, they are often an afterthought using existing pavements which were never built with the cyclist in mind and require the occasional crossing of main roads with no dedicated crossing.
"Funding is often mentioned but is usually so far down the list of priorities for councils that they are the first to fall by the wayside when finance is tight."
The largely single carriageway A96 – one of Scotland's deadliest roads – also came in for some criticism, particularly due to the difficulty cyclists had crossing it. This, however, is maintained by Transport Scotland rather than Moray Council.
Chris Bird noted: "Crossing the A96 is always dangerous and confusing to navigate, better instructions for cyclists and other road users might help."
John Bray wrote: "Better cycle paths that cover the way to work alongside main roads, not just tourist routes (would encourage more people to cycle)."
Case study: The woman trying to get everyone cycling
Anna Vince isn't afraid to admit she is biased about the benefits of cycling. The 33-year-old is a development officer with Cycling UK and works with local communities to get them in the saddle and keep them there. She lives in Lossiemouth, where her husband is stationed with the RAF, but caught the cycling bug back in Lincoln.
"I was just too tight to pay the parking changes for work," she jokes.
Anna uses her bike to cycle to work, to the shops and with friends – but stays off the beaten track.
"I don't go anywhere near the A96 or most of the main roads. The side roads are just a nice place to cycle," she continues.
"People around here give you plenty of room and tend to hang back. It would be great if the momentum we've built up during lockdown continued.
"I think people are beginning to make that switch (away from cars) but we need lots of things to keep that going: better infrastructure and for people to know about cycling as an option."
However, while she has high hopes for the future of cycling, Anna is also realistic about the odds of the perfect cycle network being introduced any time soon.
"It needs to be good quality. I've seen some shoddy examples where they've put cycle lanes in that are 30cm across that I wouldn't want to cycle in, and I would say I was a confident cyclist.
"Putting in lanes like that almost makes drivers think they can squeeze down any gap beside you, like the lane is some sort of field of protection.
"It would be amazing to get segregated space. If people had somewhere away from other road users that would be amazing but it depends on the road and funding and all that sort of stuff."
What is the council saying?
Responding to the results of the Press and Journal's Pandemic Pedal Power survey, a spokesman for Moray Council said that cycle journeys have more than doubled across the region during lockdown.
The authority, he said, has performed well in Cycling Scotland's Annual Monitoring Report assessing councils' support for cycling, and remains committed to encouraging active travel.
He added: "Moray continues to invest in active travel facilities for cycling and pedestrians. We have just completed an £800,000 upgrade to the Speyside Way between Craigellachie and Carron to encourage more cycling journeys to work in the Speyside area.
Hopes high that upgrades to Speyside Way will increase trail's popularity
"The route between the Pinefield area of Elgin and the town centre has been improved with the creation of a cycle route infilling part of this route. Improvements for cyclists have also been made in Dufftown. Safe signalled crossing points for pedestrians and cyclists have been installed in Elgin at South Street/Hay Street and in Lossiemouth at the School Brae junction.
"Overall investment exceeds £1 million in the last 2 years.
"Future plans include further upgrades to the Speyside Way, dedicated cycle path alongside the A95 in Keith, further improvements in Lossiemouth and Forres.
"Wherever possible provision is introduced off the main carriageway, but this is not always feasible. Routes such as Elgin – Lossiemouth and Elgin – Lhanbryde have been very successful.
"We are working with communities to support them in initiatives to introduce further routes such as Lossiemouth – Hopeman and Rothes – Craigellachie. There has to be suitable land available to construct the route, and funding needs to be in place."
Explore the data