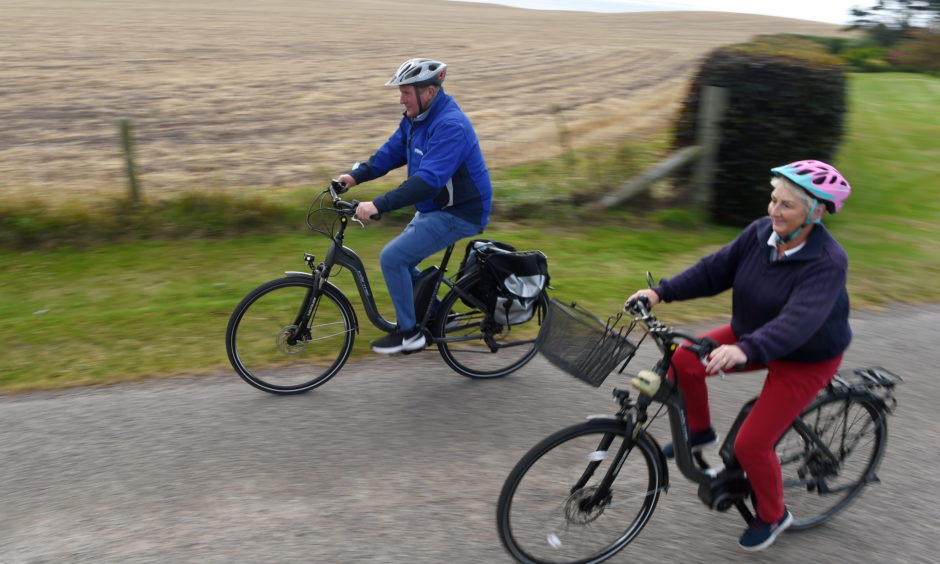 To paint clear regional pictures of how cycling habits have changed before, during and after lockdown, the Press and Journal has analysed the results of the Pandemic Pedal Power survey by local authority area.
In addition, we have presented the comments and regional trends to each local authority and given them the opportunity to respond to our findings.
Here, we examine the results for the Highlands – Scotland's largest and most rural local authority area. With over 3,300 miles of minor roads, are cyclists well-served or at risk?
What's happened?
Following lockdown Highland Council sought almost £2 million in Spaces for People funding from Sustrans which it used to consult on and implement measures to encourage both social distancing and active travel across the local authority area.
Measures have been rolled out across towns and cities including Inverness, Fort William, Nairn, Wick and Dingwall, ranging from temporary street closures and widened pavements to temporary pedestrian crossings and suspended car parking.
Feedback on the measures has been sought via an online consultation platform – and while some measures were criticised shortly after rollout the council says most feedback has been positive.
Tailbacks of more than 30 vehicles as Spaces for People route causes 'chaos' in Inverness
What have you told us?
Highland cyclists are among the most likely to own more than one bike, with road bikes and mountain bikes the most popular choices. More than four in five go out at least once a week but are actually the most likely to cycle shorter distances – and they typically cycle to work, and with friends.
Relations with other road users are frosty. Highland cyclists are the most concerned about car drivers across the whole of the north and the north-east – with campervans and tourists often singled out by locals as especially inconsiderate.
Skye resident Kathryn Beaton noted: "With tourists coming back to Skye roads are too busy, they are careless."
Keith Muir, from Canisbay, said of occasional visitors: "Using passing places and making allowance for other road users is something they just never have to do until they come north.
"Their experience is all either in busy city streets or on dual-carriageways or motorways and they just do not know how to drive on country roads where they could meet cyclists, pedestrians, agricultural vehicles and so on."
Infrastructure is also poorly rated: two-thirds rate public funding for cycling across the region as either "poor" or "very poor" while more than seven in 10 say the infrastructure itself is wanting.
Concerns about infrastructure even vary across parts of the Highlands. On Skye, Mark Crowe, project officer with the Skye Cycle Network Project, said: "Living on Skye there is a total lack of cycle provision. Not one, even small, cycle or shared use path exists. That means you have to mix it with traffic.
"Generally most drivers are respectful and give appropriate passing distance, but it only takes a couple of close passes on a ride to damage confidence or put you off."
Matt Speke said paths in and around Inverness were not looked after or well signposted.
"I see lots cycling on the dual carriageway when the cycle path is right next to them," he mused. "Is it signage or condition of path that makes people cycle on a busy dual carriageway?"
On close passes, Highland cyclists experience more than anyone else across the top of Scotland – 95% report being the victims of dangerous overtaking, and 25% say it happens on every ride.
Cyclist Paul Bremner commented: "Drivers pass at 60+ mph and every cycle there is a near miss accident waiting to happen as drivers overtake, giving me no room sometimes forcing me into the ditch.
"Plus drivers with powerful cars do stupid things like accelerate very fast around and you get the gravel/stone chips thrown at you."
Responding to our survey, Alan Horsburgh said shared use paths near him were often poorly maintained to the point they were dangerous.
He added: "Motorists often shout abuse as they see (shared) paths and do not realise that it is indeed safer to be on the road and amongst the traffic than to use them."
As for how to make cycling safer in the Highlands, Fiona Macleod had some inspired ideas.
"I think it might be helpful if part of a car test was going on a bike and seeing what it feels like if someone passes you too closely and/or fast," she wrote.
Brendan Dougan, from Inverness, captured the feelings of many of our surveyed readers.
"I think that good infrastructure is the cornerstone of this," he wrote.
"In short, if routes are not nice to cycle on, they will not be used much, even by the most experienced and hardy of cyclists.
"For this reason, we need to have more cycle-friendly infrastructure in our towns and cities and civic leaders with the confidence and vision to implement them."
Case study: The farming family up to speed with ebikes
Potato farmer James Gordon and his wife Moira, from Portmahomack, both snapped up electric bikes to take advantage of lockdown's quiet roads – and both are in love. All across the peninsula, people have caught the biking bug.
"I haven't really been on a bike in a long time but my wife and I thought it would be good to get them. I'm a keen golfer and the fact I couldn't golf meant we thought we ought to be doing something," says James.
"I've been busy with harvest recently but when I have been cycling it's been excellent. My brother and his wife have bought bikes and my neighbours have too. I've got grandchildren in Ellon and they think they're just fabulous."
James, 68, and Moira splashed out on the bikes as a treat but say the advantage of battery power on the hills has been worth every penny.
To date, they've had no dealings with problematic drivers – but in a peninsula, the farmer notes, there's no chance of there being through traffic, as there might be elsewhere in the Highlands.
"Ten years ago I'd have never thought of putting a crash helmet on," he continues.
"But there's absolutely nothing track-wise. The nearest cycle track is at Evanton (in Easter Ross) and that doesn't go far. There's no money for cycle tracks and there's no money for repairing the roads."
While he's in no rush to see tracks come to his area, James says he understands the need for them in other parts of the Highlands. As far as he's concerned, he's just happy to be keeping active.
He jokes: "I've had two new knees – and cycling is good for them."
What is the council saying?
In response to our survey, a spokesman for Highland Council said the authority will use the feedback on its Spaces for People projects to further inform its future transport priorities – including prioritising active modes of travel over private car use.
The representative said: "The Highland Council note the survey undertaken by the P&J.
"We continue to work to ensure physical distancing through the Spaces for People project across Highland, which remains a high priority during this global pandemic.
"Whilst the council has longer term interventions in various stages of progress, the Spaces for People work has enabled certain elements to be used to inform the best means of supporting our communities to physically distance and choose active travel over driving.
"As well as that project the council has also secured funding to improve our monitoring of all modes of travel which will help us to better understand the dynamics of our network and needs of our communities in refining and developing strategy for active travel.
"Furthermore, our own public consultation is providing a strong measure of public opinion on the works being delivered and, alongside studies like the Inverness BikeLife 2019 report, provide a range of evidence to inform future work."
Explore the data