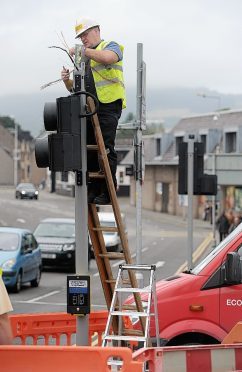 Then and now, submitted and McCook pic/s.
IAIN RAMAGE
A bus was responsible for destroying a set of Inverness traffic lights at the weekend.
The equipment, at the Huntly Street-Young Street Ness bridge junction, was left ruptured and blew all other lights at the busy crossroads for two days.
The incident happened late on Friday night. There are no reports of anyone being injured.
The police reported the incident to the council's out-of-hours number at 12.45am on Saturday.
Council repairmen were restoring the lights yesterday.
The damage has cost the council about £1,000 in repairs.
A spokeswoman for the force said: "The bus driver attended Burnett Road Police Station after the bump to explain the rear of the bus hit the lights as he was turning onto Young Street.
"The council is repairing the lights. We're not looking into this any further."
Although there was no suggestion the bus driver had flouted the junction's no-left-turn stipulation, the crossroads has quickly gathered a reputation as dangerous because of the number of motorists who ignore the restriction.
Huntly Street's no-left-turn arrangement was introduced as part of recently revised traffic priorities in the area after flood prevention works were completed.
The Press and Journal recently highlighted the regular problem of drivers flouting the new junction rules.
Local councillors are furious that "irresponsible drivers" have often endangered pedestrians at the busy crossing point.
The Huntly Street restriction was agreed by the council's city committee in 2014 while the road was still closed for flood works.
Councillors had feared that the riverside route would be used as a so-called "rat run" by drivers frustrated with traffic queues on Kenneth Street if no restriction was put in place.
Abuse of the junction recently prompted fresh calls from some councillors and community councillors for a review of the restriction.
The force spokeswoman confirmed that the Inverness city centre community beats teams has received numerous reports in recent months about drivers turning left and general parking issues.
"They have incorporated this into their patrol plans and continue to monitor the issue," she said.