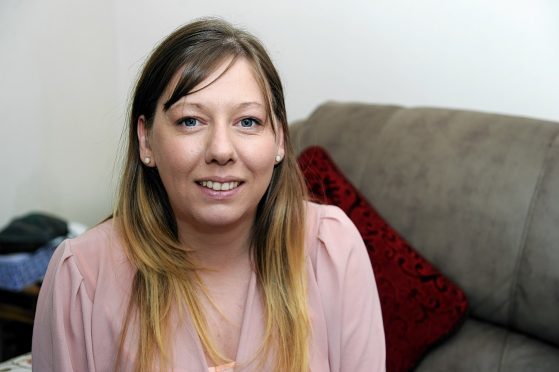 A profoundly deaf Moray woman, whose lengthy train journey was thrown into chaos, has thanked the rail staff who went out of their way to ensure she returned home safely.
Beverly Robertson visited Liverpool at the weekend to celebrate a friend's forthcoming marriage and her own 34th birthday.
When the Mosstodloch mother-of-two was returning north on Sunday, her train suddenly stopped at Manchester and passengers had to empty from it.
Mrs Robertson could not hear the announcements being made over the speakers explaining the situation, and quickly grew anxious about what had caused the upheaval.
She has very limited speech, but managed to let a ticket collector at Manchester know she was deaf.
The collector communicated with Mrs Robertson by typing messages on her mobile phone.
Thereafter, helpful rail employees guided her every step of the way on a revised journey from Manchester to Inverness, where her husband David was waiting to pick her up.
Mrs Robertson's mum, Lorna Hunter, said her daughter grew worried when the train unexpectedly ground to a halt in Manchester.
She said: "The train hadn't got very far when that happened and she was anxious because she didn't know why it had happened.
"She wasn't able to hear any messages coming through, and was frightened about missing her connection at York."
The Transpennine Express ticket collector escorted Mrs Robertson to a train from Manchester to York, and made arrangements for rail staff to collect her at Newcastle and Edinburgh.
When she arrived at Edinburgh too late to catch the Inverness train, Virgin paid for a taxi to transport her to the Highland capital.
Mrs Hunter added: "You sometimes hear about disabled people being treated badly, but couldn't fault the way my daughter was treated."
TransPennine Express subsequently identified Mrs Robertson's saviour at Manchester as York-based Nikki May.
She said: "I've attended a sign language course at work and knew the basics, but found that using our smart phones to type messages to each other worked really well.
"I'm happy I was able to help, and am pleased to learn she made it home safe and sound."
Emma Vincent, general manager for Virgin Trains on its east coast route, added: "We're very grateful for Mrs Robertson's kind words and feedback."