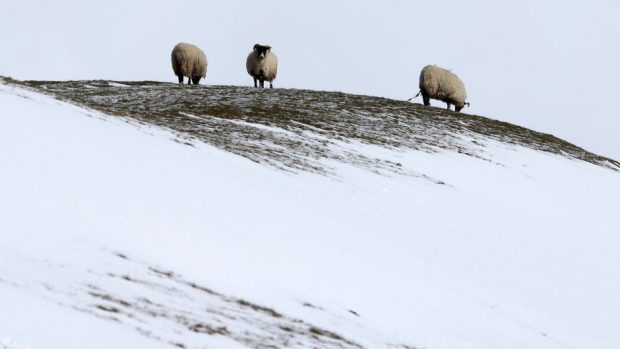 Motorists are being urged to be extra vigilant on north-east roads today when the region is hit by a barrage of snow, ice and gale force winds.
Winter weather was predicted to move into Moray and Aberdeenshire overnight and to continue throughout today, before mild weather brings summery temperatures of 14C to Grampian tomorrow.
The Met Office has placed a yellow warning for snow, ice and wind across the north-east, while temperatures were expected to plummet to below freezing in parts of the area this morning.
However, the forecaster added the region had got off lightly from Storm Barbara, which battered the north of Scotland with lightning strikes and gusts in excess of 80mph yesterday.
Snow was predicted to fall on the north-east's highest roads in inland Moray and West Aberdeenshire into this morning, along with hail and sleet in rural communities.
None the less, the Met Office said last night the region was likely to experience "probably the best" weather in Scotland tomorrow, prior to the winter weather returning at nightfall.
Met Office meteorologist, Greg Wolverson, said: "The north-east as a whole was sort of the most sheltered from the storm. The windiest place in our neck of the woods on Friday was Peterhead, it got gusts of 64mph.
"It was pretty breezy there as the front went through the north-east.
"The next 24 hours is that of clear spells and blustery, wintry showers. As we move further inland overnight, West Aberdeenshire is seeing some blustery showers.
"There is a wintry mix of hail and sleet to high level and higher snow will accumulate over the hills. There will be icy patches and snow over higher roads.
"Into Saturday, there will be bright and sunny spells in the east mixed with wintry showers, mainly in the west.
"It is another windy day, with gusts of probably 40mph and maybe higher along the Moray Coast in particular.
"Our advice would be: if you are travelling around Aberdeenshire, if you are taking on higher roads, heading west, you are more likely to see some potential travel disruption because of snow showers. The snow is accumulating over the higher roads.
"The further west the more likely you are to see some snow showers.
"On Christmas Day, we are probably the best of Scotland really, there is the potential for summery spells.
"Later on, probably after sundown, we will start to see a spreading of much colder air."
The snow and ice alert will be lifted at noon today, but the wind warning will remain in place until Boxing Day.