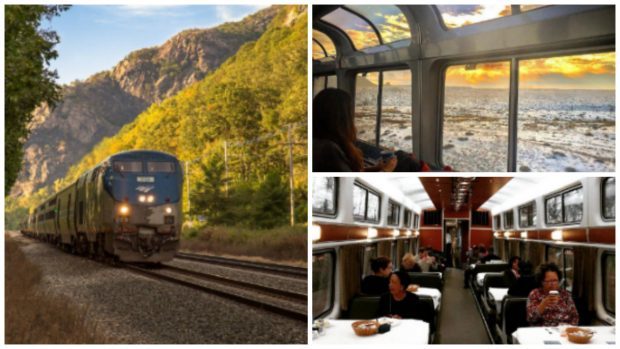 Most of us have a travel goal of road trippin' across the United States, right? Country music blaring, feasting on burgers as we go, with never-ending views of mountains and lakes and salt flats.
But it turns out, the best way to see America might not be behind the wheel, after all. Admittedly, travelling by train may sound like something your nan is more likely to do than you, but don't judge too quickly.
Here's why…
It's very affordable
Travel expert and blogger Derek Low shared his ultimate coast-to-coast sightseeing journey from San Franciso to New York on his blog.
His trip cost him $429 for a 15-day rail pass, but hold up; he explains there's a way of doing it which, if you don't make stopovers, can cost you just a little over $200. That's £174.
First up, you ride Amtrak's California Zephyr route – you'll take in the tranquil waters of San Francisco Bay, Denver, Salt Lake City, on the way to Chicago. This includes the spectacular section of railway in between Utah and Colorado.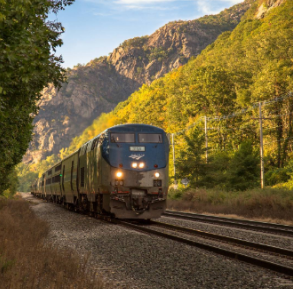 Change at Chicago to the Lake Shore Limited route, which runs alongside some of the nation's most beautiful shorelines – Lake Michigan and Lake Erie, for example – all the way to New York, via places like Cleveland and Pennsylvania.
According to Derek, these two trips will take you through a whopping 11 states (that's a lot of ticks on your bucket list) but both journeys can be purchased in the one £174 ticket that we mentioned earlier.
OK, yes, you've got to add your flights to the US into the costs too. But surely spending so little on your train makes that adventure across the pond, and seeing all the sights, way more doable.
The views
So, we've already mentioned the sorts of the places you'll be chugging by. Think everything from the snow-capped Sierra Nevadas to chaotic cities.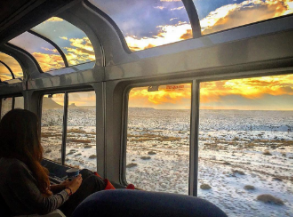 But what we haven't mentioned yet are the best seats in the house (or, well, train). Have a gander at the "Sightseer Lounge car," which features floor-to-ceiling windows and comfy chairs.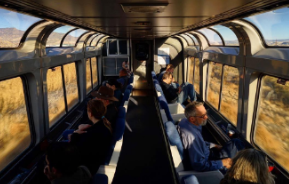 Even better, if you run out of reading material, or you listen to all the podcasts you've downloaded, the journey may also feature historians and park rangers narrating stories about the areas you're passing along the way.
You only need a few days
A 3,400-mile coast-to-coast train ride = just 4 days, if you do it without stopovers.
If you do want to make stopovers in the big cities, you just need to buy separate tickets for each leg.
Plus, let's just take a moment to appreciate how a train trip is waaaaay less stressful than driving. No risk of getting lost, or running out of petrol… and you can take as many naps as you want.
The food looks amazing
This gives you an idea of the dining situ on the train. Pretty fancy, huh?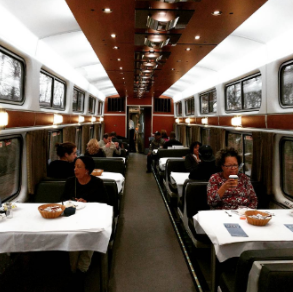 Don't panic if you don't take sufficient snacks on board – most long-distance trains include a full-service Dining Car, which serves hot meals from trained chefs for breakfast, lunch and dinner.
For passengers with sleeping accommodations (the price of this can get pretty hefty) meals are included in the price of their train ticket. If you're in Coach Class, you just have to pay a bit extra for your grub.
Well, that's 2017′s big adventure sorted. Cue constant daydreams about train journeys… not something we ever thought we'd say.