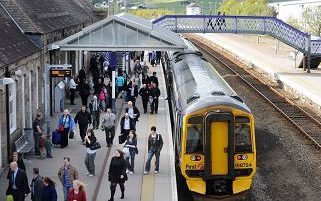 Rail bosses have been accused of "an incredible waste of money" by hiring buses to sit outside stations just in case their trains fail to run.
Puzzled commuters raised questions after spotting a coach parked outside the Inverurie ticket office every Monday to Friday for more than two weeks.
Taxi drivers said the vehicle – owned by Sauchen-based R.S.Coaches – was regularly there from 6am to 6pm and rarely left the car park.
ScotRail confirmed it was one of a number of "standby" buses for "strategic locations" thought most likely to be affected by winter weather.
The policy allowed the company to react more quickly to "localised weather-related issues" and keep customers moving, a spokesman said.
The embattled franchise operator refused to disclose how many buses it had hired, how often they were used or the cost of the operation.
Industry insiders however say each vehicle is likely to cost between £400 and £600 per day – which would put the overall bill well into the tens of thousands of pounds.
MSPs said the measure suggested ScotRail management shared passengers' lack of confidence in the reliability of services.
And while they backed the need to minimise disruption to journeys, one warned the "huge" expense would be paid for by long-suffering passengers through higher fares.
Liberal Democrat Mike Rumbles said: "It seems Scotrail has lost all faith in the reliability of their service.
"Renting buses to sit on standby for weeks and weeks at a time is an incredible waste of money."
Mr Rumbles, the party's Holyrood transport spokesman, urged ministers to work more closely with the operator.
ScotRail has faced heavy criticism for late and cancelled trains, with campaigners calling for Dutch parent firm Abellio to be stripped of the franchise to run Scotland's railways.
"Scotrail is right to make provisions for sudden bad weather, but there are many ways to do that without racking up huge bills that will inevitably be passed on to passengers," Mr Rumbles said.
"It has been winter of mild weather, yet rail in Scotland is rife with delays and cancellations."
Labour's Lewis Macdonald said: "The positive aspect is that they recognise they have a responsibility to their passengers."
But he added: "It does seem an extraordinary way to operate.
"Those with the responsibility for operating the service know what they need to do but it seems surprising this is the solution.
"It does reflect a service in which people have very little confidence. It would appear management share that lack of confidence felt by the people who use their trains."
A Transport Scotland spokesman said passengers would "not be impressed" if alternatives were not provided.
He said: "ScotRail does try to ensure that timetable changes or replacement buses are a last resort and if essential are in operation primarily on Sundays and late weekday evenings, although passengers can be at the mercy of the weather during winter.
"On this particular occasion we understand that the vehicles were only hired for when the worst of the winter weather was expected in mid-January.
"Of course if contingency arrangements weren't in place on the thankfully rare occasions they are needed then local communities and passengers would rightfully not be impressed at waiting around for an alternative solution."