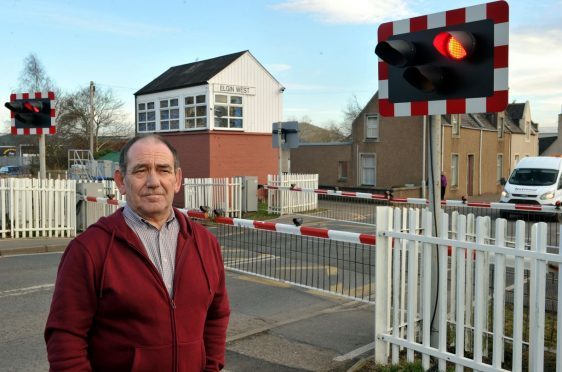 Fears have been raised traffic on a bridge in Elgin could grind to a halt during a major project to improve the region's railway.
As part of the £80million enhancements, the Wards Road level crossing will be closed during a series of engineering works.
Vehicles will instead be funnelled over the bridge at Edgar Road with pedestrians also facing a detour for two weekends and a 10-day closure.
This week concerns were raised by Elgin Community Council about the increase of traffic over the already-congested crossing.
And the group's chairman Alistair Kennedy believes the temporary loss of the level crossing will only strengthen the case for a new bridge over the railway in the town.
He said: "It's quite a concern. Anybody that uses that route is going to be left with quite a detour when the crossing closes.
"It's going to affect vehicles but foot-traffic too because they will have to take the long way around to get across.
"It'll certainly show the desperate need for another rail crossing. The Edgar Road bridge is already over-capacity and the level crossing closures will highlight the problems that are already there."
Moray Council has already proposed a new crossing over the railway to link Maisondieu Road and Ashgrove Road as part of a transport strategy consultation.
If approved, the authority is aiming to construct the new bridge before 2022.
During this week's meeting of Elgin Community Council members suggested bringing back the old footbridge from the station to be temporarily fitted at Wards Road or a shuttle bus as short-term solutions.
The first weekend closure of the level crossing in Elgin will start on Saturday, April 29. It will be followed by another suspension of services on Saturday, May 27 before a 10-day closure beginning on Saturday, October 7.
The level crossing will be upgraded to a section of double-track as part of the works and, once completed, will be controlled automatically from Inverness.
A Network Rail spokeswoman explained the old railway station footbridge had already been sold and was likely to be collected soon.
She said: "Network Rail will continue to work closely with Moray Council in the months leading up to the level crossing closures. However, the responsibility for any diversionary route or alternative lies directly with the local authority."