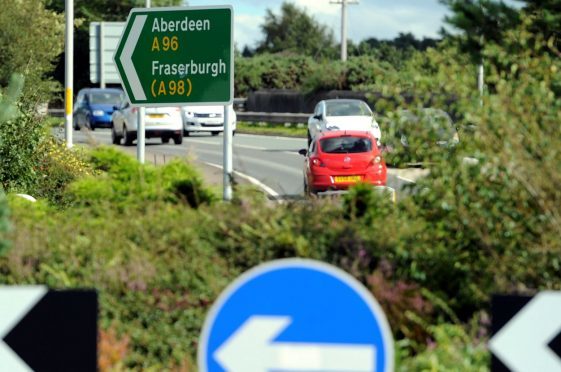 Campaigners, worried about the effect of upgrading the A96 Aberdeen to Inverness road through Moray, have organised a public meeting to gather views.
The Press & Journal has already revealed flooding fears in relation to dualling the busy route in the west of the region near Forres.
And now, locals in Lhanbryde and Urquhart have been encouraged to come forward to air their concerns.
Yesterday, Fochabers Lhanbryde councillor Marc Macrae revealed that residents to the north and south of the proposed routes have expressed anxiety about the impact it will have on the area.
Mr Macrae has insisted the right option has to be chosen to deliver the best results for Moray. And the Conservative councillor has written to Transport Scotland to ask for the deadline for views to be shifted back from August 4 to allow as many people as possible to make their views heard.
He said: "This scheme is clearly of significant importance for both Moray and indeed the whole A96 corridor between Inverness and Aberdeen.
"It's only right that people have the maximum opportunities to fully engage prior to the design and build.
"Given that the exhibitions took place just prior to start of the summer holiday period, a time when many people will be away from home, I have asked Transport Scotland to consider an extension to this deadline."
Transport Scotland has proposed one route to the north of Lhanbryde and two to the south of the village.
Comments will be considered before a preferred option is chosen by designers next year.
Lhanbryde Community Challenge chairwoman Anita Milne has also encouraged residents from outside the village to make their views known.
She added: "The A96 might not be going through Speyside, but it is only right their views are considered because they will be using it.
"As with the worries near Forres, there are some concerns here about flooding with the northern routes that have been proposed."
A Transport Scotland spokeswoman said residents had been given several weeks before the summer holidays to make their views known.
She added: "However, should any responses be received after August 4, we would certainly consider them as we look to develop the scheme further with a view to identifying a preferred route option next year."
The public meeting at Lhanbryde Community Centre will take place on Tuesday, July 18 at 7pm.