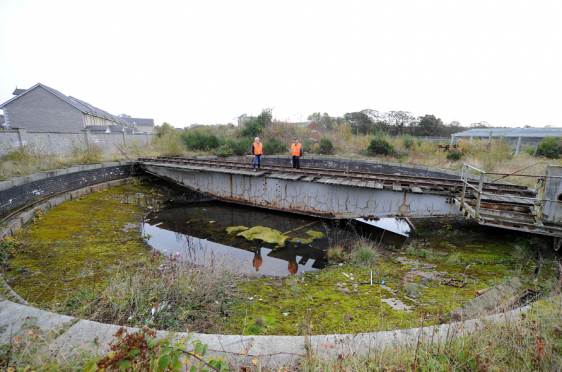 An ambitious project to revive a historic train turntable has received a major grant from a national preservation charity.
The Ferryhill Railway Heritage Trust has in recent years endeavoured to transform the Victorian-era train depot north of Duthie Park into a tourist attraction, celebrating the north-east's locomotive history.
And one of the centrepieces of the site is the category A-listed steel turntable, which is one of the last of its kind in Scotland.
The trust's project to restore the enormous example of 20th century engineering has now been given a grant of £20,000 from the Association for Industrial Archaeology (AIA), an organisation established to promote the study and preservation of Britain's industrial heritage.
And, with the aid of the new cash boost, the trust confirmed it will be able to speed up the process and renovate the turntable faster than scheduled.
Trustee Gary Thorley-Smith said: "We've already been given 80% of the cost by providers, now including this latest generous donation, so we've only got to find cash for the final 20%.
"This will be a huge help. The central pedestal is currently getting machined, so it can fit the turntable, and we're hoping that by the end of next month, or maybe in September, the turntable should be back at Ferryhill.
"Once the project is completed, it will be fantastic to see this historic part of Aberdeen's history returned to its former glory."
After the turntable has been restored, the trust will refocus its efforts on fixing up the extensive collection of traditional trains and historically-listed buildings at the site.
Jon Tyler, chairman of the trust, added yesterday: "The Ferryhill Railway Heritage Trust is in negotiation with Historic Environment Scotland (HES) over the programme of works to be undertaken to make the sheds wind and watertight.
"The next phase of the work will repair the timber roof trusses. However, there is still a shortfall of around £35,000 in funds for this phase.
"The HES funding will meet 40% of the costs, with the remaining funds having to be raised."
To find out more about the heritage trust, visit www.frht.org.uk