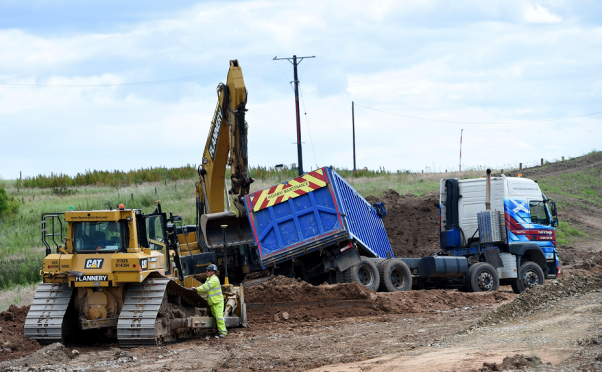 Bypass bosses are being summoned for crunch talks with Transport Scotland to explain a spate of high-profile accidents at the development.
The Press and Journal revealed earlier this year that an average of one worker a week had been injured on the £745million AWPR project.
In March, a contractor at the Milltimber stretch of the multimillion-pound construction site was left with cracked ribs, a liver tear and dislocated toes, after being crushed by a half-tonne pipe.
Since then there has been a long line of accidents at bypass construction sites including a two-week spell where five vehicles topped over.
Now the senior government minister responsible for the AWPR has been forced to step in and has promised Transport Scotland will meet with Aberdeen Roads Limited (ARL.
In a letter to Aberdeen South MP Ross Thomson – who has frequently raised questions about health and safety practices at the site – economy secretary Keith Brown said: "ARL's management team have confirmed that the rate of incidents per man hours worked is not significantly different from other sites across the UK.
"However, as recent trends have indicated a slight rise in the number of RIDDOR (Reporting of Injuries, Diseases and Dangerous Occurrences Regulations) reportable incidents compared to recent months, Transport Scotland officials have recently written to ARL's directors requesting a meeting regarding concerns about health and safety and to collaboratively offer help and assistance as required."
Mr Brown claimed the "majority" of the incidents that have occurred were as a result of individual error as opposed to any wider systematic failures.
But his claims were branded "hideous" by a trade union which represents many bypass workers.
Unite the Union's north-east region construction spokesman John Clark, who was the union's AWPR spokesman until November, said: "People are human and they make mistakes but the real problem here is that workers are living in fear for their jobs.
"To place the blame for this on individual workers is a smokescreen for the failures of senior management, there's obviously pressure on them financially because it's running behind and now that's being put on the workers to get the job done as quickly as possible.,
"To try and excuse themselves from any blame is just hideous."
Questions have not just been raised about safety for workers driving construction vehicles.
Last month, a review was ordered after drums of highly-flammable chemicals were piled up beside a public road near Aberdeen airport.
Aberdeen bypass workers raised the alarm after spotting the waterproofing materials within metres of traffic on Dyce Drive.
Mr Thomson said it was right that a "tough line" was taken on health and safety at the site.
He said: "I am pleased that the cabinet secretary is taking this seriously and I welcome the commitment from Transport Scotland.
"It is right that the government agency takes a tough line on health and safety, and I hope the talks with Aberdeen Roads Limited will lead to action to limit any further incidents.
"While many of the accidents in recent weeks have been relatively minor, we could be faced with a situation where a worker is seriously hurt. It remains very concerning that the same or similar incidents are happening repeatedly on the AWPR site."
A date for the meeting has still to be determined.