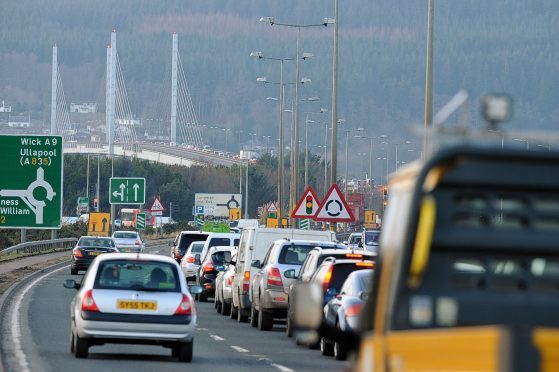 Progress on plans to build a new flyover at the worst traffic bottleneck in Inverness was warmly welcomed last night.
The Press and Journal revealed yesterday that engineering firm Jacobs UK had been appointed to draw up detailed designs for the congestion-busting scheme at the city's Longman Roundabout.
The flyover aims to end gridlock misery for thousands of motorists at the junction, where the A82 Fort William road meets the A9 Perth route, just south of the Kessock Bridge.
Flyover to end traffic gridlock in Inverness moves "major step" closer
Fraser Grieve, SCDI's Highlands and Islands director, said: "This is a key junction and a significant bottleneck faced by thousands of people each day as they travel to, and through, Inverness.
"It's welcome to hear design work is getting under way. Not only will the upgrading of this junction improve traffic flow but will help to open up new land for commercial development at Longman."
Options will be drawn up over the next 15-18 months, with the new flyover expected to be similar in design to the city's existing Raigmore Interchange.
David Stewart, Labour MSP for the Highlands and islands, has previously warned motorists not to expected the project to be completed before 2020 at the earliest.
Last night, he said: "As a long-term solution, I'm fully supportive of the flyover. It's welcome to see there will now be detailed designs produced.
"The issue is obviously the timescale and I've had an answer from Transport Scotland on that.
"I'll be watching its progress carefully to ensure it all goes to schedule.
"With plans for park and ride facilities at Tore and the east of Inverness, combined with the flyover, it will help allieviate the congestion problems we see there."